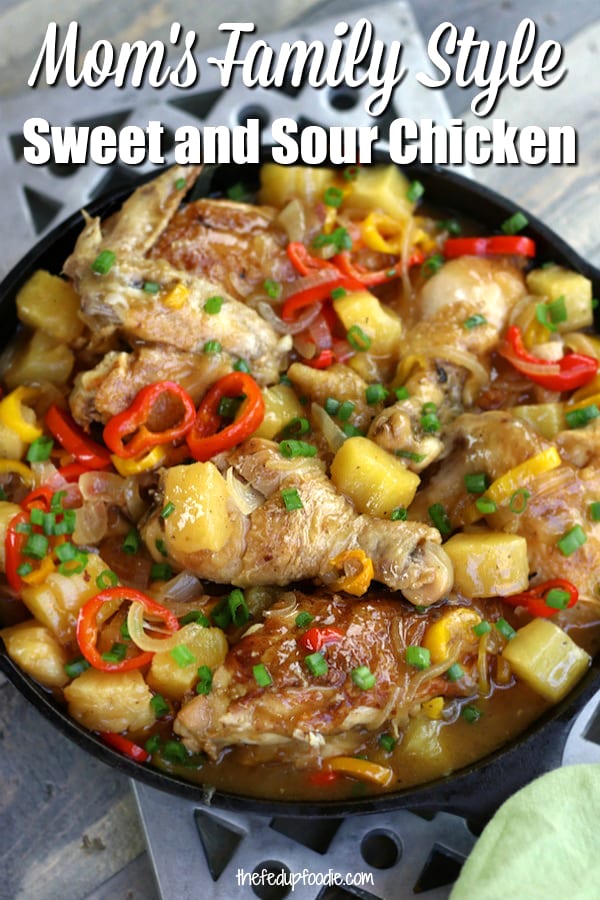 Made on the stovetop, Mom's Family Style Sweet and Sour Chicken is perfect for serving a hungry crowd. Healthier than most recipes, this version is made with pineapple and a whole chicken that turns out incredibly tender and flavorful.
This post may contain affiliate links which I earn a small portion in sales if a purchase is made. Rest assured though, it is never at any additional cost to you.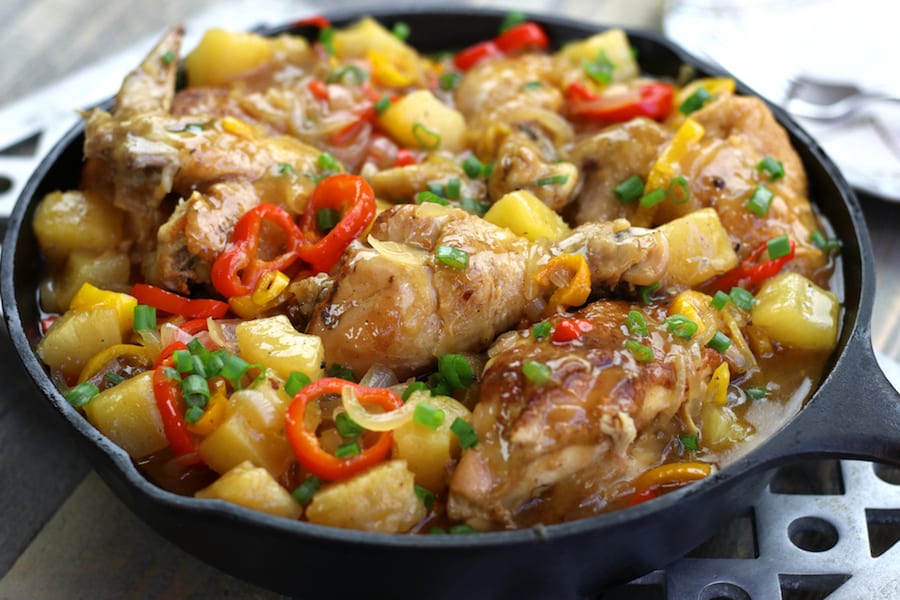 One of the biggest highlights of my last month has been coming across my mom's handwritten recipes.
I am slowly but surely working my way through my parents possessions and finding these recipes that were cherished by my brother and I is like finding hidden treasure.
Not only do they bring back a whirlwind of memories but also seeing my mom's handwriting is just so special.
This particular recipe holds an extra special place in both my brother and my heart. It was one of the recipes that was made often in our house because of it being so budget friendly and yet everyone adored it.
No matter how often it was made, this dinner always felt like a treat and now it just feels like coming home.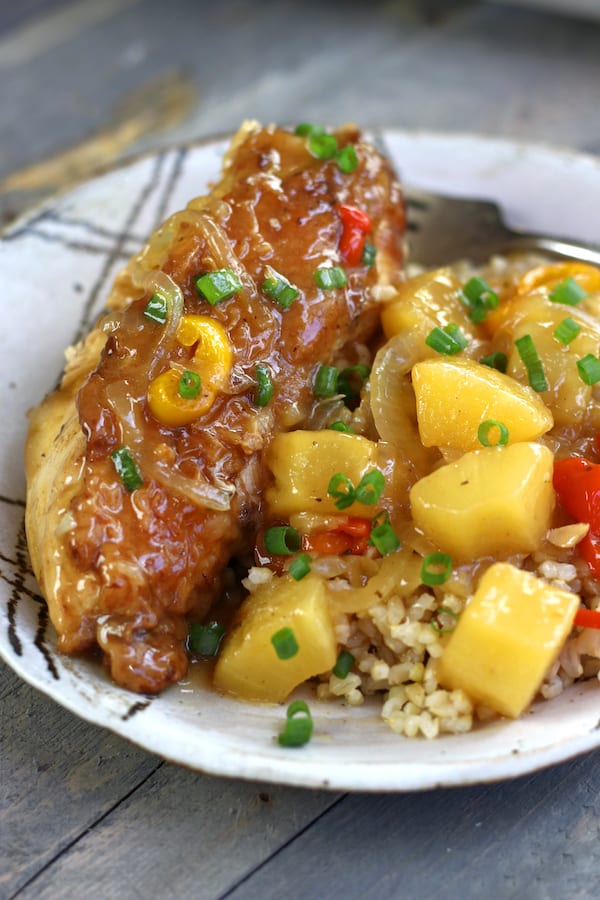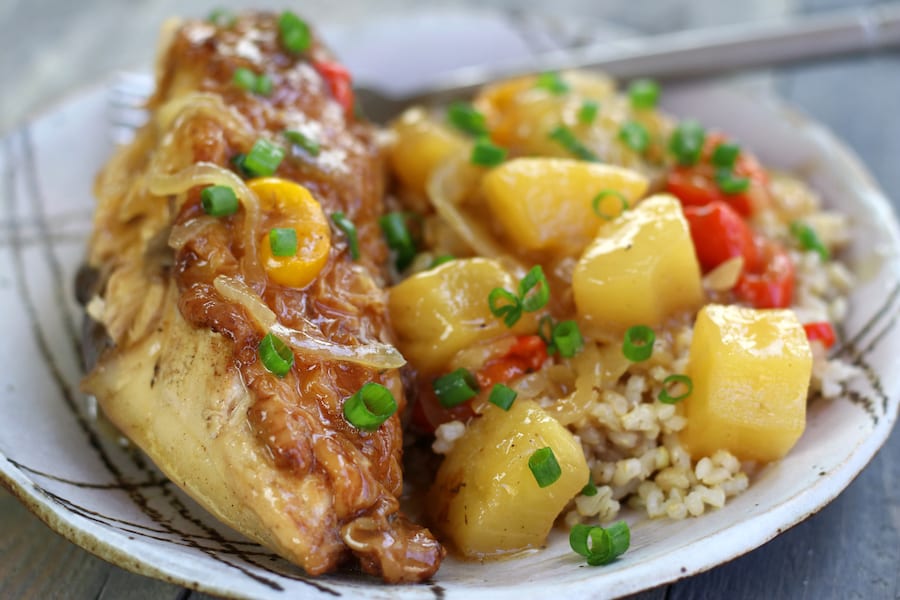 What is Sweet and Sour Chicken?
Sweet and Sour Chicken is a classic and popular dish found at many Chinese restaurants. As with many Chinese recipes, it can feel slightly intimidating trying to duplicate such a bright, savory and satisfying dish. There are a few different variations of Sweet and Sour Chicken available today. Many of the recipes I have found online have included crispy chicken pieces and/or stir fried sweet and sour.
My Mom's Family Style Sweet and Sour Chicken is different than most sweet and sour recipes. It uses a whole chicken (or the equivalent of) helping to feed the entire family. This recipe also creates incredibly tender pieces of chicken that soak up all the amazing sauce. In addition, this version is just a little healthier than most.
Sweet and Sour Ingredients
Below are the ingredients I used for making this a Healthier Sweet and Sour dish.
Tools Needed
There are really only a few very important tools that will help in making this dish. Of the tools the most important are a 12 inch frying pan with a lid for making the chicken portion and a 10 inch frying pan with lid for cooking the brown rice. This set fits both those needs. In addition, a pair of long handled tongs for turning the chicken and a splash screen will make an easier job of browning the chicken.
How To Make Mom's Sweet and Sour Chicken
Bring rice to a boil and then lower heat to a simmer. Cook covered until all liquid has absorbed. Turn off heat and let sit for 10 mins covered.
Brown Chicken in butter and oil.
Add all browned chicken pieces back to skillet. Cover and cook on medium heat for 35-40 mins.
Make sauce by first removing chicken from skillet and adding cornstarch mixture to broth. Stir in remaining liquids. Cook until thickened.
Add browned chicken back to sauce along with onion, peppers and pineapple. Increase heat to medium/high, cover and simmer for 10 minutes.
Serve over brown rice.
How To Brown Chicken Pieces
Browning the chicken for this Sweet and Sour dish adds a beautiful browned color to the chicken pieces in addition to adding a wonderful depth of flavor to the sweet and sour sauce. It is highly recommended to not skip this step.
Pull Chicken from refrigerator and pat dry with a paper towel.
Heat stainless steel pan over med/high heat for about 3-4 mins. Pro Tip: Nonstick pans are not ideal for this higher heat browning. It is best to use stainless steel.
Add oil covering entire bottom surface of pan. Pro Tip: High heat oils are best for searing. I prefer avocado oil over other varieties.
Using long handled tongs and add chicken pieces skin side down in a single layer, Cook for 8- 10 mins per side. If the chicken sticks when trying to turn over it needs a few additional minutes of searing time.
Changes From the Original Recipe
I made just a few small changes to my mom's original recipe to make it healthier. Below are the changes I made.
I used 1 full 20 oz. can of pineapple chunks in its own juice rather than heavy syrup.
The cornstarch was increased to 2 1/2 tbsps rather than just 2. This was needed since the pineapple chunks in heavy syrup was not used.
A little more onion and bell pepper was added.
The butter was lowered to 2 tbsp and avocado oil replaced the butter that was eliminated.
Simmering of vegetable along with chicken will take a full 10 minutes, possibly a little longer.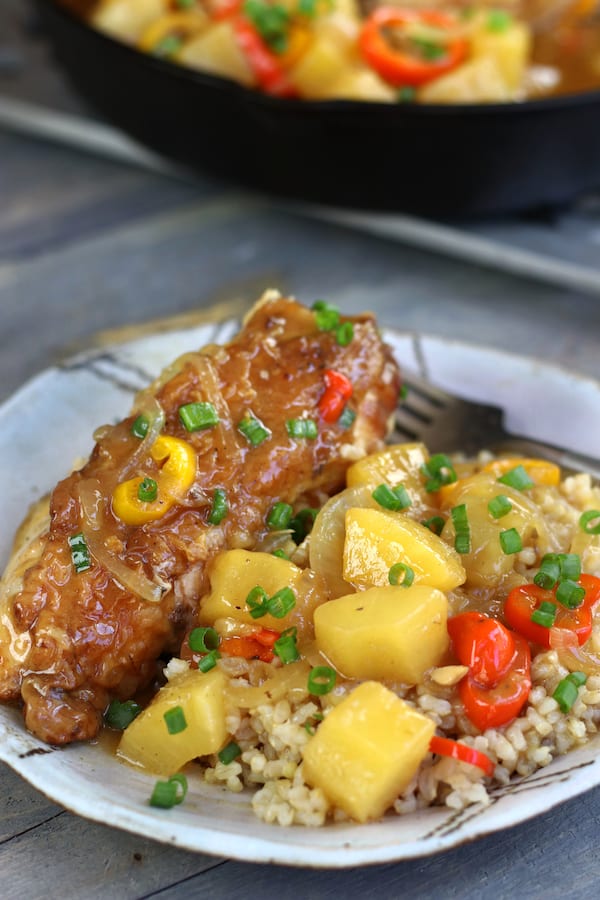 What To Serve With Sweet and Sour Chicken
This dish definitely goes perfect over cooked rice as a complete meal. However, it is a little low on the veggies, so here are some Asian vegetable recipes that would work well with this main dish.
Additional Family Friendly Asian Dinners
Sticky Chinese Chicken Fingers
One Pot Asian Chicken and Rice
Cashew Eggplant Chicken Stir Fry
Chicken Peanut Udon Noodle Salad
More of Mom's Recipes You'll Love
Old Fashioned Swedish Apple Cake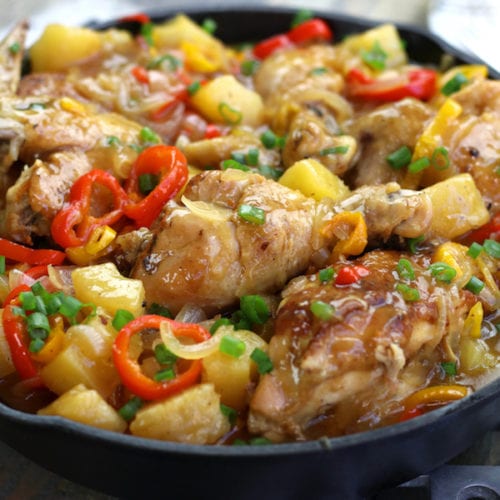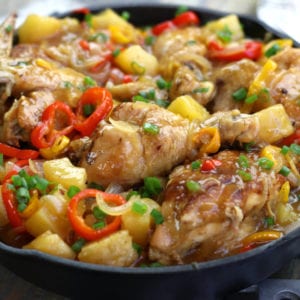 Mom's Family Style Sweet and Sour Chicken
This healthier version of Sweet and Sour Chicken doesn't sacrifice on taste. Tender melt in your mouth chicken is cooked in a sour and sweet sauce with satisfying pineapple chunks. Serve over short grain brown rice for healthy meal made in heaven.
Print
Pin
Rate
Ingredients
Sweet and Sour Chicken
1

3 1/2- 4 lb

whole chicken

*or the equivilant amount with chicken thighs on the bone and with skin

2

tbsp

butter

1/4

cup

high heat oil

*such as avocado oil

1

20 oz can

pineapple chunks (in its own juice)

*drained, reserve juice

1/4

cup

apple cider vinegar

1

tbsp

soy sauce

1/4

cup

firmly packed brown sugar

*either light or dark

2 1/2

tbsp

cornstarch

1/2

tsp

sea salt

1

small

brown onion

*julienned or cut into strips

1

small

yellow bell pepper

*cut into strips

1

small

red bell pepper

*cut into strips

diced green onions as garnish

*optional
Instructions
Combine rice, butter and broth in a medium size (10 inch) frying pan. Bring to a boil over high heat. Cover with tight fitting lid and lower heat to low. Cook until all liquid has been completely absorbed and then turn off heat and let sit with lid attached for 10 mins. Fluff with a fork.

Heat a large skillet with butter and oil over med/high heat. Working in 2 batches, brown chicken starting with skin side down first.

Once chicken is browned add all pieces back to skillet and cover with a tight fitting lid. Lower heat to med and simmer for 35-40 mins.

Meanwhile prepare onion and bell peppers, drain pineapple reserving juice.

Combine sugar, cornstarch and salt in a small bowl. Stir well.

Measure vinegar and soy sauce to a glass measuring cup. Mix with reserved pineapple.

Once chicken has simmered remove from skillet and keep on medium heat. Add in sugar cornstarch mixture. Whisk until mixed. While whisking frequently, gradually stir in vinegar, soy sauce and juice mixture. Cook stirring constantly until thickened.

Once the sauce is thickened add in browned chicken, onion, bell peppers and pineaaple chunks. Increase heat to medium high. Cover pan and simmer for 10 mins or until veggies become tender.

Serve over cooked brown rice.
Notes
*Please use as many organic ingredients as possible.
Recipe Notes
8-10 oz of mini sweet bell peppers cut into coins may be substituted for regular bell peppers. 
If rice is too firm once water has been absorbed add an additional 1-2 tbsp of water and continue cooking. 
Nutrition
Calories:
397
kcal
|
Carbohydrates:
53
g
|
Protein:
5
g
|
Fat:
18
g
|
Saturated Fat:
4
g
|
Cholesterol:
10
mg
|
Sodium:
796
mg
|
Potassium:
315
mg
|
Fiber:
2
g
|
Sugar:
10
g
|
Vitamin A:
529
IU
|
Vitamin C:
47
mg
|
Calcium:
33
mg
|
Iron:
1
mg