Learn the simple steps on How To Boil a Whole Chicken for tender shredded chicken pieces and flavorful homemade broth.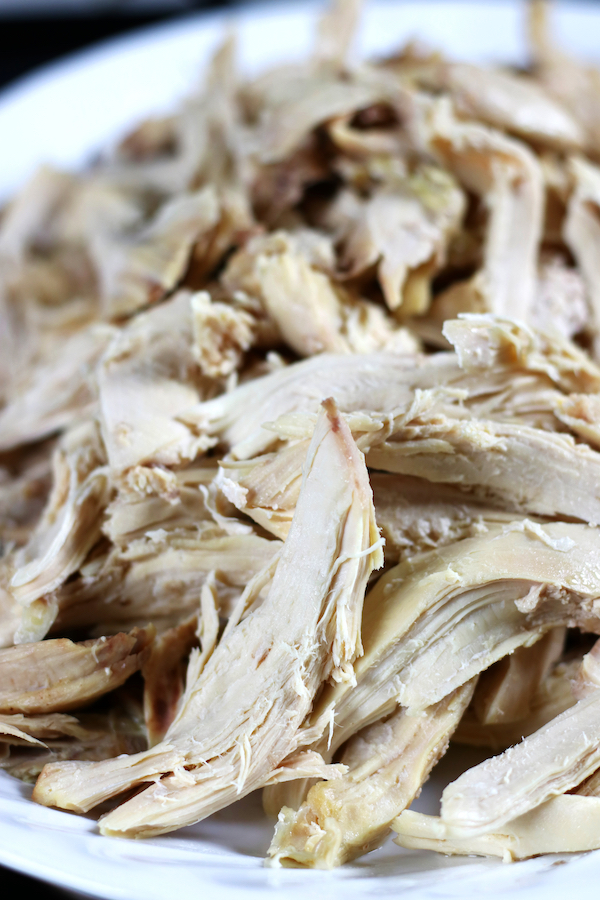 This post may contain affiliate links which I earn a small portion in sales if a purchase is made. Rest assured though, it is never at any additional cost to you.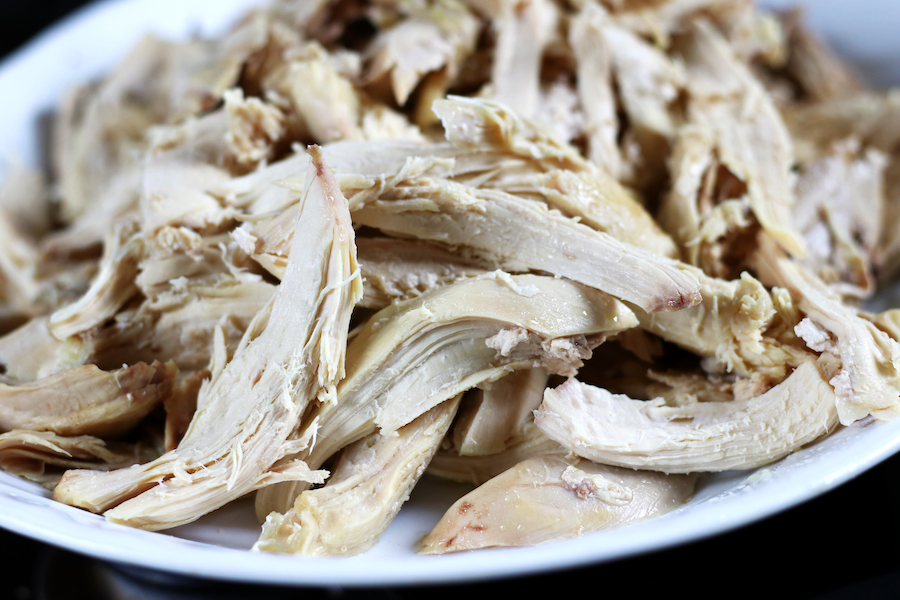 Best Way To Boil a Whole Chicken
Remove the giblets (the bag inside the chicken that contains the chicken's organs) and discard. Note: Many home chefs will use the giblets for making gravy. 
Prepare aromatics.
Add chicken to a large stockpot with aromatics and cover with about 4 quarts of cool water. There should be enough water that it covers the chicken. Note: The chicken does tend to float. Also, a 10- 12 quart stockpot is ideal for this recipe.
Bring to a boil over medium/high heat and then lower to a low simmer. If needed, skim any foam that may rise to the top and discard.
Cook for approximately 60 mins or until chicken is cooked through. Note: Chicken that is cooked through will start to fall off the bone as you lift the bird out of the water. 
Remove chicken from pot and let cool. Using tongs (or being very careful with hands), pull chicken from bones and skin. Discard bones and skin. Note: Chicken pieces can then be seasoned with additional herbs and spices and is ready to be eaten or added to additional recipes. 
Strain broth and refrigerate. After broth has cooled in the refrigerator the fat will rise to the top. Skim fat and discard. Broth is ready to be used for other recipes and will last for approximately 5 days in the refrigerator.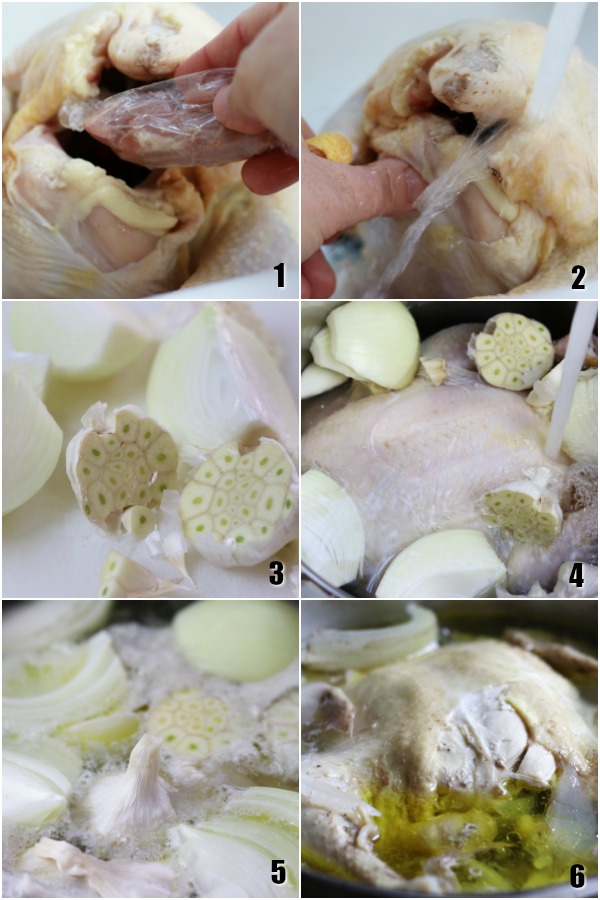 How Long To Boil a Whole Chicken
Depending on the size of the chicken, boil chicken time will average 50-60 minutes. You can tell a whole chicken is cooked through when the legs and wings start to separate from the rest of the chicken when lifted out of the water. Or in other words, when the meat starts to fall off the bone.
Benefits of Boiled Chicken
There are many benefits to Boiled Chicken, especially when finances are a little tight. Here are just a few of the biggest benefits.
Creates moist and tender pieces of chicken that work great for recipes such as Enchiladas, Chicken Tostadas, Flautas, Soups and Salads.
The broth that boiling a whole chicken creates works wonderfully for making rice, adding more flavor to grains and works great for making quick 30 minute soups.
Eating boiled chicken, rather than fried chicken, may help to lower total calorie consumption as eating the skin on fried chicken is very tempting.
If possible, cooking with pasture raised chicken has been shown to have many healthful benefits.
Aromatics for Chicken Stock
In most forms of cooking, aromatics is the addition of vegetables and/or herbs and spices that adds deep flavors to the dish. For this recipe I used the simple ingredients of onion and garlic. However, here are other options for the addition of aromatics.
Celery
Carrots
Fresh Parsley
Fresh Thyme
Whole Cloves (only 1 or 2)
Ginger
Lemon
Can You Boil Frozen Chicken?
The short answer is yes. However, there are a few things to keep in mind if wanting to boil a whole chicken. Whole chickens purchased from the grocery store have a bag of giblets in the center cavity. When frozen, it is literally impossible to remove and it is imperative that you do not try to boil with the giblets still in the cavity. I would recommend one of two things. Either remove giblets before freezing or let chicken defrost in the refrigerator over night before boiling.
In addition to making sure the giblets are removed, boiling a frozen chicken will take approximately 50% longer to cook. So instead of taking 50-60 minutes, the cooking time will range from 1 hour and 15 minutes to 1 and 1/2 hours. All other steps remain the same.
How To Shred a Whole Boiled Chicken
The easiest way to pull the meat off of the bones on a whole chicken is to first remove the cooked chicken from the water using these and place onto a platter. If using hands, let chicken cool for about 20 minutes and then carefully pull the meat from the bones and skin being very careful as chicken pieces may still be hot. If using tongs, immediately pull chicken from bones.
Chicken Stock vs Bone Broth
Very simply, there has been much debate and confusion among chefs over what the difference is between chicken stock vs bone broth. Partly this is due to the definitions changing with the rise of the popular Paleo diet. As of most recent times, here is my best definition between the two.
Chicken Stock
Chicken stock is made by simmering the whole chicken with aromatics (as seen with this recipe) for a shorter amount of time. It tends to be light and yet flavorful.
Bone Broth
Bone broth is made by simmering bones either by themselves (usually using roasted bones) or with aromatics for 4- 24 hours or more. This method creates a very rich broth that is dense with minerals, collagen, electrolytes and amino acids. Incorporating bone broth into your diet is believed to have many health benefits.
Boiled Chicken Recipes
This recipe works perfectly for anytime shredded chicken is needed. Here are a few recipes using shredded chicken for inspiration.
Italian Chicken Zucchini Boats
Uses For Homemade Chicken Stock
Making homemade chicken stock is an extremely economical way of adding more flavor and nutrition to grains and soups. When making homemade chicken soup, the addition of chicken stock can make a rich and flavorful final product. In addiction, cooking grains in chicken stock adds a deeper level of flavor. Here are some uses for Homemade Chicken Stock.
White Bean Chicken Tomatillo Soup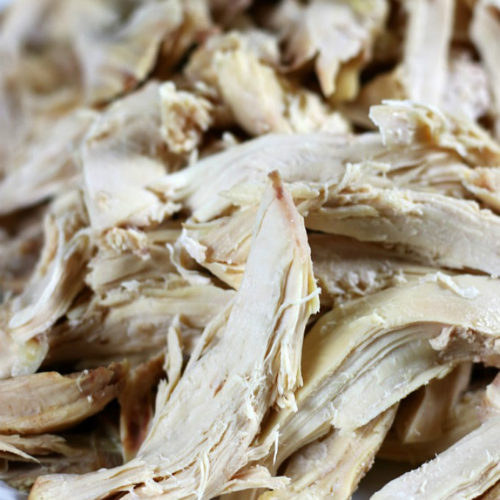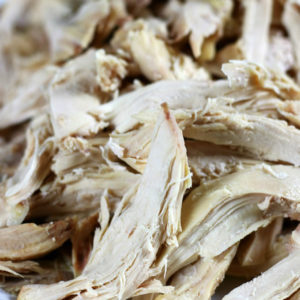 How To Boil a Chicken
These simple steps on How To Boil a WHole Chicken creates tender shredded chicken pieces and flavorful homemade broth. 
Print
Pin
Rate
Ingredients
4

lb

whole chicken

2

heads

garlic

1

lg

brown onion

4-5

quarts

water
Instructions
Remove giblets from inner cavity of chicken and add to a large stockpot.

Cut garlic head in half. Peel and cut onion into 1/4's. Add to stockpot with chicken.

Cover chicken with approximately 4 quarts of cool water.

Bring to a boil over med/high heat and then lower to a low simmer. Cover and cook for approximately 50-60 mins or until chicken is cooked through.

Once done, carefully remove chicken with sturdy tongs and place on a large plate or platter. If using hands to shred chicken, let cool to the touch. Pull chicken from bones and skin. The shredded chicken is now ready to be used for addittional recipes.

Strain broth of aromatics and refrigerate broth in a glass container over night to allow fat to rise to the top. The following day, skim fat from broth and discard fat into trash. Broth is now ready to use for addittional recipes and will last up to 5 days in the refrigerator.
Notes
*Please use as many organic ingredients as possible. 
Recipe Notes
Giblets are found in the inner cavity of many conventionally purchased whole chickens and contain the chicken's organs. Many chefs will use these to make gravy. However, I discard them.
See "Aromatics for Chicken Stock" section above for additional flavors. 
Stocks and broths purchased in the grocery store contain a higher level of sodium. Add salt and pepper to taste the strained homemade stock for a similar flavor. 
Chicken is cooked through when it starts to easily fall off the bone when lifted out of the stockpot. 
Discard the fat skimmed from the broth into trash rather than garbage disposal. Using the garbage disposal can cause a clog in the pipes at a later date. 
Nutrition
Calories:
245
kcal
|
Carbohydrates:
2
g
|
Protein:
21
g
|
Fat:
16
g
|
Saturated Fat:
5
g
|
Cholesterol:
82
mg
|
Sodium:
101
mg
|
Potassium:
234
mg
|
Fiber:
1
g
|
Sugar:
1
g
|
Vitamin A:
152
IU
|
Vitamin C:
4
mg
|
Calcium:
39
mg
|
Iron:
1
mg