Homemade Chicken Noodle Soup recipe has easy steps to creating a rich and savory broth. Warm and comforting, feels like home with every bite. This recipe is a must for soothing the winter colds.

This post may contain affiliate links which I earn a small portion in sales if a purchase is made. Rest assured though, it is never at any additional cost to you.

This week was a very hard week…
As I am writing this, it is coming up on the 1 week anniversary of the dreaded call from the ER nurse telling me to hurry to the hospital because my dad was in bad shape.
I am just a couple of hours away from it being a week ago that I will have spoken to my dad for the last time.
Like I said, it has been a hard week…
I know what you are probably thinking, why on earth am I working right now?
I completely understand why you would think that because if the shoes were reversed, I would be thinking the same thing. After a loved one passes is no time to be working.
To be honest with you though, my heart needed the quiet time to write this particular post.
You see, food has always been at the center of my family.
Meals like this Homemade Chicken Noodle Soup and my Mom's Chicken Gumbo Soup are so much a part of who I am.
I have so many sweet memories of both my parents cooking these meals on chilly nights and us enjoying hot bowls of soup with my dad's homemade biscuits. Those cold nights would instantly become warm and cozy.
My heart needed to walk down memory lane…
Like the time my dad experimented with this soup and added a TON of garlic.
Not only did he add a ton of garlic but he put the garlic in the blender. I remember my mom being so mad that he didn't follow her directions.
Once she calmed down, it was a standing joke that my dad had invented the vampire repellant soup.
We all got a good laugh and before I knew it all would be forgotten (until we needed a good laugh again) and my parents would be back to the snuggling, best of friends that I knew them to be.
I will soon be writing my dad's eulogy…but this needed to happen first.
This Homemade Chicken Noodle Soup holds so many memories for me that just makes my heart happy. It is a perfect savory comfort meal!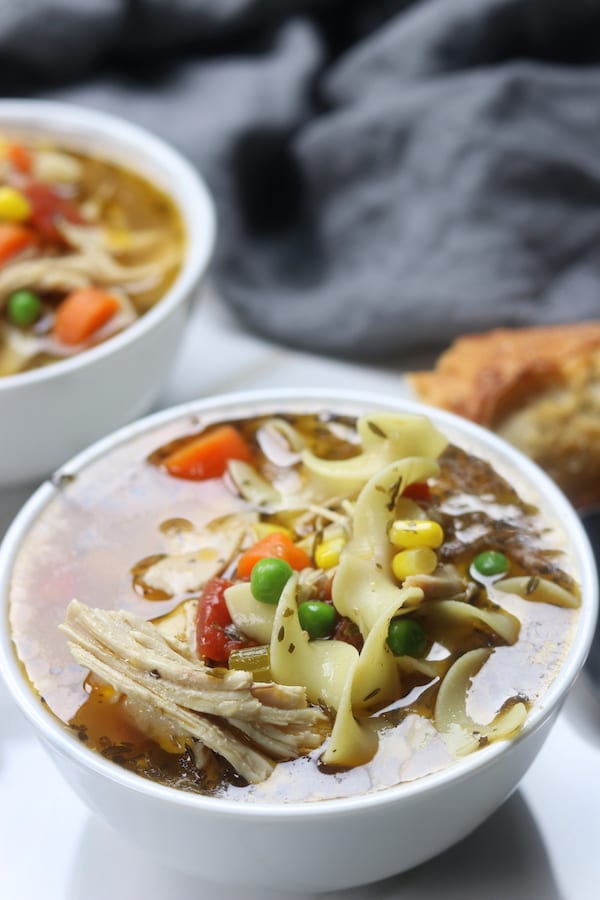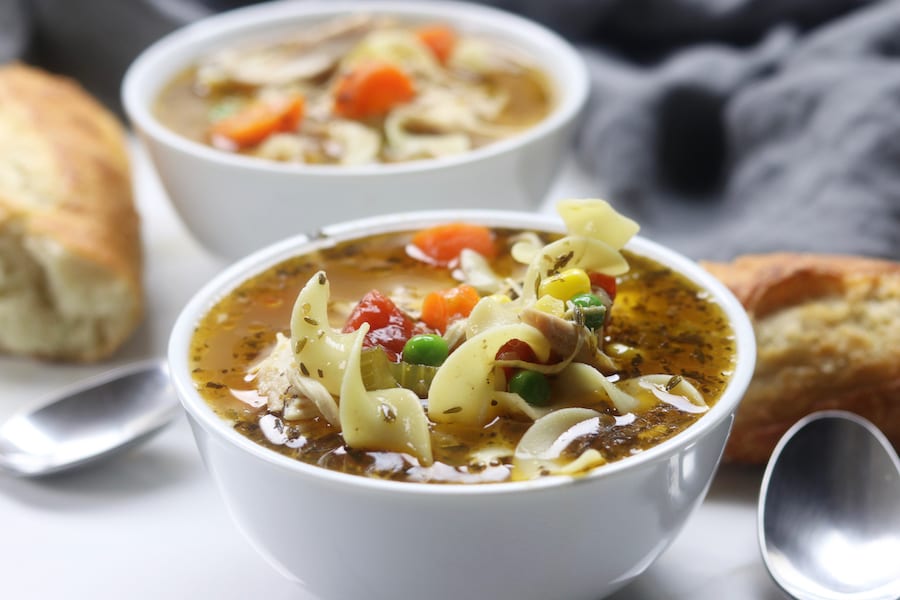 Secrets to a rich and savory Homemade Chicken Noodle Soup:
Homemade soups really are incredibly easy to make and the secret is to layer the flavors. For an extra special wonderful chicken soup always use a whole chicken along with chicken stock or broth. Using a whole chicken will give you big pieces of incredibly tender chicken and the stock makes it extra rich with flavor. Aromatics are an essential part of the layering of flavor and include onion, celery, carrots, garlic and herbs. These go in before the cooking even begins and as the soup simmers all these flavors will begin to marry and create an extra wonderfully rich broth that is incredibly satisfying.
Tips about Homemade Chicken Noodle Soup:
Remember to chop your veggies in bite size pieces for easier eating. This also allows for quicker cooking.
These are my favorite herbs at a reasonable price that are not only delicious but that I completely trust: Thyme, Basil, Sage and Bay Leaves. (affiliate)
I would be lost without my stainless steel stockpots. I use this one for all my soups and this one for brining turkeys. (affiliate)
You know your chicken is done when it just starts to fall off the bone when you lift it. Once it hits that stage remove the whole chicken onto a plate and let cool just enough to be able to debone the meat without burning your hands.
An optional step to lower fat and calories is to refrigerate the broth over night once the chicken is removed. This will allow you to scrap the excess fat of the top. Once done, bring the broth back up to a full boil and continue with the remaining steps as written.
The trick to cooking the noodles so they do not disintegrate is to boil them in the rich broth just almost to al dente once the chicken is removed. Once it hits this stage turn off the heat, add back in the chicken pieces and the frozen peas and corn. Stir well and let sit for about 5-10 mins. The frozen veggies will cool the soup off just a little bit making it easier to eat right away and the noodles will be the perfect doneness once the soup has sat for a few minutes.
This make a large batch of soup. My family has no problem eating the whole pot for dinner and then lunches for a day or two. If this creates a larger amount than what your family may desire you may want to freeze half for a dinner at another time.
As the soup sits the chicken and noodles may absorb much of the broth. For leftovers, adding in a little extra chicken stock or water and then reheating works very well.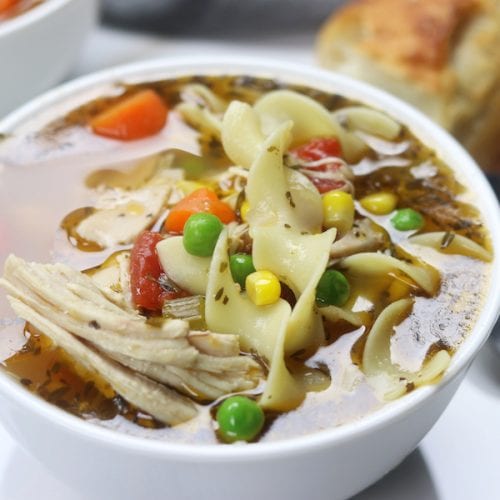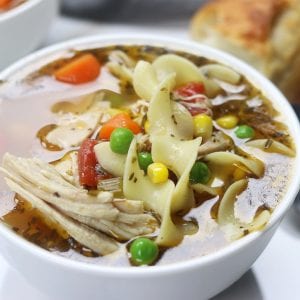 Ingredients
5

lb

whole chicken

1

bunch

carrots

*chopped about 3 cups

1

lg

brown onion

*diced about 2 1/2- 3 cups

7-8

stalks

celery

*diced about 2 1/2 cups

7-8

cloves

garlic

*mashed or diced about 2 tbsp

2

quarts

chicken stock or broth

2

cups

water

1

tbsp

thyme

1 1/2

tsp

basil

1

tsp

sage

2

bay leaves

14.5

oz

canned stewed tomatoes

6-8

oz

egg noodles

8

oz

frozen corn

8

oz

frozen peas

salt & pepper

* to taste
Instructions
Place the first 11 ingredients in a large stock pot making sure chicken is fully covered in liquid.

Bring to a boil over high heat, stir well and then lower heat to med/low. Cover pot and simmer stirring occasionally until chicken just begins to fall off the bone, about 1 1/2- 2 hours.

Remove chicken from pot and place on plate. Let chicken cool just enough to debone meat with burning fingers.

Meanwhile increase heat and add tomatoes and noodles. Cook noodles until just before al dente. Turn off heat and add chicken pieces, frozen corn and frozen peas. Stir well. Cover pot and let sit for 5- 10 mins (see tips above).

Stir well, salt and pepper to taste. Enjoy!
Notes
*Please use as many organic ingredients as possible.
Nutrition
Calories:
368
kcal
|
Carbohydrates:
37
g
|
Protein:
29
g
|
Fat:
12
g
|
Saturated Fat:
3
g
|
Cholesterol:
84
mg
|
Sodium:
1002
mg
|
Potassium:
787
mg
|
Fiber:
6
g
|
Sugar:
7
g
|
Vitamin A:
7659
IU
|
Vitamin C:
40
mg
|
Calcium:
86
mg
|
Iron:
3
mg
For more savory soups and stews check out these recipes: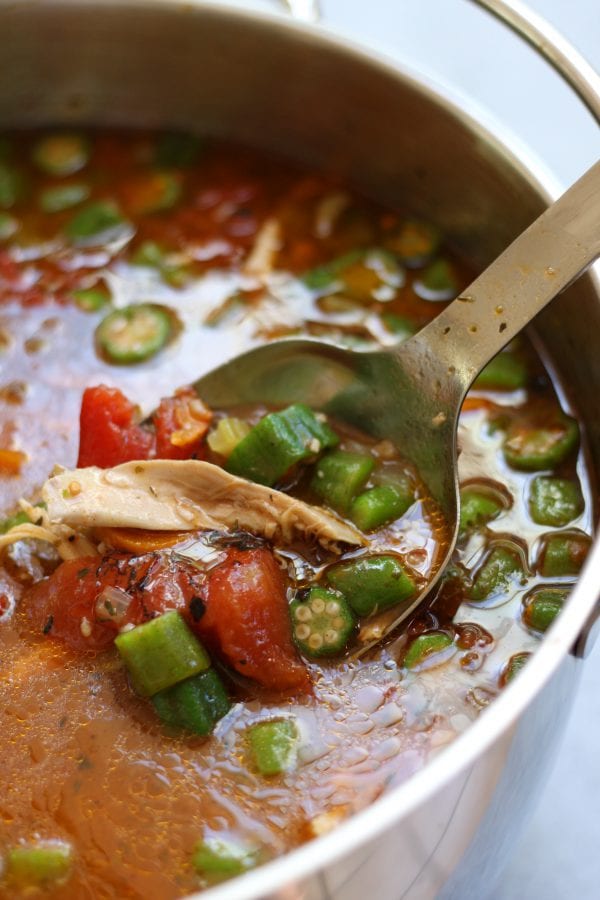 Mom's Chicken Gumbo Soup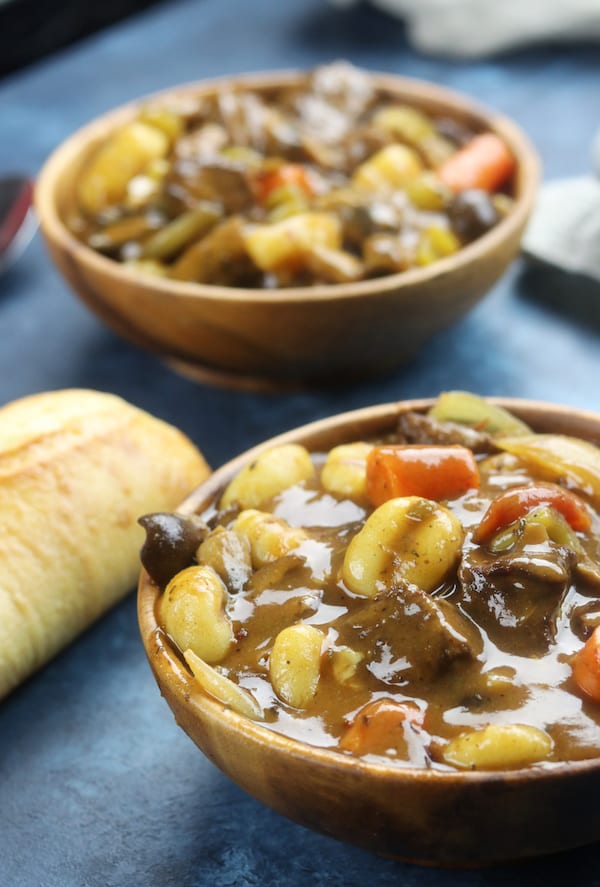 Italian Beef Stew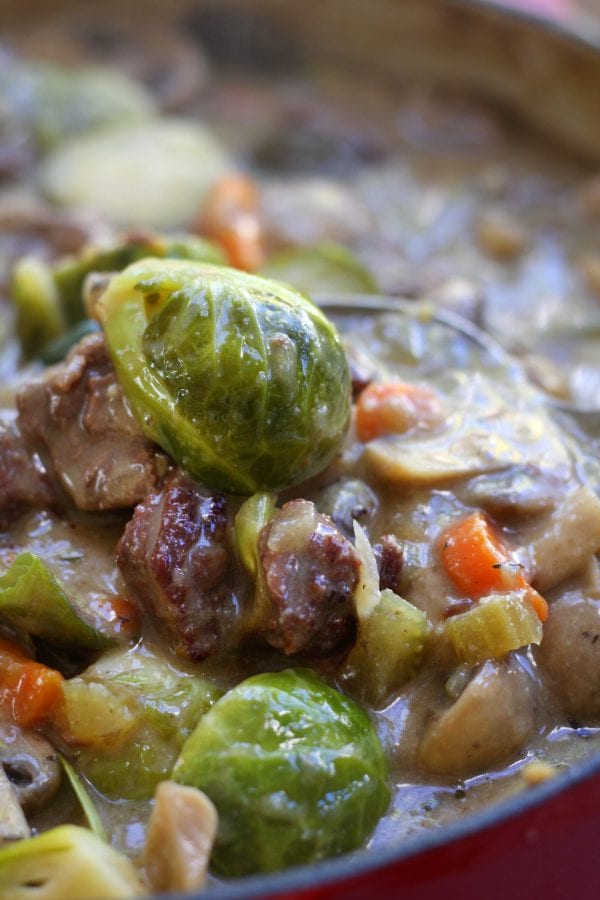 Beef and Brussels Sprouts Stew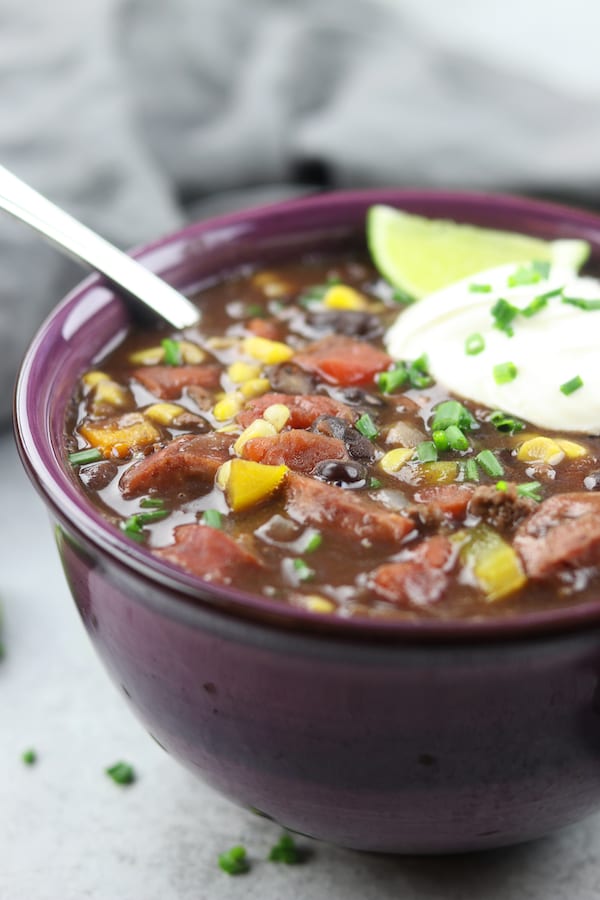 Black Bean Soup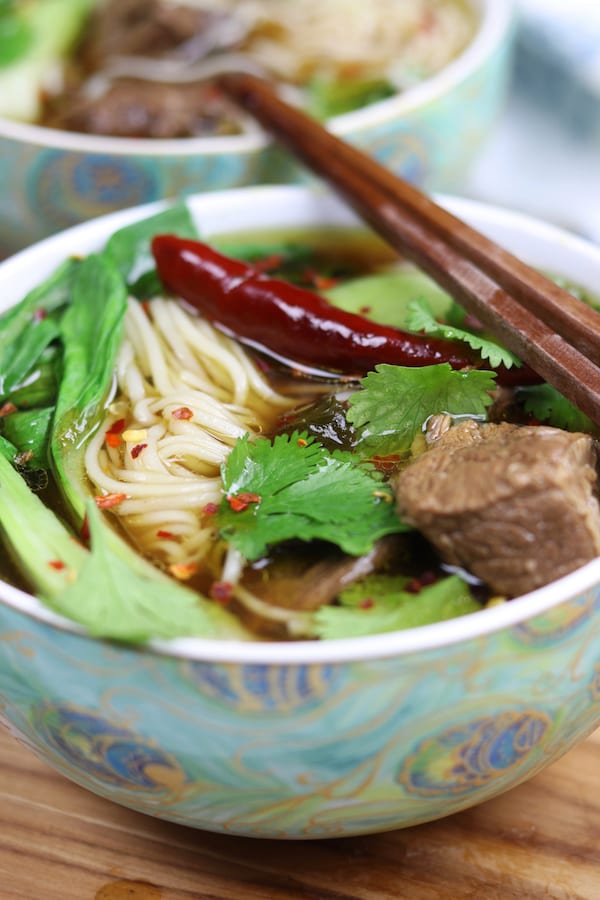 Beef Asian Noodle Soup