One-Pot Asian Chicken and Rice is a simple weeknight meal bursting with flavors of ginger, sesame and garlic. You will not believe how easy and delicious this is.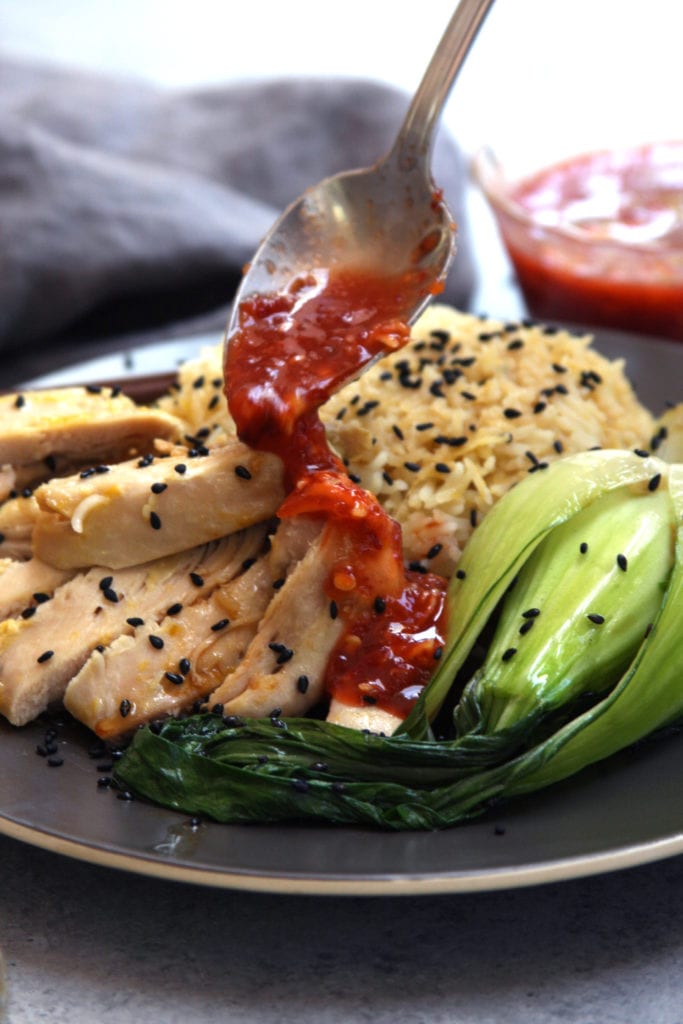 This post may contain affiliate links which I earn a small portion in sales if a purchase is made. Rest assured though, it is never at any additional cost to you.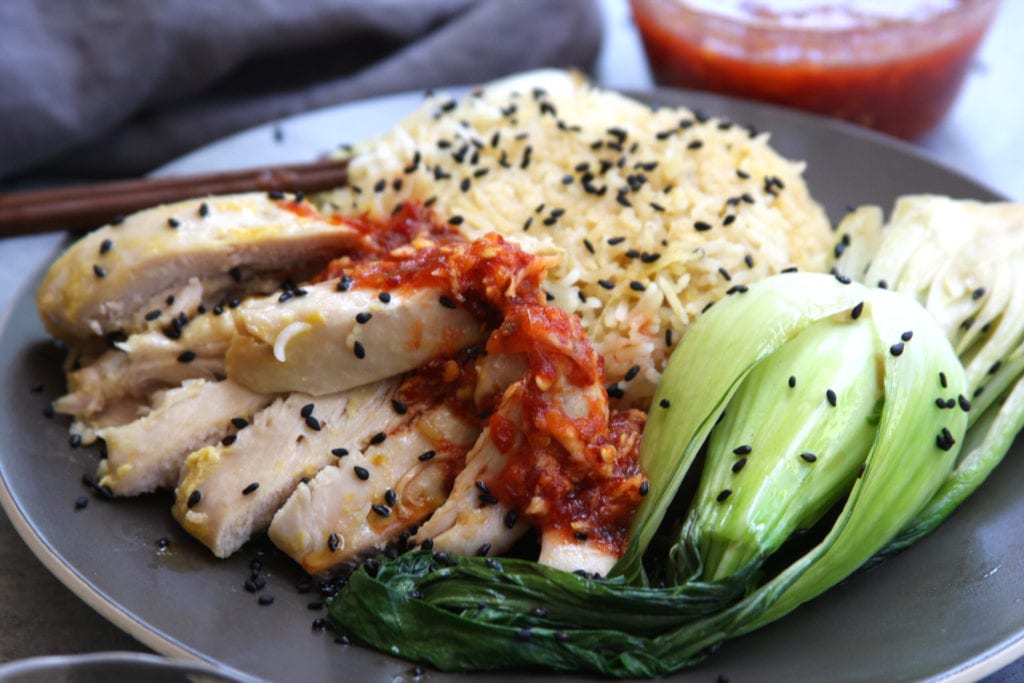 Ok. I will admit. I am usually not a huge fan of one-pot meals outside of your traditional pot roast. Generally one-pot meals are pasta dishes and all that is Italian in me screams "NO!!!! That is not how you cook pasta." Yes, I am a pasta snob. I really do not mean any offense to the one-pot pasta loving crowd, but to me pasta needs to be swimming in salty boiling water to taste authentic. I have to say though, there is an appeal to the ease and simplicity to cooking in just one-pot, especially for really busy evenings. So, a little inspiration later and a desire to make a great tasting and easy meal, I came up with this One-Pot Asian Chicken and Rice.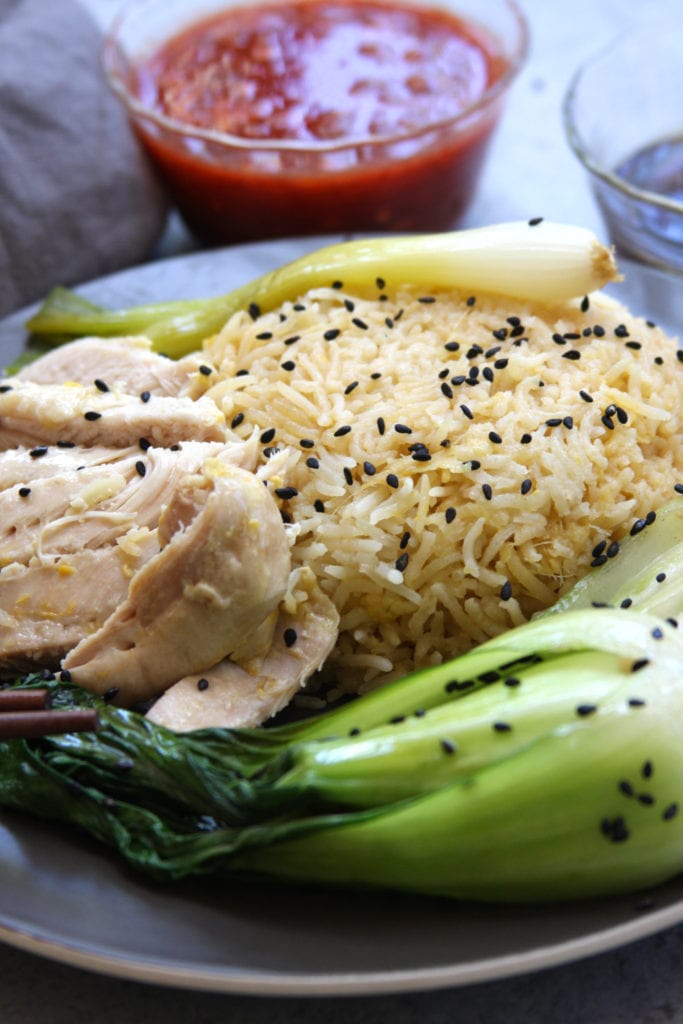 Tips about One-Pot Asian Chicken and Rice:
This recipe is written for 3 servings. To make it for 2 servings lower the rice to 3/4 of a cup and the chicken broth to 1 1/2 cups. Personally I would keep the ginger, soy sauce, sesame oil and garlic for the sauce the same because I love bold flavors. To lower accordingly, use 2 tsp each of the ginger, soy sauce and sesame oil.
One of the secrets to perfectly cooked rice and chicken is a good quality stainless steel pan with a glass lid like this one. Having the glass lid allows you to monitor how the cooking process is going without lifting the lid and letting heat escape. (affiliate)
The assembly for this One-Pot Asian Chicken and Rice is very easy with the most difficult element being preparing the fresh ginger and garlic. If you are really time crunched, substitute 1/4 tsp powdered ginger for every tbsp and 1/2 tsp garlic powder for every 2 cloves & it will save you about 7 mins. My personal recommendation is to go with the fresh. It just tastes so much better in this kind of dish. (affiliate)
Once the broth is made, here is the assembly:
I served this along side my Simple Sesame Bok Choy . While the chicken and rice is cooking is the perfect time to prepare any veggies you will have with dinner along with the sauces.
Oh my goodness don't forget the sauces. The soy sesame sauce keeps the dish moist and the red chili sauce adds a wonderful bold zesty flavor. Now here is a secret, I cheated just a bit and saved a bunch of time. For those of you that have been following me for awhile, you know I am all about eating organic in addition to foods that are nutritionally dense. The reality is, I can't always eat as much organic as I would like to. Now don't get me wrong, about 90% of my diet is organic. There are times though that either the food budget does allow for 100% organic or there is an ingredient where I haven't found an organic alternative that I love. So to save time and have a great tasting red chili sauce I started with this Chili Garlic Sauce: (affiliate)
For a less tangy red chili sauce replace the lime juice with chicken broth.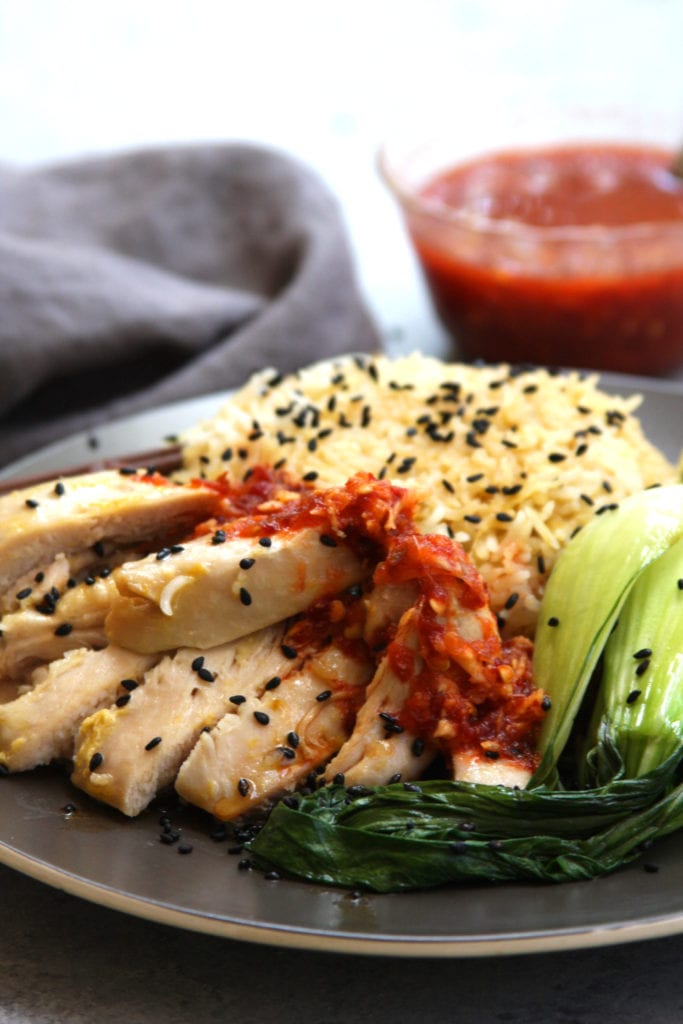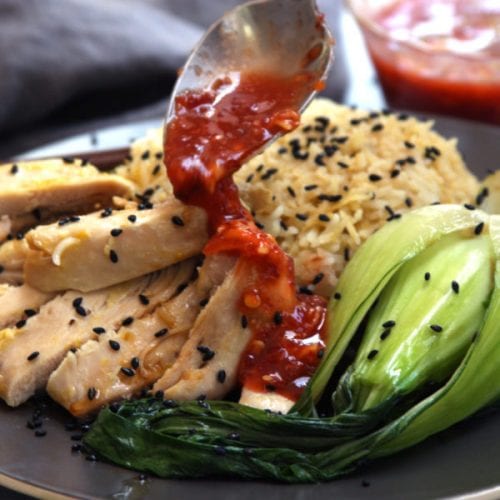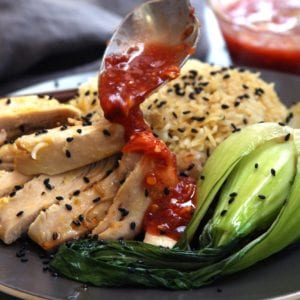 One-Pot Asian Chicken and Rice
A simple one-pot Asian meal with flavors of ginger, sesame and and garlic.
Print
Pin
Rate
Ingredients
Chicken and Rice
1

cup

basmati rice

1

lb

boneless skinless chicken thighs

*about 2-3 thighs

2

cups

chicken broth

1

tbsp

fresh grated ginger

2

garlic cloves

*crushed or minced

1

tbsp

soy sauce

tamari for gluten free

1

tbsp

toasted sesame oil

2

green onions cut in half

*optional
Soy Sesame Sauce
2

tsp

toasted sesame oil

1

tbsp

soy sauce

tamari for gluten free

Red Chili Sauce

2

tbsp

garlic chili sauce

*see picture above

1

tsp

fresh grated ginger

1

tsp

granulated sugar

2

tbsp

lime juice

1/2

tbsp

fish sauce
Instructions
Measure broth and whisk in garlic, ginger, soy sauce and oil- set aside. Thoroughly rinse rice, let drain and place into a medium size frying pan with a secure fitting lid (preferably with a glass lid). Place chicken on top of rice and pour prepared both over top. Lay green onions over tip of chicken. Cover and place on high heat until boiling. Once boiling turn heat source down to lowest setting and cook for 15-17 mins or until water is completely absorbed. Turn off heat and let rest for 10 mins. IMPORTANT NOTE: To most effectively cook chicken keep pan covered throughout the entire cooking and resting period.

Soy Sesame Sauce- Whisk together soy sauce and sesame oil. This sauce is meant to be drizzled over chicken and rice before eating.

Red Chili Sauce- Measure sugar into garlic chili sauce and stir well until sugar is dissolved. Stir in remaining ingredients. This sauce adds spice and tanginess to the dish and is to be used at each person's discretion.
Notes
*Please use as many organic ingredients as possible.* Cooking time does not include 10 mins of rest at the end of cooking.
Nutrition
Calories:
518
kcal
|
Carbohydrates:
57
g
|
Protein:
36
g
|
Fat:
15
g
|
Saturated Fat:
3
g
|
Cholesterol:
144
mg
|
Sodium:
2176
mg
|
Potassium:
614
mg
|
Fiber:
1
g
|
Sugar:
4
g
|
Vitamin A:
116
IU
|
Vitamin C:
16
mg
|
Calcium:
50
mg
|
Iron:
2
mg
This recipe is part of Meal Plan Monday.