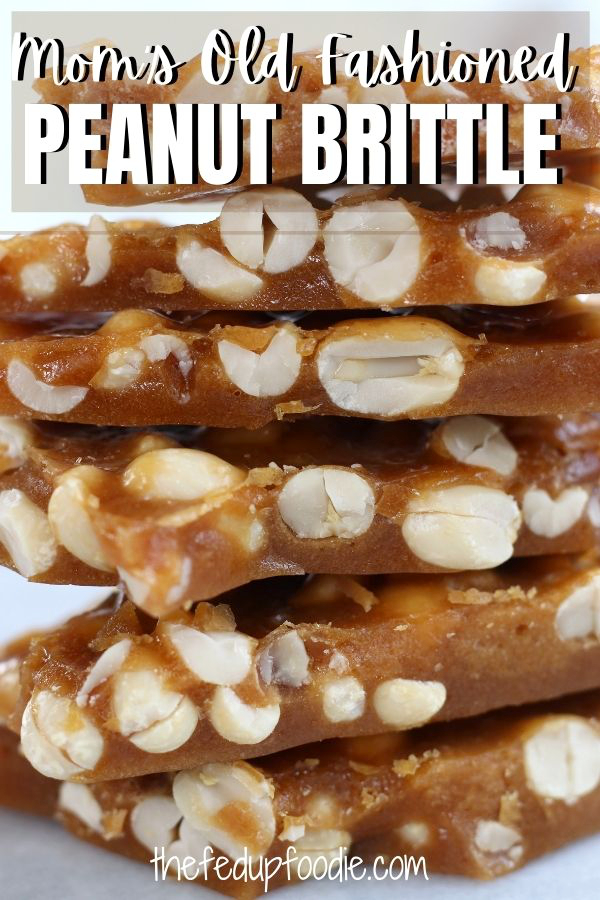 The BEST Peanut Brittle Ever! Mom's Old Fashioned Peanut Brittle recipe is so easy to make. With these simple steps this peanut candy turns out perfect every time. Buttery, crisp and absolutely heavenly.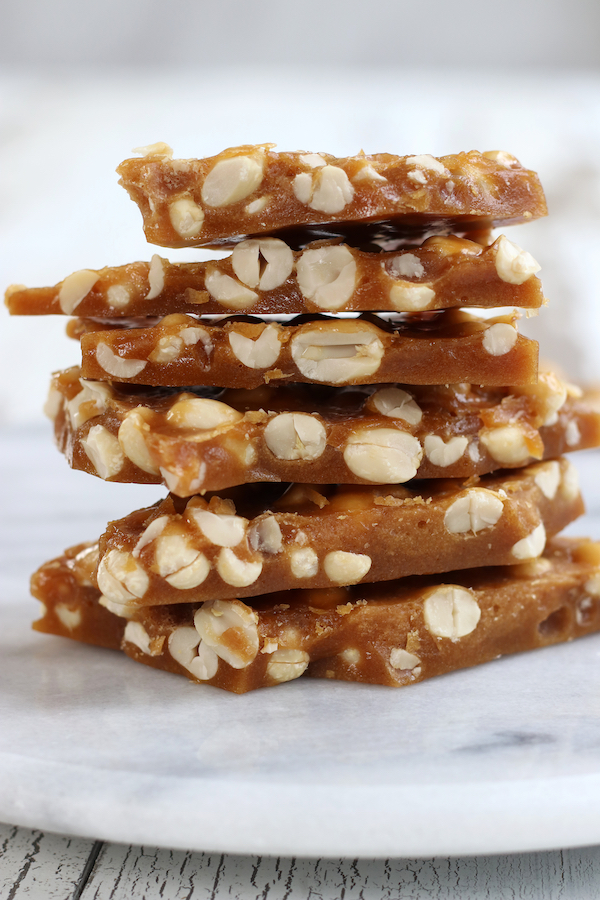 This post may contain affiliate links which I earn a small portion in sales if a purchase is made. Rest assured though, it is never at any additional cost to you.
I was standing happily scanning the customers groceries, talking to them in my normal sing songy voice (my "I am so happy to be serving you today customer service voice" but I would rather be on the beach). That was when it happened, BAM right on the right butt cheek.
There was a small child going through the grocery line with his parents directly behind me. My first thought was, "That little *$#%. I can't believe he just smack me on the back side."
With complete indignation, I whipped around ready to give his parents a piece of my mind. After all, how dare he be so rambunctious to smack the cashier on the butt. Didn't his parents teach him any lessons?
I can only imagine the furry that was written all over my face and what a sight I must have looked. All I can say is THANK GOD I took a breath and composed myself because rather than seeing a guilt ridden child, I saw the evidence of a ginormous grape practically the size of a cantaloupe smashed to smithereens.
It was then that I realized that the small child was completely innocent and I saw two of my friends on the other end of the check stands rolling with laughter.
Yes, the devil had whispered, "throw this huge grape at Heather's right butt cheek" in my friends ear and she happily obeyed.
So what's the lesson in my littel grape episode? It is always a good idea to assess a situation before jumping in.
This same lesson can be applied to the making of candy like this Peanut Brittle. Taking a moment to assess the steps necessary to yielding a gorgeous end product can save a world of time and hassle (see steps below).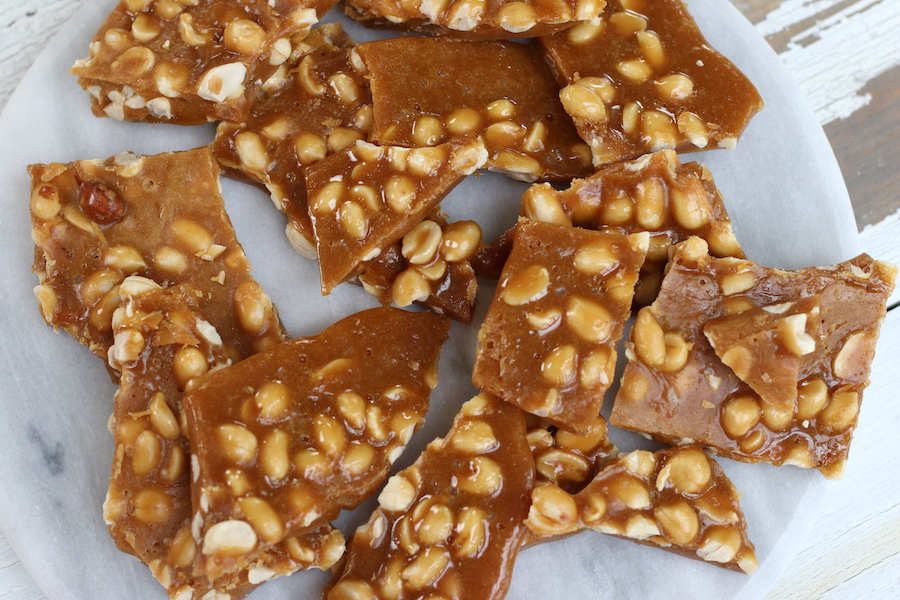 What is Peanut Brittle?
Peanut Brittle is type of hard sugared candy that surrounds peanuts. It is usually served or given as gifts during the holiday season and sometimes has an additional layer of chocolate. The main ingredients are sugar, nuts, butter and water.
What To Do Before Starting
Before beginning, test your candy thermometer in boiling water. This is because as candy thermometers age it is not uncommon for them to not read as accurately. Being off by even a few degrees can change the quality of candy that is produced.
To test your thermometer place a pot of water on the stove to boil with the candy thermometer clipped to the side of the pan. The thermometer should be halfway submerged into the water and not touching the bottom of the pan. Once the water is rapidly boiling jot down the temperature reading. Since water boils at 212℉ this is what the thermometer should read. However, if it reads a few degrees higher or lower, simply adjust the reading for the brittle mixture. As an example, my thermometer read 208℉ in rapidly boiling water. Rather than bringing the sugar mixture to 300℉ I instead brought it to 296℉ with my thermometer.
Secrets For the Best Peanut Brittle
The best Peanut Brittle is crunchy, amber brown with a gorgeous sheen and a wonderful caramel flavor. Here are a few simple tricks to yielding these results.
Test your candy thermometer before beginning (see section directly above).
Make sure when boiling the sugars, corn syrup and water that the thermometer is clipped to the side of the pan and not touching the bottom. It should be halfway submerged into the boiling mixture.
Use a 5-6 quart heavy stainless steel pot.
Prepare and gather all the ingredients and tools before beginning. This will allow for quicker movements once the mixture reaches it ideal temperature.
Proceed cautiously with the boiling mixture as it is extremely hot. Wearing heavy duty oven mitts is highly recommend.
Only whisk the sugar mixture until sugars are dissolved and then let cook without stirring. However, keep a watchful eye on the pot. If the sugar mixture begins to boil towards the top, gently whisk a few times to prevent it from spilling over the sides. Also, lower the temperature slightly.
Steps To Make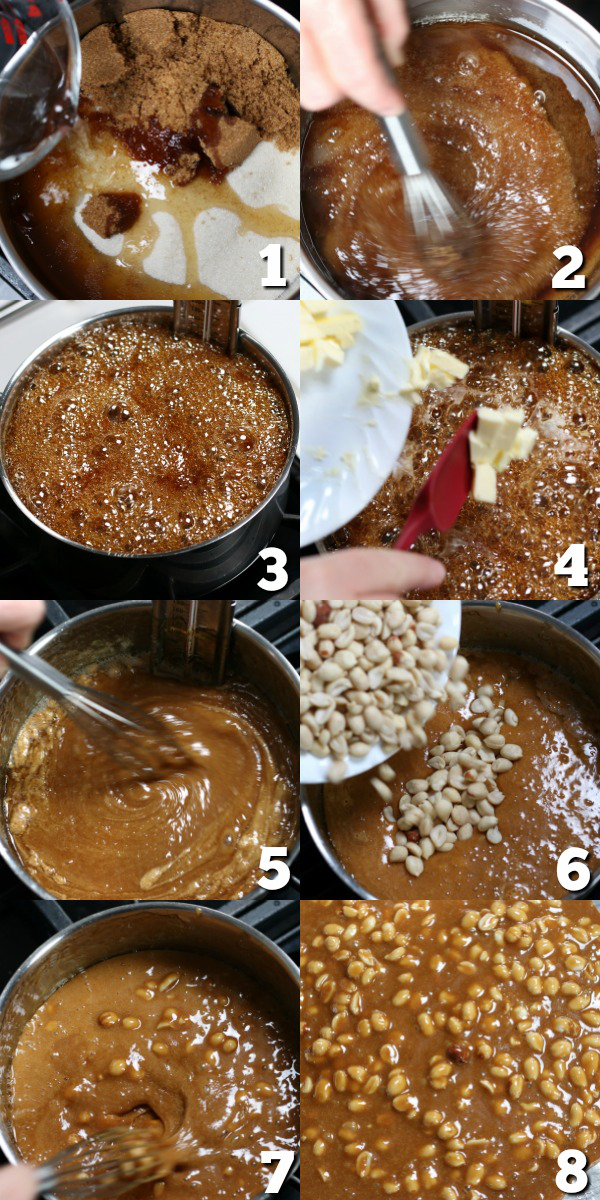 To a 5-6 quart pan add granulated sugar, brown sugar, corn syrup and water.
Place pan over medium heat and stir just until sugar melts.
Cook without stirring until mixture reaches 300℉ with candy thermometer attached to pan.
Once mixture reaches ideal heat remove pan from heat and add baking soda, salt and butter.
Stir until butter is melted and incorporated into mixture.
Add in peanuts.
Stir well.
Pour onto a cookie sheet covered with aluminum foil. Let cool completely before breaking candy into pieces.
How To Store Homemade Peanut Brittle
The best way to store peanut brittle is in an air tight container at room temperature. Do not attempt to freeze peanut brittle. The end product will not be a pretty picture. If stored properly and little hands are not opening and shutting the container, this peanut candy will last 6-8 weeks. When people are in and out of the container, the shelf life will be approximately 2-3 weeks.
If you enjoyed this Peanut Brittle please let me know by leaving a comment and review below. Doing so helps to encourage others to make the recipe also. Thank you!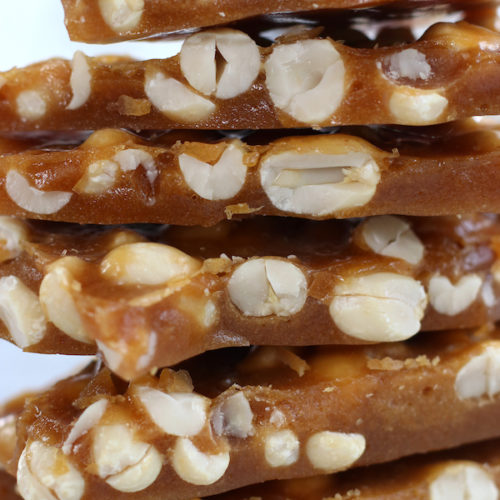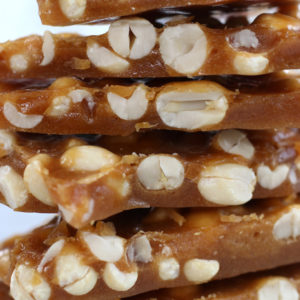 Mom's Old Fashioned Peanut Brittle
Mom's Old Fashioned Peanut Brittle recipe creates beautiful amber brown candy that is crisp, buttery and taste like heaven. This recipe is wonderful for gift givng or on your Holiday buffet table.
Print
Pin
Rate
Ingredients
2

cups

granulated sugar

1

cup

firmly packed brown sugar

1/2

cup

light corn syrup

1/2

cup

water

pinch of salt

1/4

cup

unsalted butter

1/8

tsp

baking soda

1 1/2

cups

peanuts

*raw and shelled
Instructions
Line a sided cookie sheet with aluminum foil. Set aside.

In a 6 quart sauce pan combine sugars, corn syrup and water. Cook over medium heat stirring just until sugar is dissolved.

Continue to cook without stirring over medium heat until mixture reaches 300℉ on a candy thermometer.

Remove from heat and add salt, baking soda and butter. Stir to mix.

Stir in nuts and pour onto prepare cookie sheet. When cold break up into smaller pieces.
Notes
*Please use as many organic ingredients as possible.
Recipe Notes
Recipe yields approximately 1 1/2 lbs or 30 servings. 
Most health food stores (such as Sprouts) will carry Wholesome Organic Light Corn Syrup. 
Nutrition
Calories:
151
kcal
|
Carbohydrates:
26
g
|
Protein:
2
g
|
Fat:
5
g
|
Saturated Fat:
2
g
|
Cholesterol:
4
mg
|
Sodium:
13
mg
|
Potassium:
64
mg
|
Fiber:
1
g
|
Sugar:
25
g
|
Vitamin A:
47
IU
|
Calcium:
15
mg
|
Iron:
1
mg