This recipe creates tender, juicy and flavorful Baja Chicken that is perfect for a multitude of simple dinners. Marinated overnight in an easy citrus marinade and then baked to golden smokey perfection. This is a family favorite!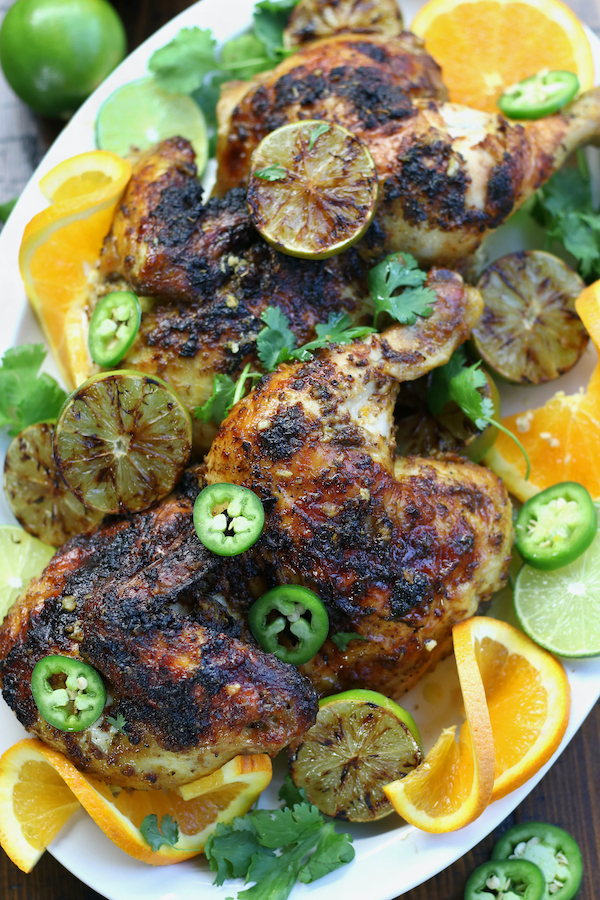 This post may contain affiliate links which I earn a small portion in sales if a purchase is made. Rest assured though, it is never at any additional cost to you.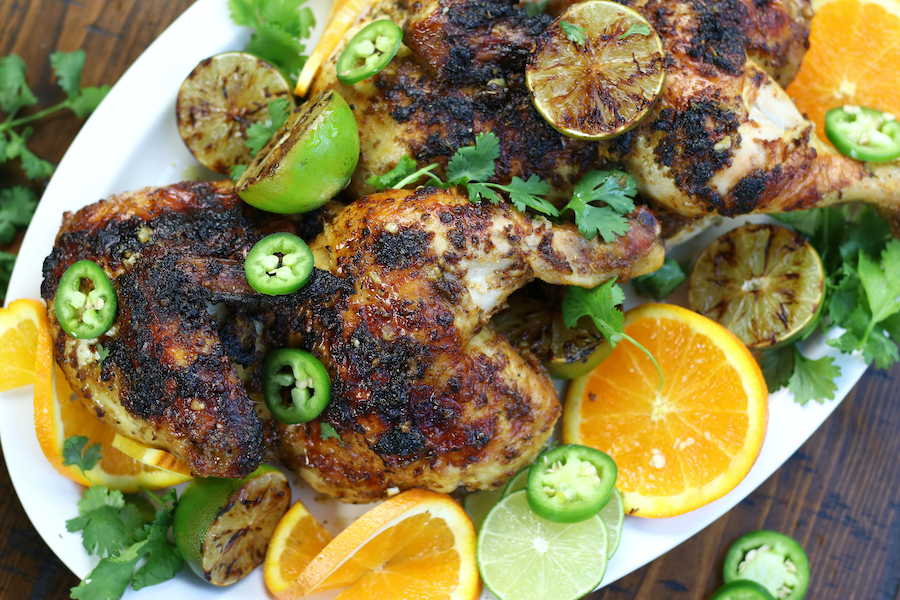 I know one thing for certain, anyone living through 2020 is feeling pretty beat up.
It has been a heck of a year and it is only August.
However, there are always silver linings.
The changes and growth that my husband and I have experienced, although challenging, have been huge blessings.
There are so many of these silver linings for us that I don't want to bore you to tears.
The one I will share with you, enjoying the simple pleasures of life.
We did take out for the first time this week since March.
It felt like such a treat since we also ate it at the beach.
Being surrounded by sunshine, waves and my honey was the best.
Another simple pleasure has been going back to my roots and making meals that were a precious part of my past.
This Baja Chicken is exactly that. It is infused with the flavors of Baja Cuisine that has been a huge inspiration my entire life.
Plus, this chicken is irresistible.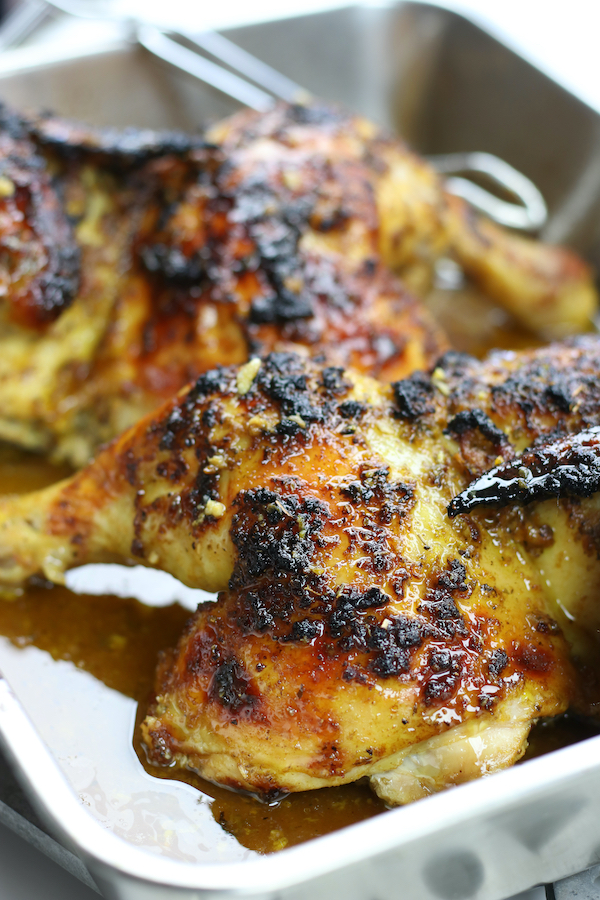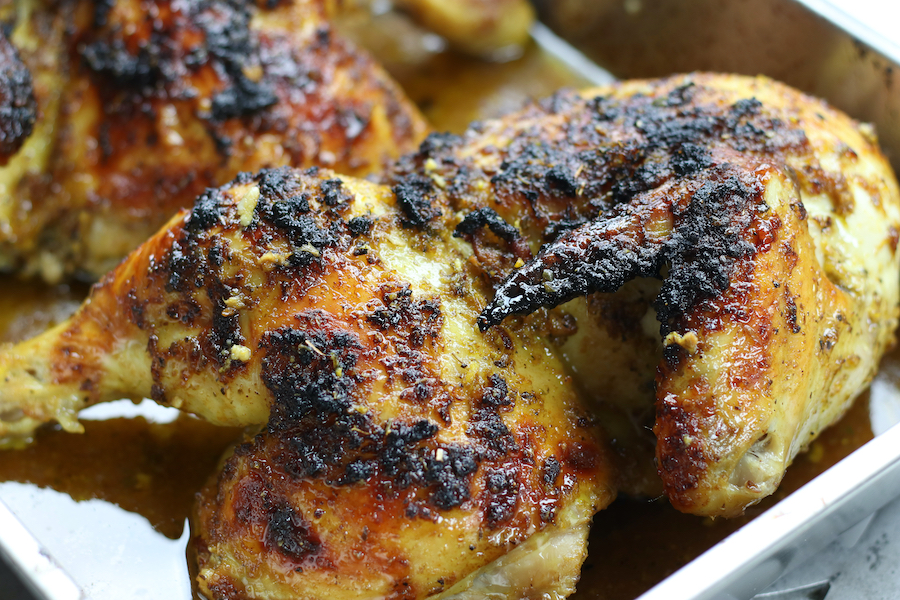 What Is Baja Chicken?
To explain Baja Chicken let me first share about Baja Cuisine. Inspired by authentic Mexican dishes, Baja Cuisine also blends in a fusion of Asian and Mediterranean flavors. Centered in Baja California, San Diego and parts of Mexico, it's menu is well known for being fresh, flavorful, casual and yet sophisticated.
It is no surprise that Baja Chicken incorporates much of the flavors of this region. Marinated in orange, lime, garlic, jalapeño, spices and olive oil. It is then baked in such a way that emulates the smoky complex flavors that this cuisine is known for. Not only is this chicken easy to make, it is also a complete treat for your taste buds.
Baja Chicken Marinade
There is something magical that happens when lime and orange are combined. Add in garlic, jalapeño and spices and man oh man will you have a tasty marinade. To make this marinade simply whisk together these ingredients.
Lime Zest
Lime Juice
Orange Zest
Orange Juice
Olive Oil
Fresh Garlic
Jalapeño
How Long to Marinate Chicken
For this recipe I used a whole chicken that I cut in half by first removing the back bone with kitchen shears and then carefully cutting the breast bone in half. For a whole chicken, marinate for approximately 12-18 hours.
Note: Chicken breasts are most vulnerable to tenderizing in marinades, especially citrus marinades. If using this marinade on chicken breasts, marinate for 2-4 hours. Up to 24 hours marination time can be done for legs and thighs.
How To Cook Marinated Chicken In The Oven
Cooking this marinated chicken in the oven is so very easy. Once compleltey marinated, preheat oven to 425℉. Place chicken halves into a roasting pan with skin side up and room around each half. Using a large spoon, scoop the congealed oil from the marinade and spread evenly over tops of chicken. Bake uncovered for 60 minutes or until internal temperature reads 165℉.
Note: If after 60 minutes the internal temperature does not read 165℉, lower oven temperature to 350℉ and continue baking for an additional 10 minutes or until chicken reaches ideal temperature.
Secrets of What Makes This Chicken Irresistible
The first secret to making incredible Baja Chicken is to pack in the flavor by using both lime and orange zest in the marinade. Zesting releases the aromatic oils of the lime and orange and adds a bright depth of flavor to the chicken.
An addition of heat to the marinade adds personality to your chicken. The type and amount depends on your personal preferences, however I used 2 smaller jalapeños sliced thinly. For a very spicy chicken use ghost peppers (however, proceed cautiously) or for a midrange to spicer heat use habaneros. Additionally, cayenne pepper, chipotle powder or red chili pepper flakes can also be substituted for the jalapeños.
Another trick to packing in the flavor is to use plenty of fresh garlic in the marinade. Ideally, 10 large cloves or two small heads of garlic. Let's be honest though, no one enjoys processing that much garlic. To make it easier peel the garlic by either 1) place the clove under the flat side of the chefs knife and gently slamming the heel of your palm onto the top of the flat side of the knife to 2) soak the garlic cloves in water before peeling. Soaking garlic makes removing the skin 1,000 times easier. Also, this makes the job so much easier.
Last but not least, this is how to roast the chicken to emulate the smokey charredness that Baja Cuisine is known for. Place the marinated chicken in a roasting pan skin side up. Remove the congealed oil from the marinade and spoon over the tops of the chicken. Bake in a preheated oven at 425℉ for 50-60 minutes or until internal temperature reaches 165℉.
What to Serve With Baja Chicken
There are a multitude of ways to eat this Baja Chicken and recipes to enjoy it with. Here are just a few ideas for a delicious dinner.
Additional Juicy and Flavorful Chicken Recipes
Mom's Family Style Sweet and Sour Chicken
Cilantro Lime Mexican Roast Chicken
If you enjoyed this Baja Chicken recipe please let me know by leaving a comment and review below. Doing so helps to encourage others to make the recipe also. Thank you!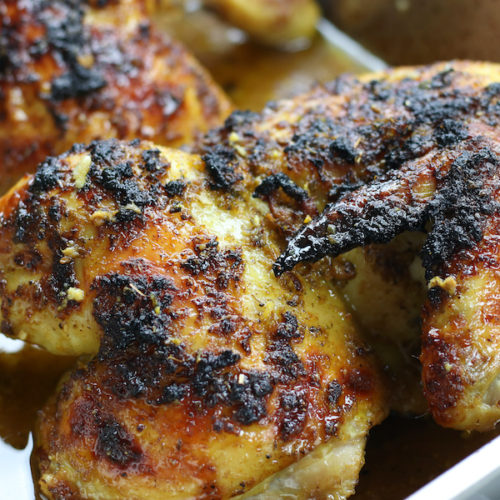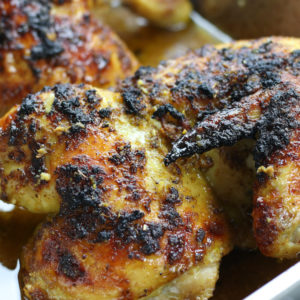 Baja Chicken
Baja Chicken is marinated in orange, lime, garlic, jalapeño, spices and olive oil. It is then baked in such a way that emulates the smoky complex flavors that Baja cuisine is known for. This chicken is tender, juicy and flavorful. Such a family favorite that can served in many different ways.
Print
Pin
Rate
Ingredients
Marinade
2

tbsp

lime zest

*about 4 limes

1/2

cup

lime juice

2

tbsp

orange zest

*2 med or 1 large orange

1/2

cup

orange juice

2

sm

 jalapeños

*sliced

1

cup

olive oil

*or high heat oil of choice

10

lg

garlic cloves

*or 2 heads of smaller garlic

1

tbsp

oregano

2

tsp

cumin

1

tbsp

coriander

1

tsp

sea salt

1/2

tsp

black pepper
Chicken
1

3 lb

whole chicken

*giblet package removed
Instructions
Marinade
Zest both the limes and orange(s)and place zest into a medium sized mixing bowl.

Juice the citrus and add juice to zest.

Slice jalapeños and add to juice.

Whisk oil into citrus juice.

Peel garlic and crush with garlic press. Whisk into oil juice mixture.
Chicken
Remove chicken form packaging and remove giblets from inner cavity of chicken.

Using a sturdy pair of kitchen shears, remove back bone by cutting just beside the spine of the bird on one side and repeating on the other side of the spine.

Place chicken skin side down on cutting board. Using a chefs knife, carefully first cut through the cariledge of breast bone (doing this first will make cutting through the breast bone easier). With another motion carefully slice through the breast bone now splitting the chicken in half.

Place the two chicken halfs in a large glass bowl and pour marinade over chicken, making sure all chicken is covered in marinade. Cover bowl with plastic wrap and refrigerate for 12-18 hours. Approxiatmatley 8-10 hours into marination turn the chicken over and spoon marinade over top of chicken.
Roasting
Remove chicken from marinade and place into a large roasting pan skin side up.

Spread congealed oil from marinade over tops of chicken. (see notes below)

Bake uncovered for 50-60 mins or until internal temperature reads 165℉. (Keep a watchful eye on chicken at around the 40 min marker. If chicken is becomming too dark too quickly, lower temperature to 350℉ and continue baking until chicken reaches its ideal internal temperature.)
Notes
*Please as many organic ingredients as possible. 
Recipe Notes
Nutrition
Calories:
143
kcal
|
Protein:
16.4
g
|
Fat:
8.2
g
|
Saturated Fat:
2.2
g
|
Polyunsaturated Fat:
1.8
g
|
Monounsaturated Fat:
3.2
g
|
Cholesterol:
52.6
mg
|
Sodium:
49
mg
|
Potassium:
133.4
mg
|
Vitamin A:
28.5
IU
|
Vitamin C:
13
mg
|
Calcium:
22.5
mg
|
Iron:
1
mg