The complex nutty taste of the ancient grain Farro pairs well with the fresh flavors of dill, cucumber and asparagus. With the cheese and shrimp, this Shrimp and Farro Salad becomes over the top delicious. A great cold Mediterranean salad perfect for spring and summer dinners.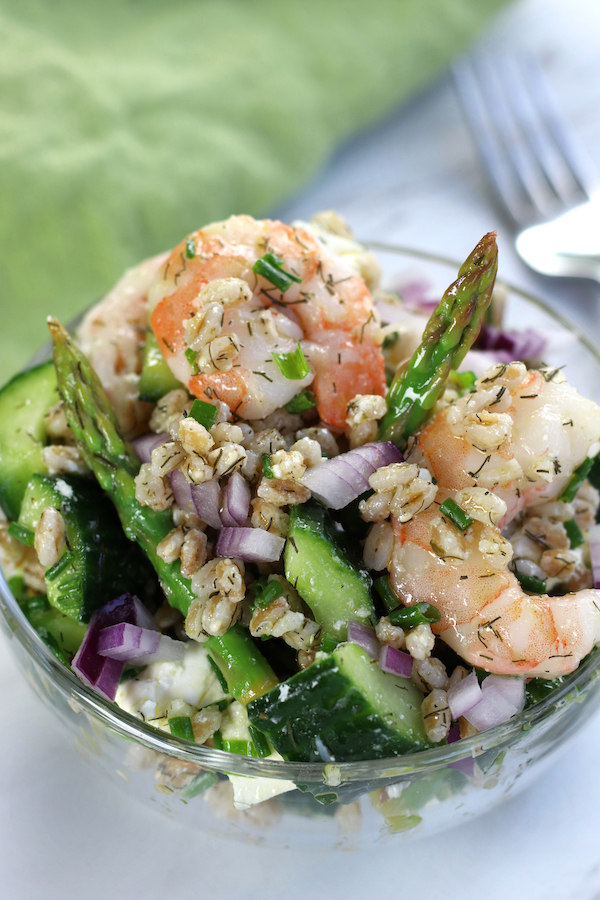 This post may contain affiliate links which I earn a small portion in sales if a purchase is made. Rest assured though, it is never at any additional cost to you.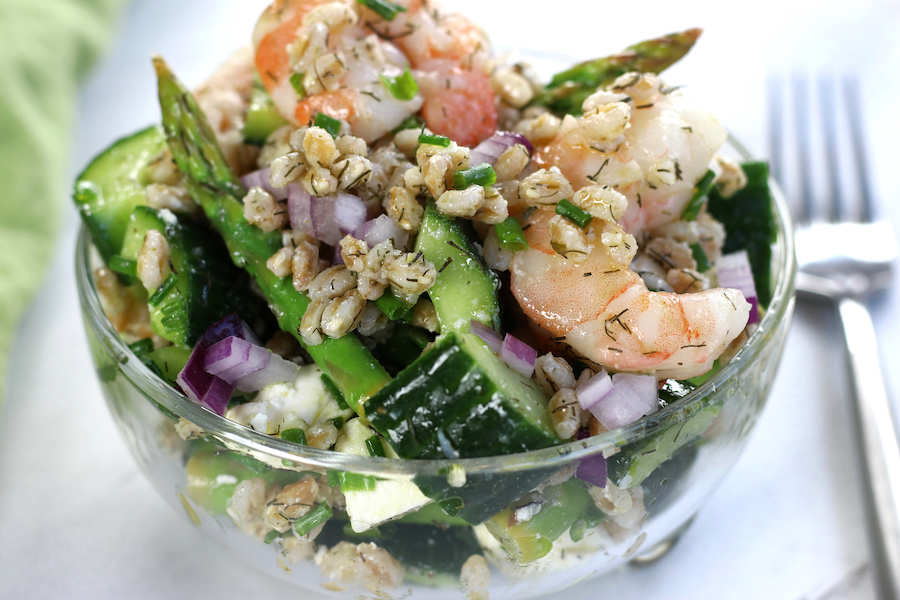 During spring and summer I adore make ahead meals that we can pull out of the refrigerator, serve and eat cold.
With the warmer days, a chilled meal just tastes so amazing.
In addition, it compleltey frees up my time later in the day when it really is just too hot to be cooking anyways.
This Farro Salad is exactly that kind of recipe.
On top of being perfect for warmer days, this salad is easy to make, packed with nutrition and full of flavor.
Plus, it works great for baby showers, bridal showers and potlucks.
Really, just an all purpose meal!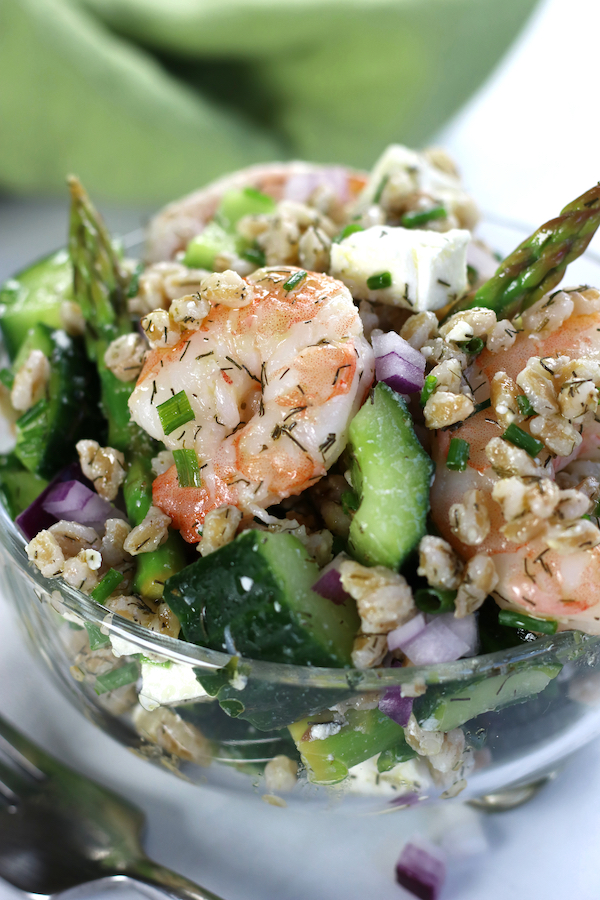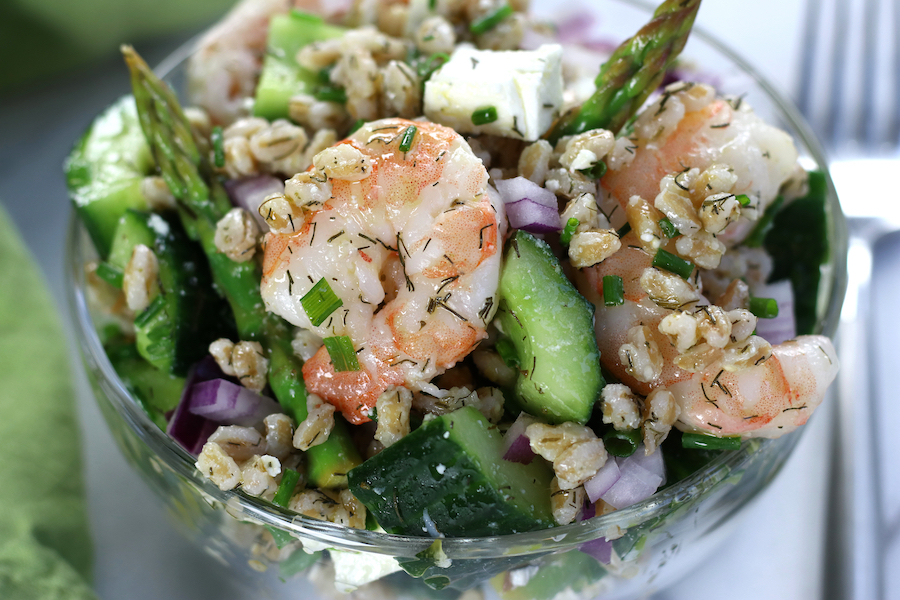 What is Farro
Farro is a nutrient packed grain that has been traced back 20,000 years, hence making an ancient grain. It is nutty tasting with a chewy texture. Also, it is very satisfying/filling to eat. Farro can replace rice for many meals, works great in salads (as seen with this Farro Salad) and soups/stews.
Quick Cooking Farro
When dinner needs to be done quickly, quick cooking Farro is the way to go. Some Farro that is already prepackaged will be labeled with a 10 minute cooking time. This type of Farro falls within the category of Quick Cooking Farro because either it is of the pearled or semi-pearled variety or it has been pre-boiled.
How To Cook Farro
When cooking Farro, it is most important to follow the directions on the package. This is because the varieties will have different cooking times. However, regardless of which variety you use, the standard approach is a 1 to 3 part cooking method. In other words, for every cup of Farro use approximately 3 cups of liquid.
To cook, rinse the Farro and place in a sauce pan with either water or broth. Bring to a boil, cover, reduce heat and simmer for the allotted time, following the directions on the package. Drain excess water.
Where to Buy Farro
As noted above, Amazon does carry different brands and varieties of Farro. Most healthy grocery stores (like Sprouts) will also carry Farro either prepackaged or in the bulk section of the store. Also, many larger grocery stores and/or Italian markets may carry it.
Farro vs Rice
When comparing the nutritional profile of Farro to brown rice, Farro does seem to have a slight nutritional edge. However, both are highly nutritious.
Farro Salad
Farro Salad really is a wonderful recipe to keep in your recipe rotation for multiple reasons. Here are just a few:
Makes a great packed work lunch.
It is a great way to sneak in extra nutrition.
Works very well at potlucks, baby showers and bridal showers.
Very satisfying as a meal.
Perfect make ahead meal for busy nights.
Tastes great cold for warmer weather.
Summer Farro Salad Variations
To really utilize all the produce that is in season during Spring and Summer, keep the base of this recipe the same but switch up the produce with these options:
various bell peppers
corn
zucchini (ribboned or diced)
eggplant (diced and lightly sautéed)
diced avocado
heirloom tomatoes
peas
What To Serve with Farro Salad
This Shrimp and Farro Salad is absolutely divine on its own, but here are some additional dishes that would work well with it.
Baked Pita Chips with Lemon Dill Hummus or Tzatziki Sauce
More Delicious Crowd-Pleasing Salad Recipes
Bacon Belly Button Pasta Salad
Kale and Brussel Sprouts Salad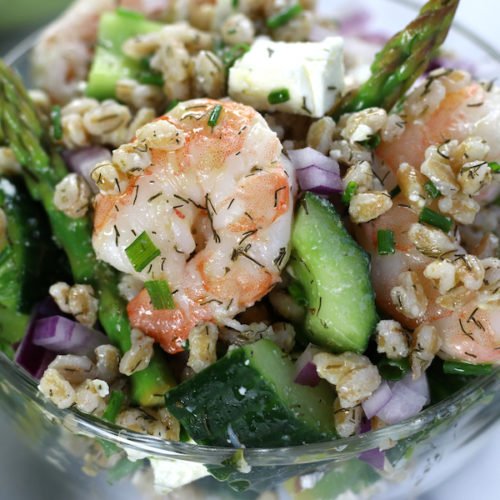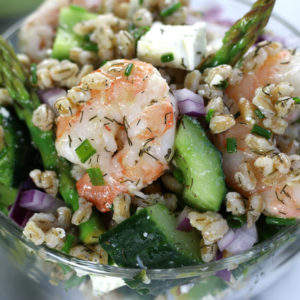 Ingredients
Shrimp
1

lb

16/20 raw shrimp

*shelled and deveined

2

tbsp

extra virgin olive oil

1/2

tsp

sea salt
Salad
8.8

oz

quick cooking Farro

*or 9 oz reg Farro

12

oz

bunch asparagus

*preferably thin stalks

1/2

cup

extra virgin olive oil

1/2

cup

lemon juice

*about 3 lg lemons

4

lg cloves

garlic

*crushed, about 1 heaping tbsp

2

tbsp

dried dill

*or 1 cup loosely packed fresh chopped dill

1

bunch

fresh chives

*minced, about 1 cup

1

large

English cucumber

*deseeded and cubed

1/2

med

red onion

*diced, about 1 cup

8

oz

feta

*crumbled or cubed
Instructions
Preheat oven to 400°F. Place cleaned shrimp on a large, sided cookie sheet. Drizzle shrimp with olive oil and sprinkle with salt. Toss well. Bake for 5-7 mins or until shrimp are no longer opaque. Remove from oven and let cool to room temperature.

Rinse farro and place in a medium sized saucepan with approximatley 4 1/2 cups water. Bring to boil, cover and simmer following the directions on the package.

Wash, trim and cut asparagus stalks into 1/3's. Place cut asparagus into colander. Once farro is done cooking drain over top of asparagus and let sit for 5 mins. (This step eliminates having to cook the asparagus. Just make sure the stalks are on the thin side.)

Meanwhile, in a large mixing bowl whisk together olive oil, lemon juice, garlic and dill. Add farro, asparagus and shrimp to oil mixture. Toss well and place in refrigerator to cool while preparing last of salad.

Prepare last 4 ingredients. Toss with other ingredients once farro has cooled to room temperature.
Notes
*Please use as many organic ingredients as possible.
Recipe Notes
Quick cooking farro is farro that has been pre-boiled and then dried. Its cooking time is significantly lower (total 10 mins) than regular farro. Please allow extra cooking time if using regular farro.
English cucumbers are the same as hot house cucumbers.
To deseed the cucumber, cut in half lengthwise. Use a small soup spoon to gently remove the seeds by scraping the rounded edge along the seeds but avoiding the flesh.
For thicker stalked asparagus place cut pieces into the boiling water for the last 3 mins of cooking the farro.
Nutrition
Calories:
406
kcal
|
Carbohydrates:
29
g
|
Protein:
20
g
|
Fat:
24
g
|
Saturated Fat:
7
g
|
Cholesterol:
168
mg
|
Sodium:
908
mg
|
Potassium:
277
mg
|
Fiber:
6
g
|
Sugar:
3
g
|
Vitamin A:
515
IU
|
Vitamin C:
11
mg
|
Calcium:
255
mg
|
Iron:
4
mg