Savory and sweet, this Arugula Pear Salad is a simple and healthy recipe. Perfect as a side dish or light meal with arugula, pear, honey glazed walnuts, parmesan and a balsamic vinaigrette. So delicious and easy, this is sure to become a fall favorite.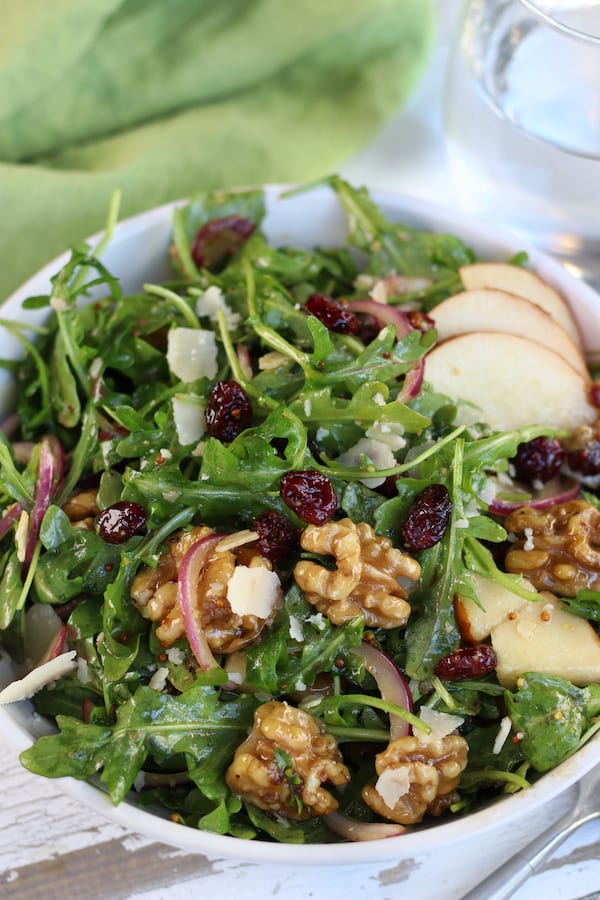 This post may contain affiliate links which I earn a small portion in sales if a purchase is made. Rest assured though, it is never at any additional cost to you.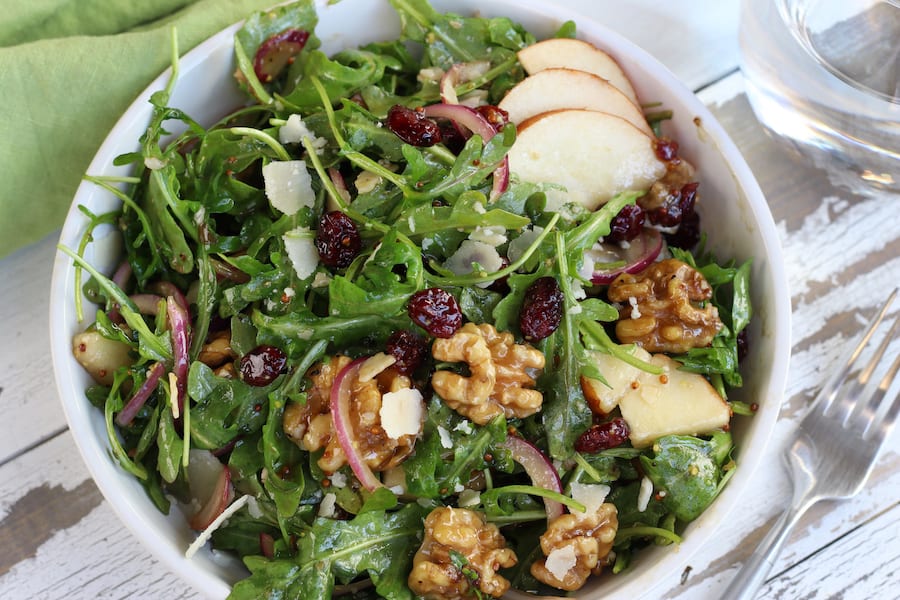 Falling in Love with Salads: Exploring the Magic of Arugula Pear Salad
For many people, homemade salads tastes like eating a bowl full of weeds. Often people find that the homemade version is bland and unappealing.
However, the secret to making a homemade salad that everyone will love is focusing on the flavor, texture and appearance. This Arugula Pear Salad accomplishes all three elements by combining the peppery bite of arugula with the sweetness of ripe pears. With the addition of crunchy candied walnuts, tangy dried cranberries, and a zesty balsamic Dijon dressing, each bite becomes an explosion of flavors. Additionally, the contrast of colors makes this salad as visually appealing as it is tasty.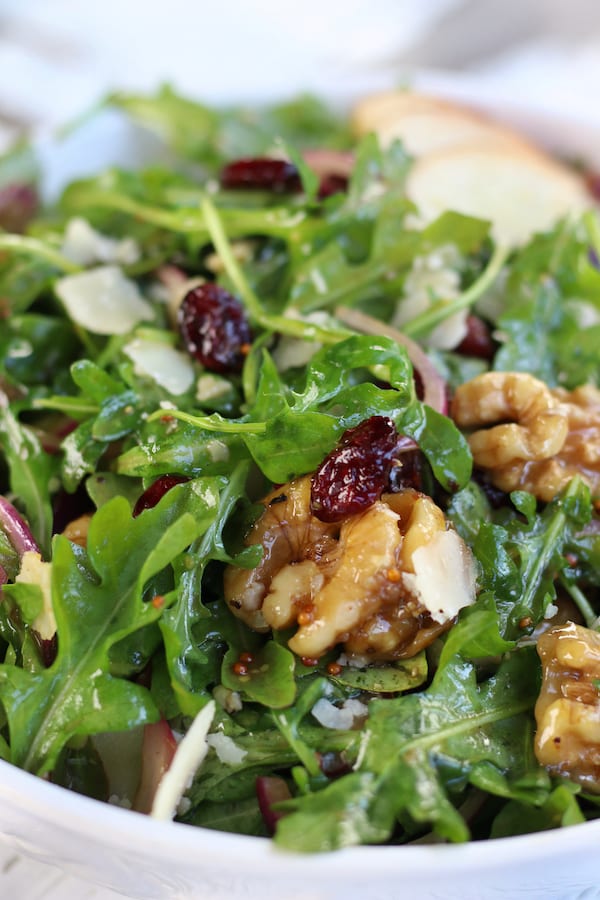 Arugula Nutrition
Arugula leaves are a highly nutritionally dense vegetable packing a punch with calcium, potassium, folate, vitamin C, vitamin K and vitamin A. In addition, arugula has been shown to have many health benefits.
How To Make Arugula Pear Salad
To make this incredibly simple salad, follow these steps:
Prepare the Candied Walnuts or Maple Glazed Pecans and let cool.
Whisk together oil, balsamic, dijon, garlic, salt and pepper in a large mixing bowl.
Cut onion and pear.
Add to vinaigrette the arugula, cranberries, parmesan, onion, pear and walnuts.
Toss well.
Arugula Salad Ingredients
What makes this salad so incredible is the balance of savory to sweetness and the crisp to buttery textures of ingredients.
Extra Virgin Olive Oil– This oil is a crucial component of the dressing, adding richness and enhancing the salad's taste. Quality oil is usually stored in dark glass bottles to protect it from light, which can degrade its quality. Also, check the packaging for the harvest date (preferably recent) and a mill or estate name.
Coarse Dijon Mustard– This mustard provides texture and tanginess to the dressing. Also, it helps to emulsify the oil and vinegar, creating a cohesive blend.
Balsamic Vinegar– If possible, opt for aged balsamic vinegar with a balanced sweet-tart taste. Its acidity complements the sweetness of pears and cranberries, creating a well-rounded dressing.
Garlic– Use fresh garlic for the most robust flavor.
Salt and Pepper– Enhances the overall flavor of the salad. Remember to taste and adjust the seasoning as needed.
Red Onion– Adds a mild bite to the salad that is a tasty balance to the sweetness of the candied nuts and cranberries. Additionally, red onions add a pop of color.
Dried Sweetened Cranberries– Provides a chewy texture and a sweet-tart flavor contrast.
Arugula Leaves– Has a unique, peppery taste that adds a pleasant kick to salads and contrasts the sweeter ingredients.
Shaved Parmesan– Using Parmigiano Reggiano, aka authentic aged Italian parmesan, adds a nutty and robust flavor. Costco has the best value on authentic parmesan.
Bosc Pear– Provides a natural sweetness that pares well with the tanginess of the dressing.
Candied Walnuts– Brings in a delicious buttery crunch and sweetness that compliments the other ingredients.
How To Toss a Salad Easily
The easiest way I have found to toss a large salad is to whisk the vinaigrette together in the bottom of a large mixing bowl and then toss using these tongs. The action of tossing the salad involves lifting the ingredients from the bottom of the bowl and gently turn them over the top, allowing for an even distribution of dressing and mix-ins.
Variations to Arugula Pear Salad
There are lots of possibilities for variations on this Arugula Pear Salad recipe:
Dressing Variations
Use lemon juice, white wine vinegar, champagne vinegar instead of balsamic

.

Add honey, maple syrup, or fruit jam for some sweetness

.

Add fresh herbs like dill, basil, mint, or cilantro

.
Topping Variations
Toasted walnuts, almonds, pecans, hazelnuts instead of candied

nuts.

Crumbled blue cheese, chèvre for different flavors

.

Other dried fruits such as cherries, golden raisins, apricots

or dried pineapple chunks.

Citrus segments like orange or grapefruit

can add a zesty element.

Pomegranate seeds for color, crunch, and sweet-tart taste

.
Replace the pears with fruit such as apple, grapes, plums or peaches for a fun twist.
Berries like

strawberries, blueberries and raspberries

can make a beautiful and tasty addittion.
Salad Base Variations
Arugula can easily be substituted with

greens like baby kale, spinach, watercress, endive and radicchio

.
Cooked

grains such as quinoa, farro, bulgur, couscous

and barley can add texture, extra nutrition and flavor.
Protein Options
Chicken– All Purpose Chicken Breasts that are shredded or cubbed pairs nicely with this salad.
Salmon– Roast or grill salmon fillets, then break into chunks on the salad.
Shrimp– Pan sear shrimp or grill to add on top of the greens.
Tuna– Use canned tuna or freshly seared tuna steaks.
Beans– Chickpeas, kidney beans, cannellini beans or navy all add a delicious plant-based protein.
Seeds– Sprinkle hemp, chia, pumpkin or sunflower seeds over the top for a delightful crunch and nutritional boost.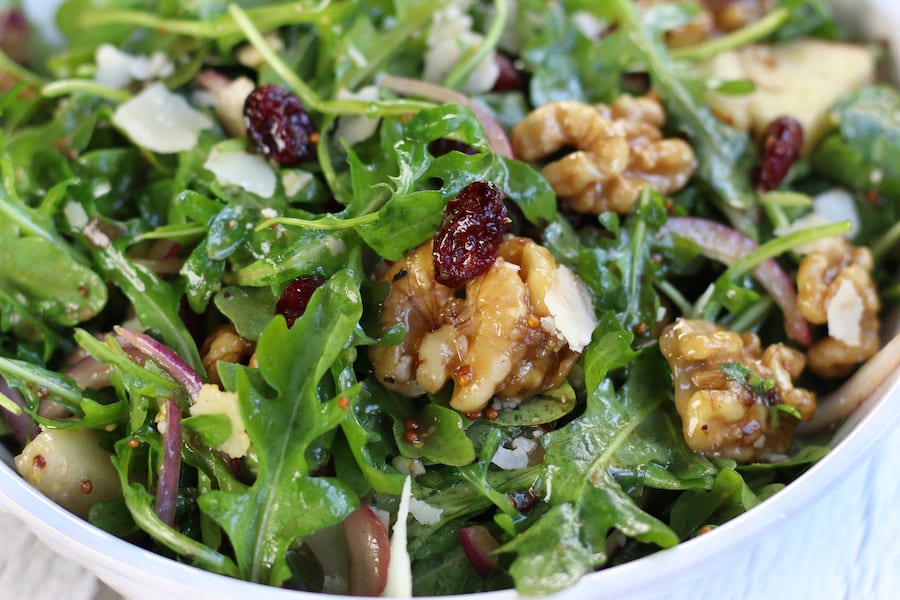 FREQUENTLY ASKED QUESTIONS
Recipe calls for Bosc pears, but can I use a different pear?
Bosc pears work beautifully in this salad, but you can substitute other varieties of pears too:
Anjou– Very similar shape and texture to Bosc. Sweet and juicy with hints of spice.

Bartlett- Classic choice. Soft and smooth flesh with lots of sweetness and juice.
Asian- Crisp like apples. Sweet with a slight floral note. Holds shape well.
Comice- Shorter and squatter but equally sweet and tender when ripe.
Forelle– Small and delicate. Smooth texture with a touch of lemon flavor.
Seckel– Mini pears with a spiced, honey-like flavor. Cute for individual salads.
How can I tell if the pear is ripe enough?
Here are a few ways to tell if pears are ripe and ready to eat:
Gently press near the stem end. A ripe pear will yield slightly to pressure. It should be soft but not squishy.

Check the color. Ripe pears may have a deepening color on some parts of the skin, like green to yellow or red blush.

Lift to smell. A ripe pear will have a sweet, fragrant aroma coming from the stem end. An underripe one won't smell like much.

Look for the stem. It should detach easily from a ripe pear if you gently lift it. Clinging stems mean underripe.

Feel the weight. Ripe pears feel heavier in your hand compared to unripe, due to higher juice content.

Taste test! Take a bite. The flesh should taste sweet and juicy, not hard or starchy.

Let pears ripen on the counter at room temperature if they are still too firm. Once ripe, move to the fridge.
Do I need to peel the pears?
Peeling pears before slicing them for a salad is optional. Here are some factors to consider:
Peeled pears will have a more elegant, polished look in the salad if you are serving it for a fancier presentation.

However, leaving the peel on provides fiber, nutrients, and texture contrast with the tender inside.

Thin-skinned varieties like Anjou, Bartlett, and Comice don't need peeling necessarily. Their edible skins are very thin.

Pears with thicker, rougher skin like Bosc are better candidates for peeling so the texture doesn't detract.

If not peeling, wash the pears well beforehand especially if you plan to eat the skin.

A vegetable peeler or paring knife works to remove the skin. Try to peel in one long strip.

Make sure to peel before slicing or dicing so the pieces have an even look.

Taste an unpeeled slice first to determine if the skin is unpleasantly bitter or textured. Adjust accordingly.
So it comes down to personal preference, the variety, and what texture you want. For salads, peeled pears look prettier but unpeeled provides contrast.
Can I use any other greens in this salad?
You definitely can add other greens in addition to or in place of the arugula in this pear salad recipe. Some options include:
Baby Spinach- Adds tenderness and a mild flavor.
Romaine lettuce- Crisp with subtle sweetness to balance the pears.
Frisée- Delicate, slightly bitter leaves pair nicely with sweet pears.
Radicchio- Bold color and pleasant bitterness contrasts the pears.
Endive- Slightly bitter leaves that complement the sweet vinaigrette.
Bibb or Butter Lettuce- Soft, tender leaves with a delicate flavor.
Kale- For heartiness, nutrition, and contrast of textures. Massage leaves first with oil and salt.
Spring Mix- A blend of baby greens for variety.
Watercress- Peppery flavor and crunch works well with the pears and cheese.
How long will leftovers last in the refrigerator?
Once all components are combined in the salad, it's best consumed within 1-2 days for maximum freshness and texture. Dress only the amount you plan to eat rather than the entire batch to prevent sogginess.
What To Serve With Arugula Pear Salad
Lemon Rosemary Chicken and Potatoes
Crispy Baked Rosemary Potatoes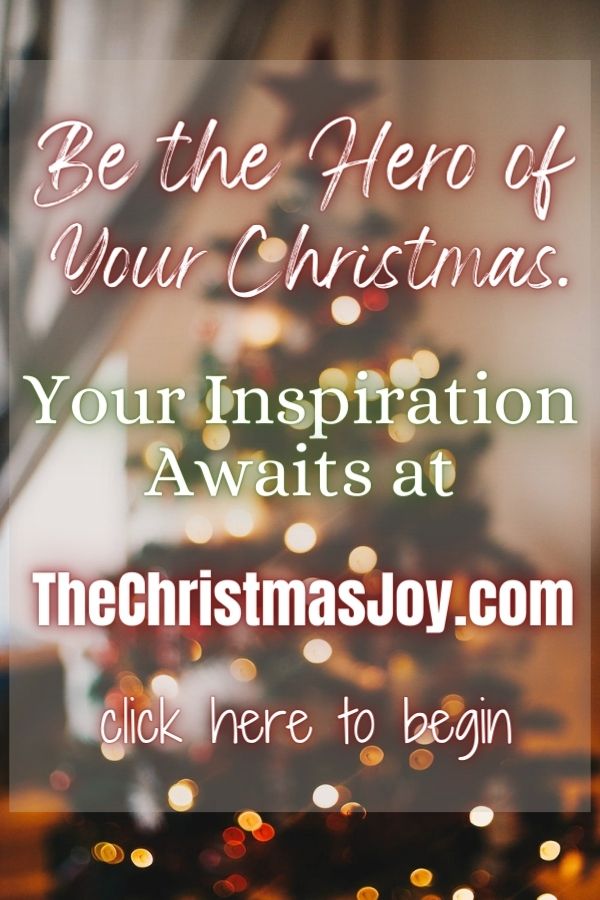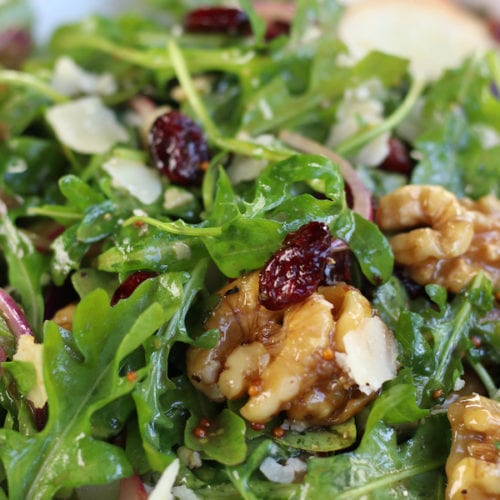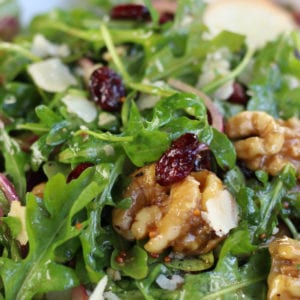 Arugula Pear Salad
Pear, arugula, candied walnuts and a balsamic vinaigrette make for an irresistable side salad or main entree. So good our family can eat this for several nights in a row.
Print
Pin
Rate
Ingredients
Vinaigrette
1/2

cup

extra virgin olive oil

3

tbsp

balsamic vinegar

1

tbsp

coarse grained dijon mustard

1

tbsp

crushed garlic

*about 3 lg garlic cloves

1/2

tsp

sea salt

1/2

tsp

black pepper
For the Salad
1

small

red onion

*cut into thin strips, about 1/2-1 cup

1/2

cup

dried sweetened cranberries

7

oz bag

arugula leaves

1/2

cup

shaved parmesan

1

lg

bosc pear

*thinly sliced

1

cup

Candied Walnuts *or Maple Glazed Pecans
Instructions
In a large mixing bowl whisk together olive oil and balsamic and then remaining vinaigrette ingredients.

Add in ingredients for the salad and toss well.
Notes
Recipe Notes
If serving 4, this recipe makes 4 small side salads. 
For those who love salads and are eating this as the main entree, this recipe will serve 1-2 people. 
Nutrition
Calories:
418
kcal
|
Carbohydrates:
23
g
|
Protein:
7
g
|
Fat:
34
g
|
Saturated Fat:
6
g
|
Cholesterol:
9
mg
|
Sodium:
558
mg
|
Potassium:
271
mg
|
Fiber:
3
g
|
Sugar:
18
g
|
Vitamin A:
1290
IU
|
Vitamin C:
10
mg
|
Calcium:
245
mg
|
Iron:
1
mg