Homemade Sweet Potato Chips have a light crispiness that are perfect for snacks or a healthy plate of nachos. Cooked in coconut oil and kissed with chili powder, these little beauties will make you smile.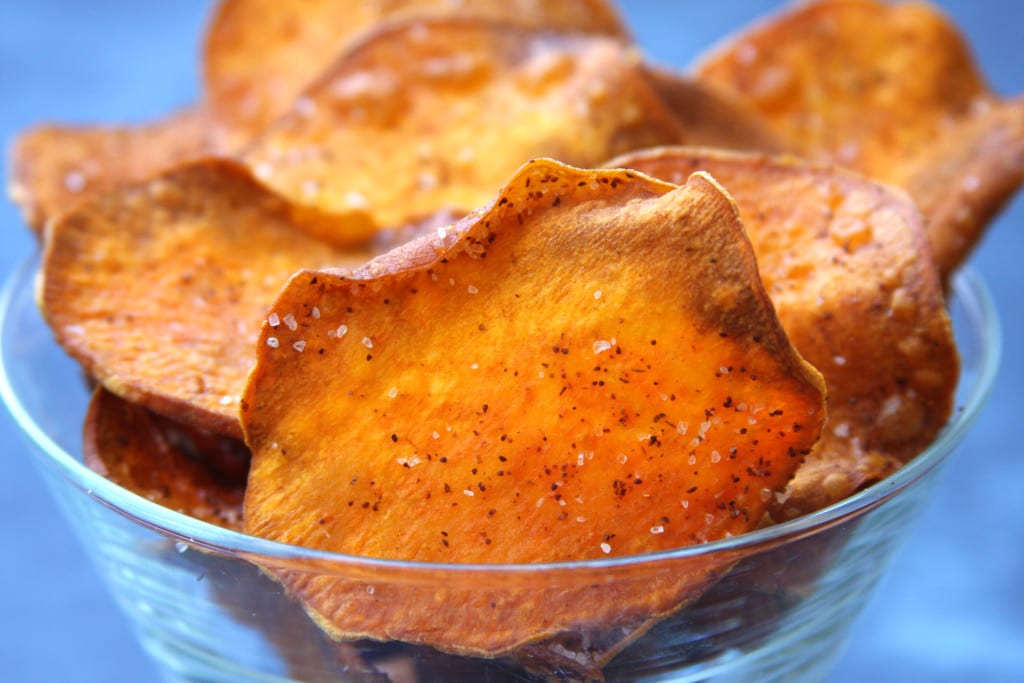 This post may contain affiliate links which I earn a small portion in sales if a purchase is made. Rest assured though, it is never at any additional cost to you.
I love to munch. I mean who doesn't? I would like to meet the person who doesn't and give them a piece of my mind. It is practically inhumane not to like to munch. You can imagine my desperation I felt when starting the elimination diet and not being able to have corn. That means no corn tortillas, no grilled corn in my salad and the worst part, no tortillas chips (all organic of course). Oh the horror!!!! Thank God the build up of starting the elimination diet was by far the worst part over the actual diet. Now don't get me wrong, I have had my moments but I thought for certain I would be face-planted to the outside window of the local Mexican eatery, staring at the customers enjoying their delectable chips and salsa, drool cascading down the front of me. Yep, that would have surely been a proud Heather moment. So let me tell you about these glorious little Homemade Sweet Potato Chips that saved me from utter humiliation.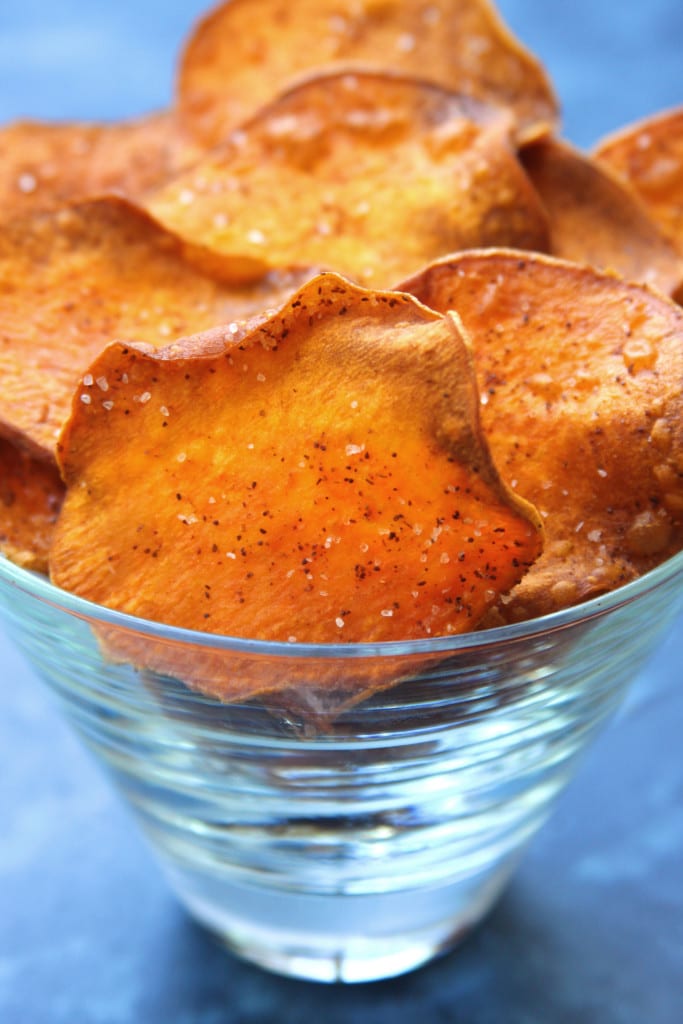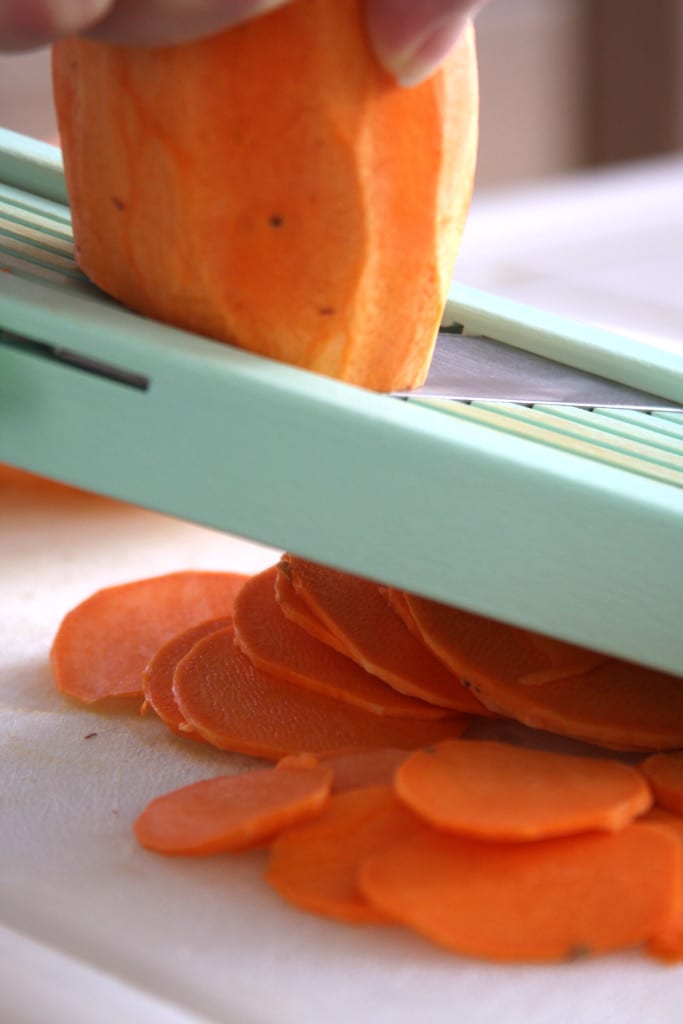 One of the secrets to soul satisfying, crispy Homemade Sweet Potato Chips is to slice the potatoes evenly and thin. Personally, I would not even try to attempt cutting them with a knife myself because I would either chop a finger off or my chips would turn into fries. A mandolin is a fast and easy way to achieve the thinness that will make the perfect crispiness. (affiliate)
One nice large and fat sweet potato will yield enough chips for 2, possibly 3 people. 2 large and fat potatoes will be enough for 4-5 people.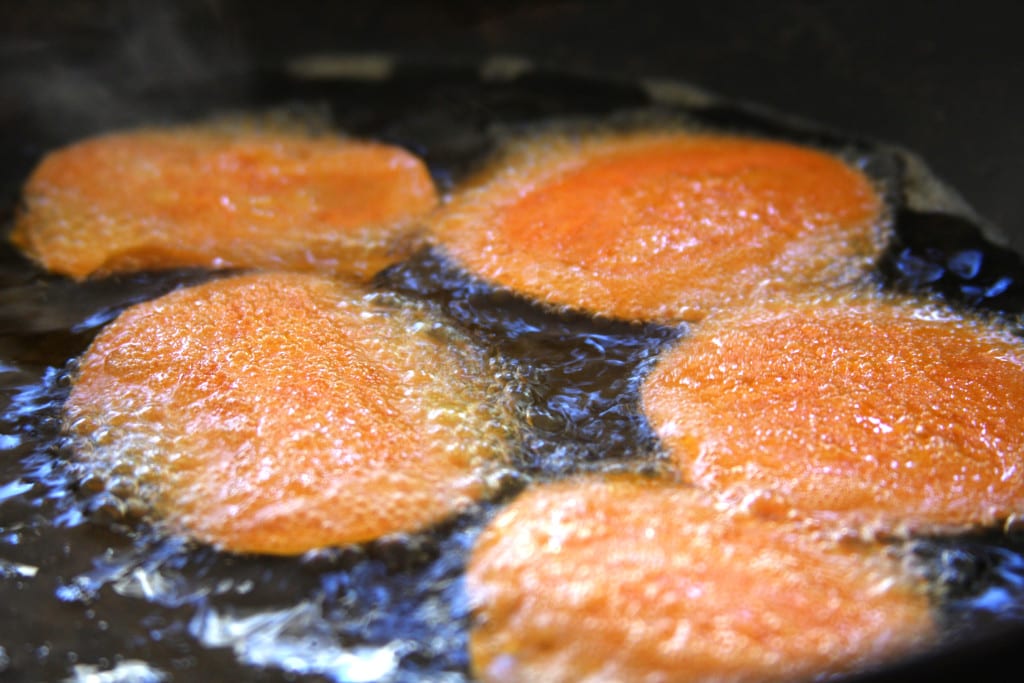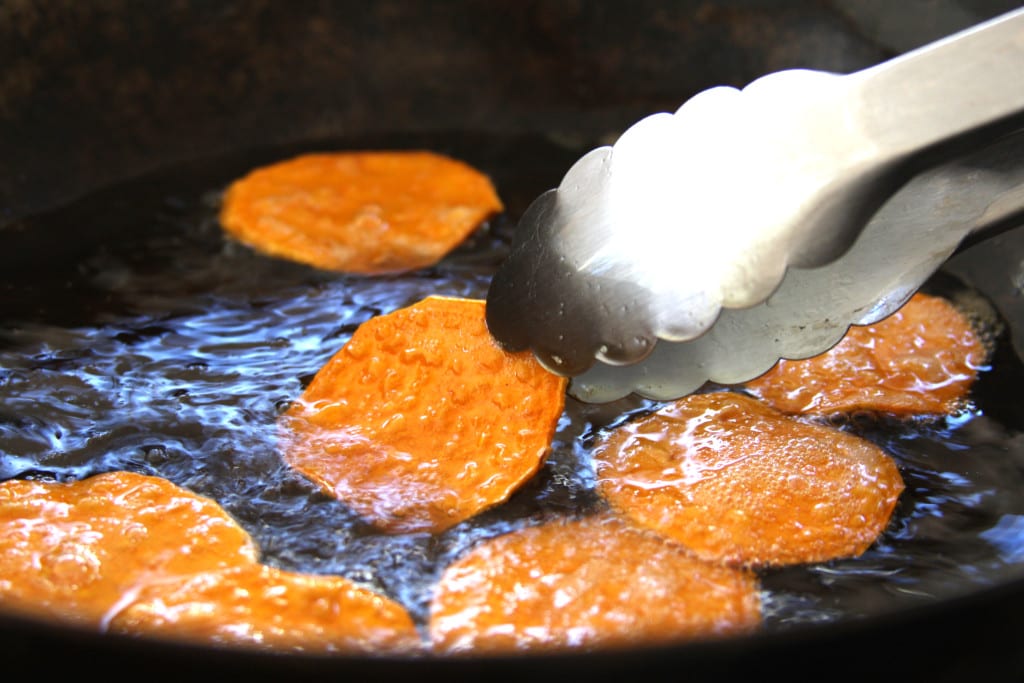 Tips about Homemade Sweet Potato Chips:
I used a flat bottom wok for frying these Homemade Sweet Potato Chips over a medium- medium/high heat (depending on the size of the burner). Flat bottom woks are perfect for making a quick stir fry like my Lemon Chicken Stir Fry or deep frying these chips. (affiliate)
I used refined Organic Coconut Oil for these Homemade Sweet Potato chips because refined coconut oil can handle temperatures up to 400℉. If you are not a lover of coconut oil than I highly recommend using Chosen Foods Avocado Oil. I love this brand because it has a great, mild flavor and smell. Check out this eye opening information from clinical nutritionalist Christa Orecchio that explains why I do not recommend using vegetable oils.
You will want the oil hot enough that it is only slightly smoking. If there is a lot of smoke, it is way too hot. Fry 5-7 chips at a time, depending on the size, making sure to not over crowd the pan. Turning the chips a few times will help in making sure they are evenly cooked.
One thing to keep in mind, if your Sweet Potato Chips are not fried long enough and lighter in color, your chips will not be crispy enough and will not stand up to all the ingredients for nachos. It generally takes 3-5 minutes to fry, depending on heat source.
Once the Homemade Sweet Potato Chips are done frying, place on a paper towel to absorb extra oil. Lightly season with salt and chili powder. Enjoy as a snack or use to make my Super Healthy Sweet Potato Nachos recipe. (affiliate)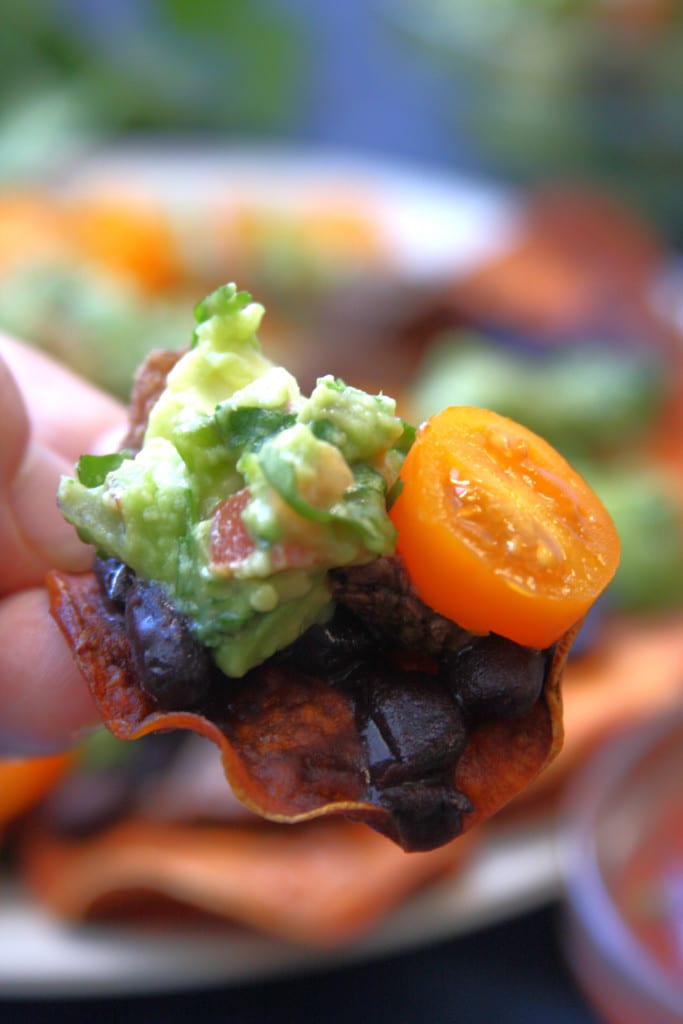 Serving Options
Dips- Creamy dips like Guacamole, hummus , or spinach and artichoke dip pair excellently with the crisp, salty chips.
Sandwiches- Try serving sweet potato chips as a substitute for regular potato chips on sandwiches like BBQ Chicken Sandwich or Mediterranean Veggie Sandwich for added sweetness and crunch.
Salads- Break up some chips over leafy salads such as Arugula Pear Salad or Heirloom Tomato Salad for a fun garnish that adds texture.
Veggie platter- Arrange baked sweet potato chips around raw veggies like carrots, celery, and cucumbers or place on Best Charcuterie Board for a pretty presentation.

Quesadillas- For a creative twist, stuff quesadillas with shredded cheese, beans, and crumbled sweet potato chips before grilling.
Baked Brie- Top a baked brie round with sweet potato chips and bake until melty for a warm, crunchy-creamy appetizer.

Chili- Make Hearty Homemade Chili extra hearty by topping with freshly fried sweet potato chips.
Baked potatoes- For texture, crumble sweet potato chips over loaded baked potatoes.
Chicken or fish- Season and bake chicken breasts or fish fillets topped with sweet potato chips.
Ice cream- Add interest to ice cream by sprinkling crunchy sweet potato chips over scoops for a sweet-salty dessert.
Coating Sweet Potato Chips
Coating the raw sweet potato slices in a dry mixture before frying can add extra crunch and flavor to the chips. The coating adheres to the surface and fries into a crispy outer layer. Here are some ideas for coating sweet potato chips before frying along with different coating options:
Breadcrumb Coating- For a classic crunch, coat slices in panko breadcrumbs or extra-crispy crackers crushed into crumbs. Toss slices in flour first to help coating stick.
Cornmeal Coating- Cornmeal or corn flour gives the chips a hearty crunch and subtle corn flavor. It creates a nice crisp exterior.
Cheese Coating- For cheesy chips, coat slices in grated parmesan, romano, or other hard cheese before frying. The cheese will get crispy and brown.
Spice and Herb Coatings- Mix spices like chili powder, cumin, garlic powder, dried parsley or ranch seasoning into flour or breadcrumbs to give a flavor boost.
Panko and Cheese Coating- For ultra-crunch, combine panko breadcrumbs with grated parmesan cheese for the coating. Fry until golden and crispy.
Variations of Homemade Sweet Potato Chips
Spicy Sweet Potato Chips- For a spicy kick, increase the amount of chili powder used to 1-2 teaspoons. You can also use other spices like cayenne, paprika or curry powder. Adjust amounts to your desired spice level.
Herbed Sweet Potato Chips- Try using dried herbs like rosemary, thyme or oregano instead of chili powder. Use about 1-2 teaspoons of dried herbs. Fresh herbs can burn at high frying temperatures.

Cinnamon Sugar Sweet Potato Chips- Toss the fried chips with a mixture of 1/4 cup white sugar and 2 teaspoons ground cinnamon. The sweet cinnamon coats the chips for a dessert-like snack.
Sweet and Salty Sweet Potato Chips- Sprinkle the fried chips with a mixture of coarse sea salt and brown sugar instead of just salt. Use 2 tablespoons brown sugar and 1 teaspoon salt.
Garlic Parmesan Sweet Potato Chips- Toss the hot fried chips with 1 tablespoon minced garlic, 1/4 cup grated Parmesan cheese and 2 tablespoons olive oil. Bake 5 minutes until cheese melts.
BBQ Sweet Potato Chips- Brush the fried chips with your favorite bbq sauce or toss them in a mixture of 2 tablespoons bbq sauce, 1 teaspoon chili powder and a pinch of cayenne for smoky spicy chips.
Ranch Sweet Potato Chips- Mix 2 tablespoons ranch dressing seasoning mix with 1/4 cup olive oil and brush over the fried chips for quick ranch-flavored chips.
Frequently Asked Questions
What kind of sweet potatoes should I use?

Look for larger, smooth-skinned sweet potatoes without blemishes or bruises. The orange-fleshed varieties tend to be sweeter.
Can I use olive oil instead of coconut oil to fry?

Coconut oil is best for frying because of its high smoke point. Olive oil has a lower smoke point so it could burn more easily.
How thin should I slice the sweet potatoes?
Aim for around 1/8 inch thick or slightly thinner. Too thick and they won't get crispy enough. Too thin and they may burn.
How do I know when the oil is hot enough?
When the oil starts to slightly smoke, it's ready. If it smokes a lot, it's too hot. Test with a slice – it should sizzle immediately when added.
Do I need to pat the slices dry before frying?
Yes, drying the potato slices will help them get crispy and prevent splattering. Gently pat with paper towels.
How long do they need to fry for?
Around 3-5 minutes, flipping halfway through. They are done when golden brown. Cook times vary based on oil temp and stove, so watch closely.
Is it safe to fry in batches?

Yes, frying in smaller batches prevents overcrowding which leads to perfectly crispy chips. Give the oil a minute to reheat between batches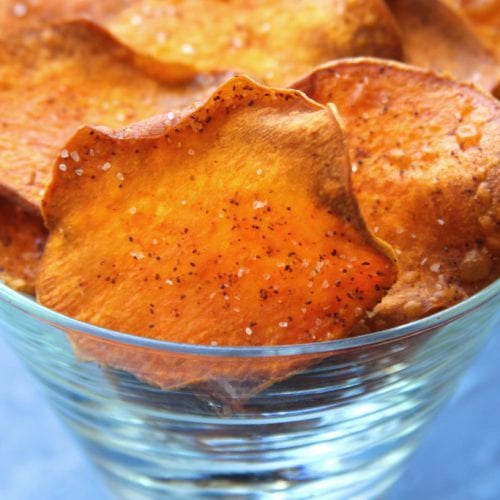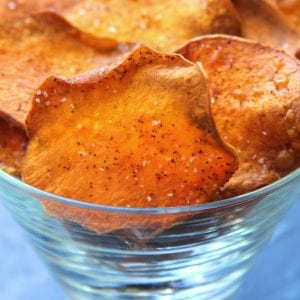 Sweet Potato Chips
A healthy alternative snack or the base for some awesome nachos.
Print
Pin
Rate
Ingredients
1

lg

sweet potato

3/4

cup

coconut oil

salt to taste

chilli powder- lightly sprinkled

*optional
Instructions
Wash and peel sweet potatoes. With a sharp knife or mandolin, cut slices that are 1/8 of an inch thick or a touch thinner.

In a skillet pan or wok add coconut oil and heat over medium- medium high heat, heating the oil hot enough that it is only slightly smoking. If there is a lot of smoke, it is way too hot.

Working in batches, add 5-7 potato slices at a time. Turn chips a few times to evenly fry both sides. Fry for approximately 3-5 mins or until golden brown. Cooking times will vary depending on heat source.

Once fried, place on paper towel to absorb extra oil and sprinkle with sea salt and chili powder.
Notes
*Please use as many organic ingredients as possible.*
Adapted from healthyeatsreal.com.
Nutrition
Calories:
300
kcal
|
Carbohydrates:
0.3
g
|
Protein:
2
g
|
Fat:
18
g
|
Saturated Fat:
14
g
|
Sodium:
150
mg
|
Fiber:
6
g
|
Sugar:
8
g
If you love this recipe then check these out: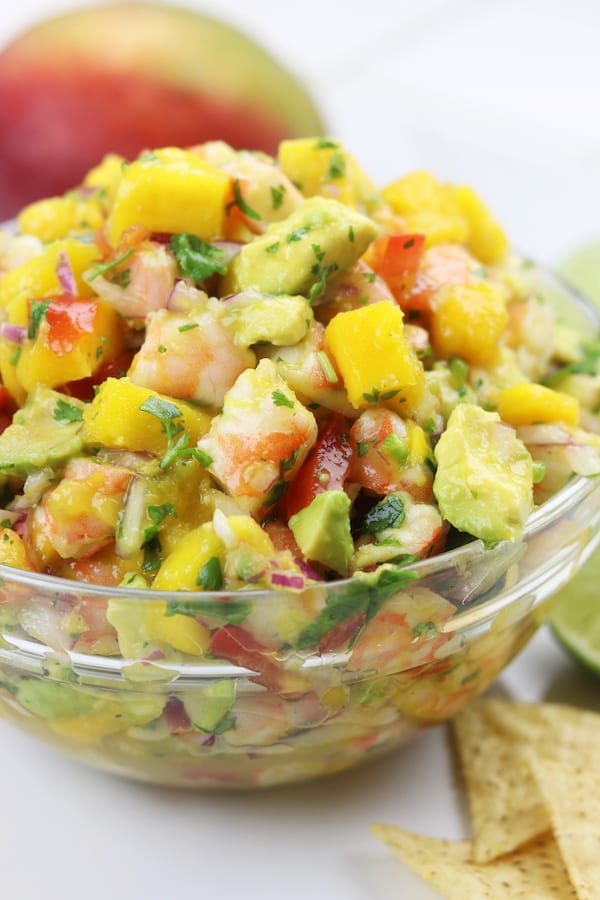 Mango Shrimp Salsa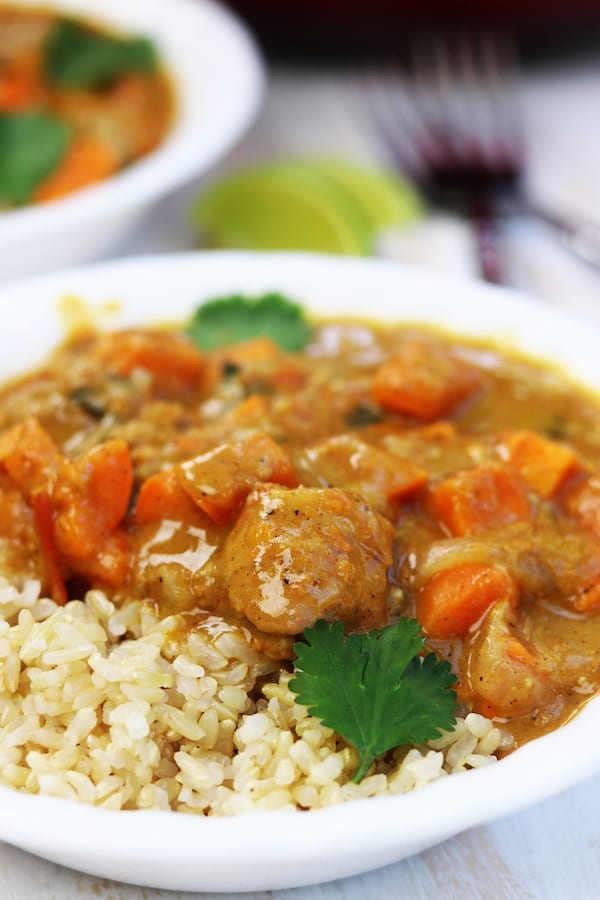 Chicken Sweet Potato Curry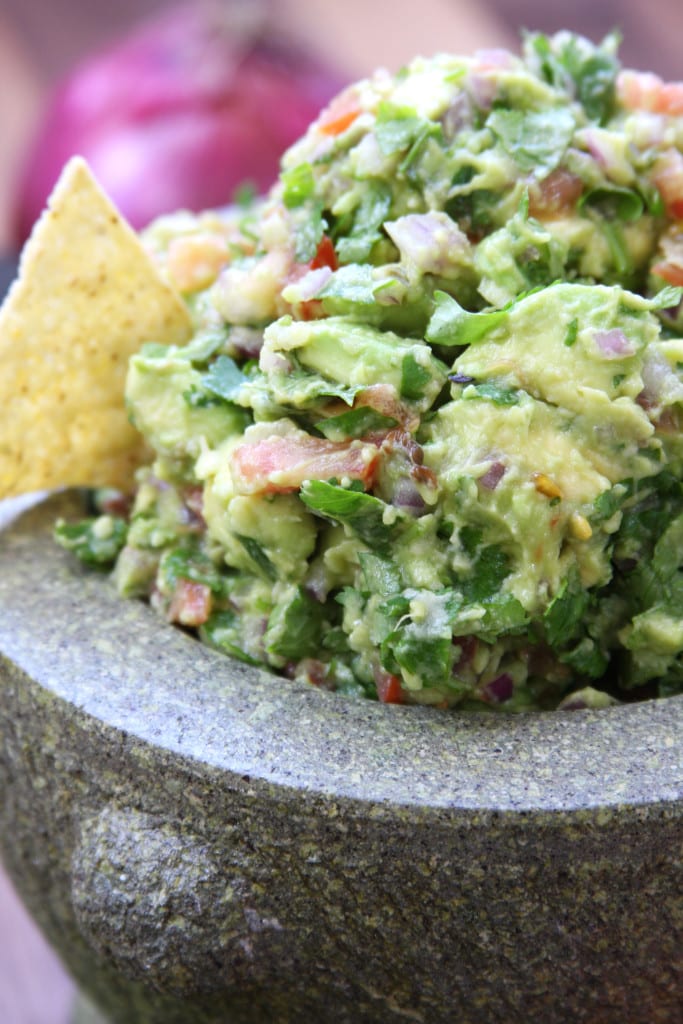 Simple Healthy Guacamole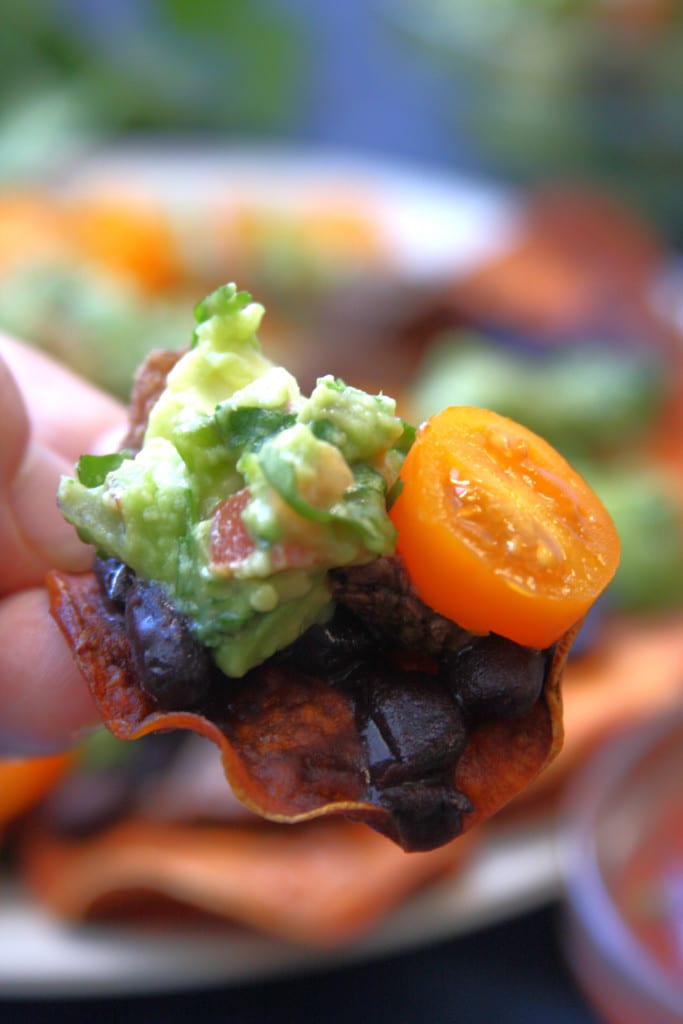 Super Healthy Sweet Potato Nachos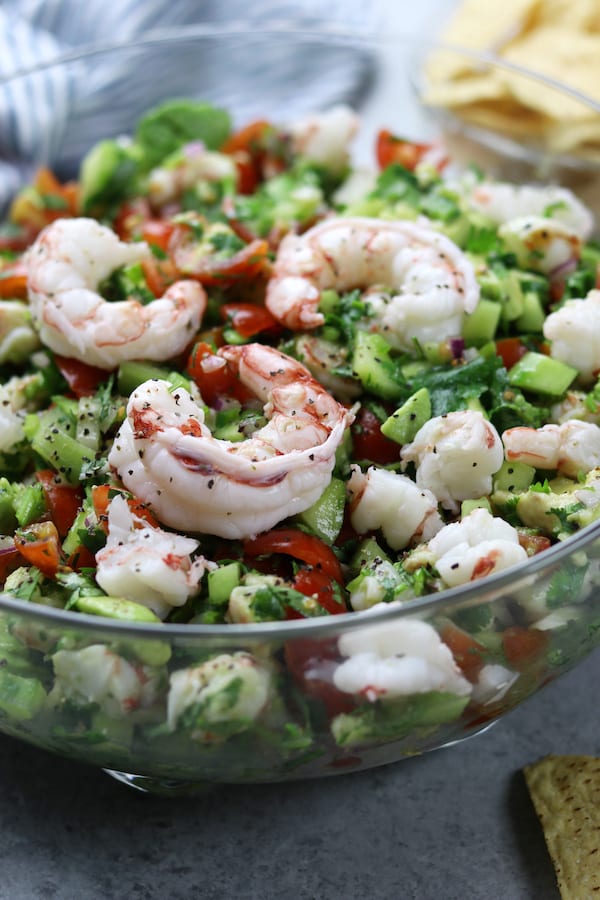 California Shrimp Ceviche