Mediterranean Delight Pasta Salad is an absolute crowd pleaser with a balsamic vinaigrette, creamy mozzarella, Kalamata olives and artichoke hearts. A light meal that is great for dinners or work lunches. Beware, stopping at one bowl is almost impossible.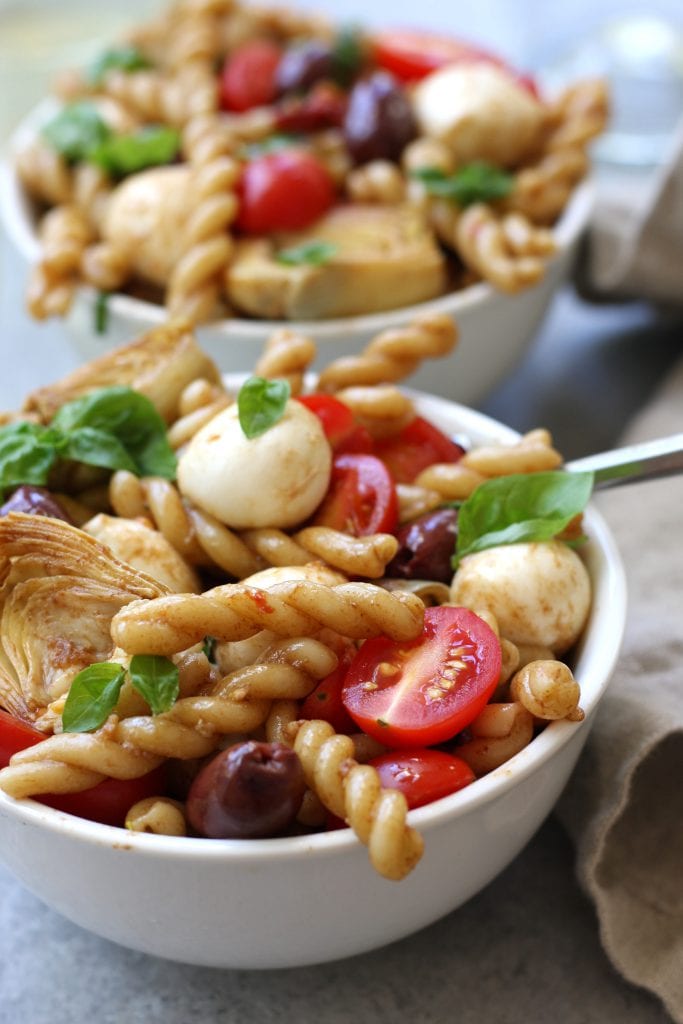 This post may contain affiliate links which I earn a small portion in sales if a purchase is made. Rest assured though, it is never at any additional cost to you.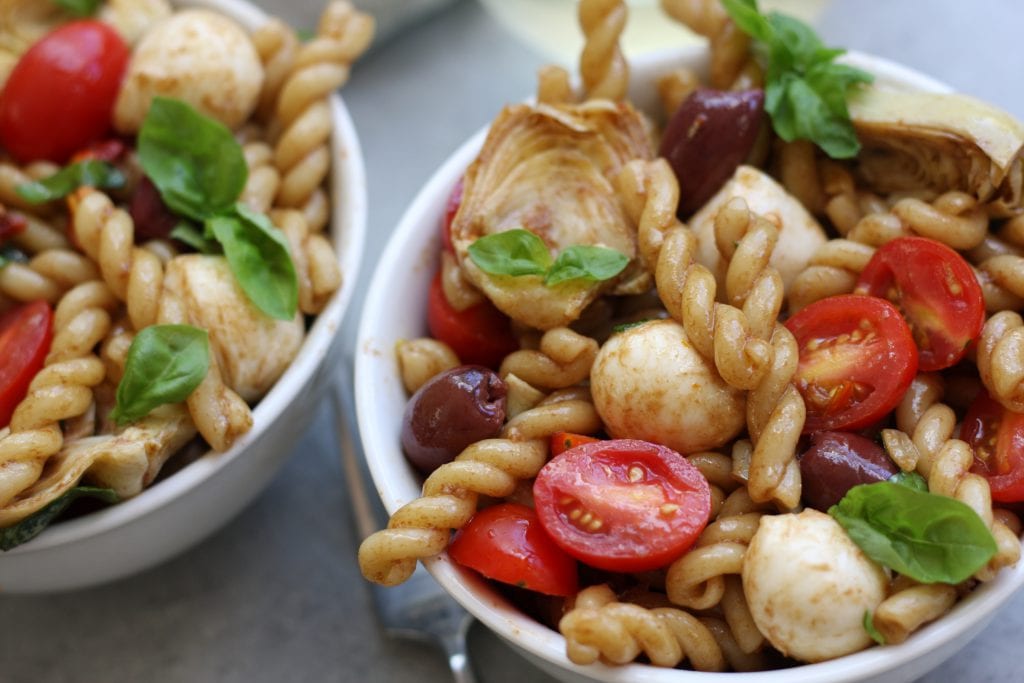 In my family pasta salads are one of our favorite go to meals and has been for literally years. I think what has made them so desirable for us over the years is that the preparation is easy, they taste incredibly delicious and their is no cooking for a couple of days as one salad makes many meals. In addition to all of that, they are so perfect to make for get togethers and pot lucks. Of all the different flavor combinations this Mediterranean Delight Pasta Salad ranks high on my list of favorites. I have to admit though, I was a little worried recently about making this for my husband. I traumatized my husband with kalamata olives early in our marriage by making a shrimp dish using a bit too many kalamata olives. Ok, so it was the whole container from Costco. My husband being the supportive newlywed that he was at the time ate the dish with me and the left overs. Finally on round three he admitted his disdain for the kalamata olive. It was so bad for him that when I would tell him I was going to make, lets say a dessert, he would ask "are there going to be kalamata olives in it?" So you can imagine me making this Mediterranean Delight Pasta Salad was a little nerve racking. The good news, he ate it, loved it and had several servings. YAY…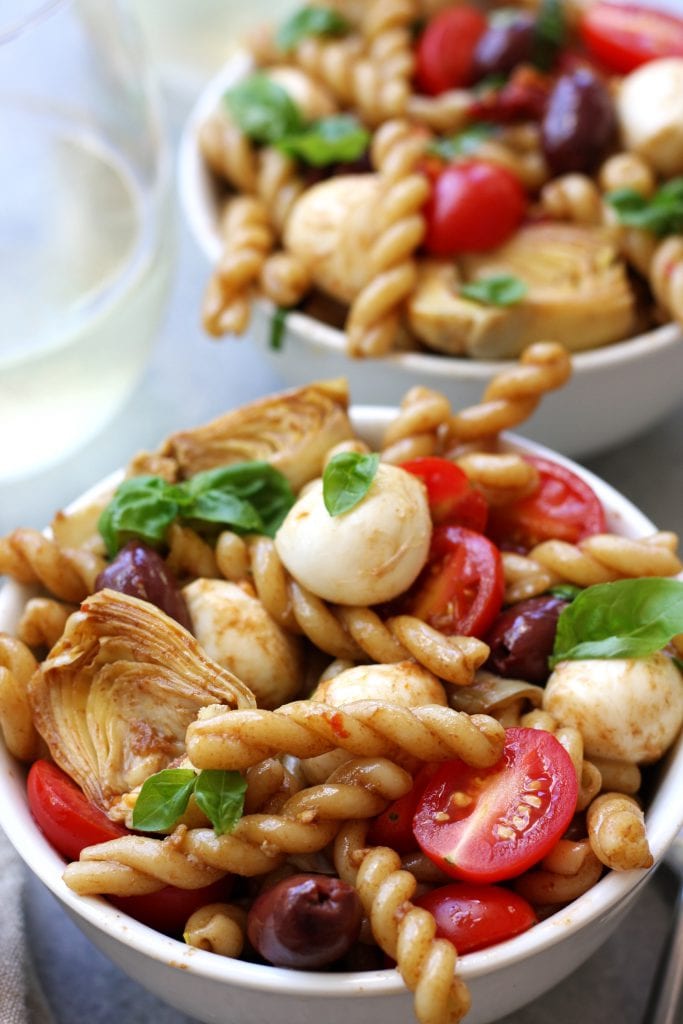 Tips about Mediterranean Delight Pasta Salad:
Have a potluck to go to and you don't know what to bring? This Mediterranean Delight Pasta Salad is a perfect crowd pleaser. As much as I love to cook, I always feel like a deer in headlights not knowing what to bring to potlucks. Pasta salads like this one and my Springtime Pasta Salad or Bacon Belly Button Pasta Salad never steer me wrong.
Salt your pasta water so it tastes like the ocean. I have heard chefs go back and forth about whether you add the salt before the water boils or after. Honestly I have done it both ways and both ways it works great. The bottom line is that you need the salt to give a depth of flavor to the noodles. It is the true Italian way.
Watch your noodles carefully and cook to al dente (almost done). The most incredible pasta salad will become mundane if the noodles are over cooked. I will literally taste a noodle about a minute before the package says it will be done. It should be tender but a little toothy. I will continue to taste until it is that perfect al dente and then I immediately drain (do not rinse) and add to the vinaigrette.
The fresh basil taste is absolutely heavenly in this salad but fresh basil is not always available during certain times of the year. The good news is dried basil can be substituted and still taste divine. Use about 1 to 2 tbsp dried basil depending on your taste preference.
Let's talk sugar plum tomatoes. You really can use any tomatoes that are your favorite for this recipe but oh my goodness, sugar plum tomatoes are so good. They are firm, slightly sweet and have a good tomato taste.
The most important tip I can give, add the cooked pasta to the vinaigrette and sun-dried tomatoes and then let it cool down for about 15 mins before adding the rest of the ingredients. The last thing you want are stewed tomatoes, wilted basil and unidentifiable cheese from the hot pasta. The only exception is if you are using dried basil. You will add it in while making the vinaigrette.
This Mediterranean Delight Pasta Salad is a vegetarian dish but baked and diced chicken breasts or grilled shrimp can easily be added. Make sure to add the meat to the vinaigrette before adding noodles.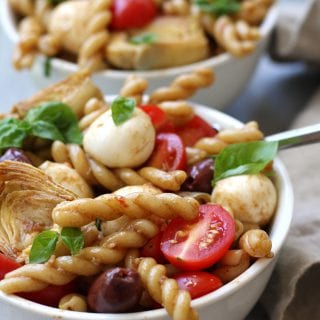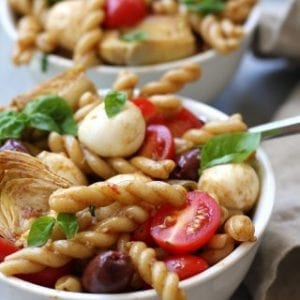 Mediterranean Delight Pasta Salad
A light, savory and slightly sweet pasta salad great for sharing or packing for lunch.
Print
Pin
Rate
Ingredients
16

oz

pasta of choice

3/4

cup

extra virgin olive oil

1/2

cup

balsamic vinegar

4

lg

garlic cloves

*crushed or minced

3

oz

sun-dried tomatoes

2

8.5 oz

can artichoke hearts

*drained & cut in half

12

oz

jar kalamata olives

*drained

16

oz

sugar plum or cherry tomatoes

*cut in half

16

oz

mozzarella

*either balls or cut into squares

10-14

large basil leaves

*julienned
Instructions
In a large stock pot pan bring heavily salted water to a boil and cook noodles to al dente, following the directions on the package.

While noodles are cooking whisk together olive oil, balsamic and garlic in a large mixing bowl. Add sun-dried tomatoes and artichoke hearts.

Once cooked, drain pasta and add immediately to mixing bowl. Stir well. Let noodles cool for approximately 20 mins or until room temperature.

While noodles are cooling prepare sugar plum tomatoes, basil and olives- add to noodles once cooled to room temperature. Add mozzarella, stir well.
Notes
*Please use as many organic ingredients as possible.*
Preparation time does not include cooling time before adding tomatoes, cheese and basil.
Nutrition
Calories:
539
kcal
|
Carbohydrates:
45
g
|
Protein:
18
g
|
Fat:
33
g
|
Saturated Fat:
9
g
|
Cholesterol:
36
mg
|
Sodium:
844
mg
|
Potassium:
563
mg
|
Fiber:
4
g
|
Sugar:
8
g
|
Vitamin A:
892
IU
|
Vitamin C:
10
mg
|
Calcium:
274
mg
|
Iron:
2
mg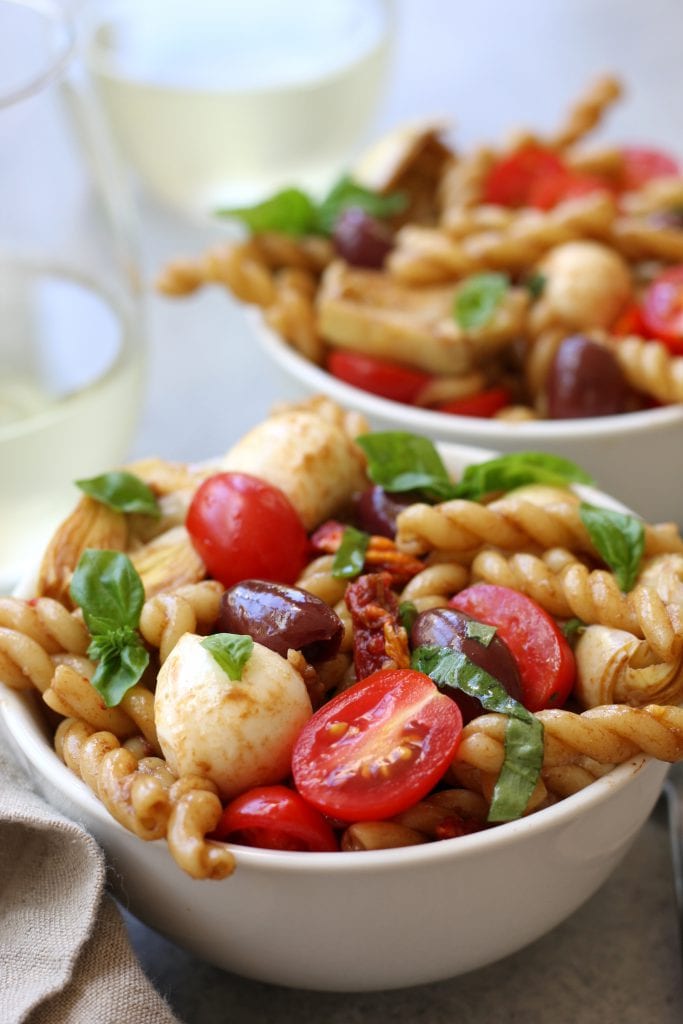 This recipe is part of Meal Plan Monday.