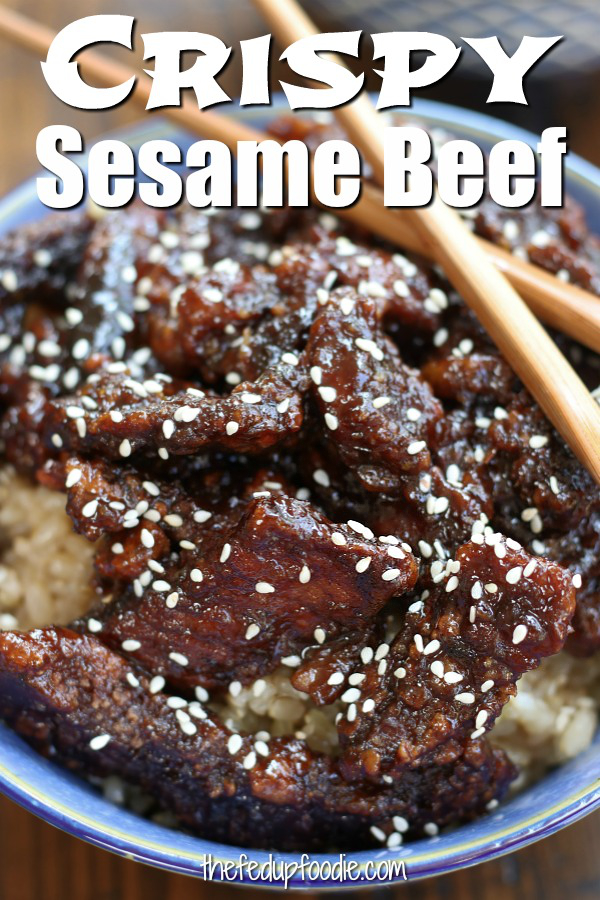 Thin beef strips fried until perfectly crisp and then tossed in a homemade sweet and sticky sauce. Crispy Sesame Beef uses less oil than traditional recipes and better quality ingredients. This recipe tastes amazing with the flavors of sesame, ginger and garlic.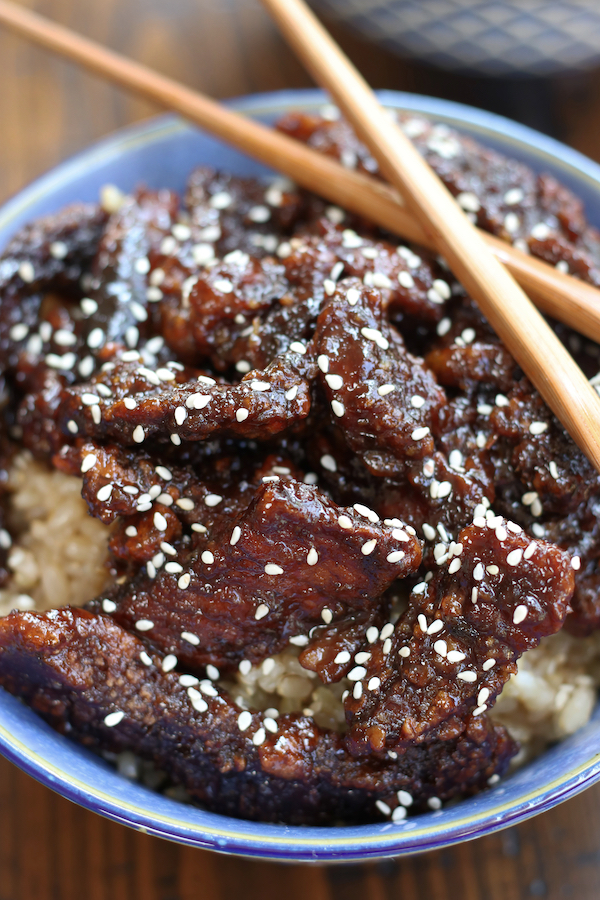 This post may contain affiliate links which I earn a small portion in sales if a purchase is made. Rest assured though, it is never at any additional cost to you.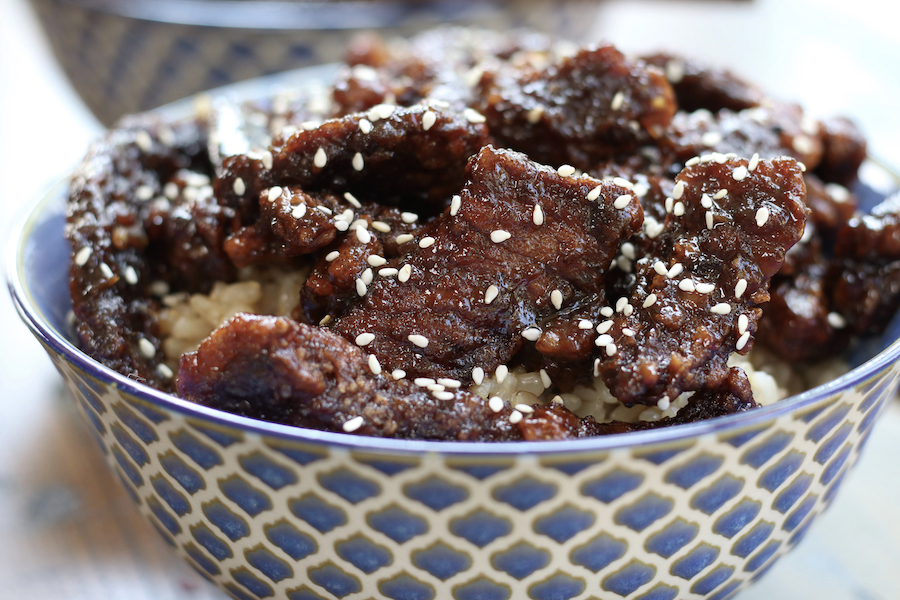 My husband adores Asian and Mexican cuisine.
He adores it so much that if I rotated through meals like Pineapple Chicken Curry, Egg Roll In a Bowl, Husband Approved Carnitas and Black Bean Soup every month he would be as happy as a clam.
I on the other hand, need some Italian meals thrown in the mix like Pici Caci e Pepe and Spaghetti all Puttanesca to keep me happy.
Of course if you follow my Instagram or Facebook stories you know that I also eat a ginormous amount of salads for dinner. (I am seriously addicted to salads my friends. I swear it is because I ADORE this dressing so much.)
Although my husband and I have our consistent meals that we love eating, it is so much fun to throw in dinners like this Crispy Sesame Beef. This meal is total comfort food that is restaurant quality but even better. Perfect for date night in!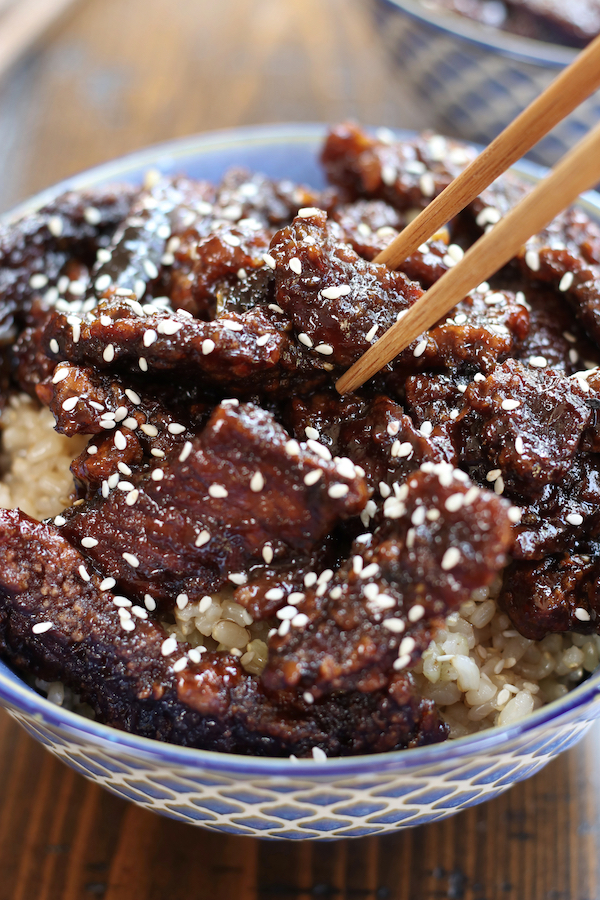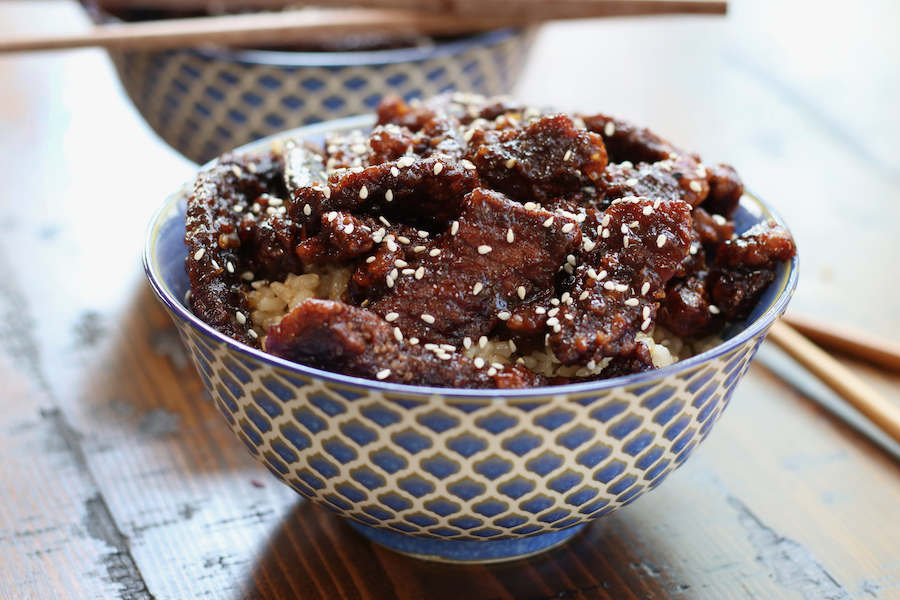 Steps to Making Crispy Sesame Beef
If serving over brown rice, start preparing first as it takes the most time.
Cut top sirloin steak into thin strips (see next section below for easy cutting tips).
Mix together ingredients for sauce and set aside.
Place cornstarch in a bowl. Working with a few strips of beef at a time, coat strips in cornstarch. Divide meat into three groups.
Heat oil in a large frying pan over medium/high heat (see

How To Know When The Oil Is Hot Enough section

below).
Working in batches, fry beef strips for 3-4 minutes per side until golden brown and crisp. Remove from oil and place on a paper towel lined plate using this tool.
Place a separate large frying pan or wok over medium/high heat with sauce mixture. Bring to a boil and then add beef strips. Toss until beef is well coated. Serve over rice and garnish with sesame seeds or diced green onions.
How To Easily Cut Beef Into Strips
The easiest way to cut the top sirloin steak is to cut it when it is icy cold. In other words, just slightly frozen. When it is in this state the meat holds together under the pressure of the knife, making it very easy to slice. The best way to do this is to pull the steak from the freezer and slice before it is completely defrosted or place steak in the freezer for 30 minutes before slicing. Three things to keep in mind:
Make sure to use a good quality chef's knife (this is still my favorite brand).
Don't let the steak sit in the freezer longer than 30 minutes as it may become too firm.
ABSOLUTELY UNDER NO CIRCUMSTANCES DO NOT CUT a frozen steak. It will just not end well!!!
Why Coat Beef Strips In Cornstarch?
Making restaurant quality meals at home often requires a few cupboard staples and cornstarch tops the list of necessary staples. Coating pieces of meat with cornstarch before frying can have a magical effect on the meat. For this particular recipe, it helps in creating a crispy coating in less time and with less oil. However, the trick is to not overload the pan when frying. It is best to fry the 1 lb of steak strips in three batches.
Best Oil To Use
The answer to this is two-fold. Half of the oil needs to be a basic high heat oil. This is the brand I love. However, it is more affordable at Costco. The other half of the oil is a Toasted Sesame Oil because of the wonderful sesame flavor it helps to impart.
How To Know When The Oil Is Hot Enough
Honestly, this is the coolest trick ever that doesn't require fancy equipment. Rather, just one small kitchen utensil to know when your oil is hot enough to fry the beef strips to perfect crispy perfection. To test your oil, place a large frying pan over medium/high heat. Add oil and wait about 1-2 mins and then place the tip of the handle of a wooden spoon or wooden chop stick into the oil. If tiny little bubbles appear around the end, the oil is ready. If not, let the oil continue to heat for another minute or so.
Substitutions For Shaoxing Wine
Shaoxing wine is a cooking and drinking Chinese wine that is fermented from rice. If unavailable, dry sherry or orange juice may be substituted in equal portions for this recipe.
Spice Variations
As written, 1/4 teaspoon of crushed red chili pepper flakes produces a mild warmth. For a medium heat, increase the chili pepper flakes to 1/2 teaspoon and for a spicier heat, 1 full teaspoon.
How To Serve Crispy Sesame Beef
Served over Brown Rice, this delicious dinner can be a complete meal. However, if you are anything like me, getting veggies in also is extremely important. That is where Asian side dishes like Simple Asian Slaw, Sesame Bok Choy and Carrot Cucumber Asian Slaw makes a wonderful companion to this dish.
If you enjoyed this Crispy Sesame Beef please let me know by leaving a comment and review below. Doing so helps to encourage others to make the recipe also. Thank you!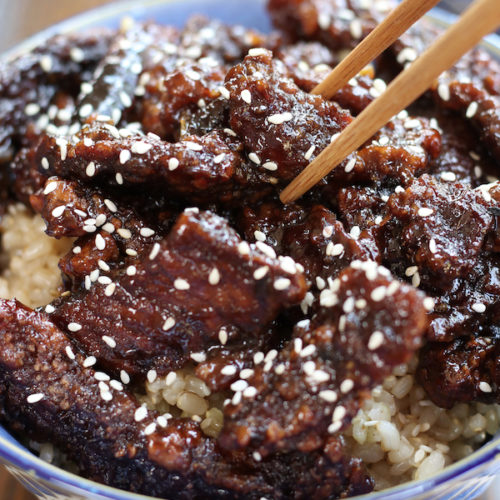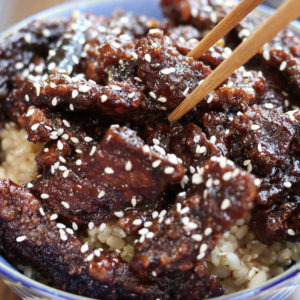 Crispy Sesame Beef
Flavorful, crispy, sweet and sticky! This easy Crispy Sesame Beef is full of comfort and makes a wonderful date night in meal.
Print
Pin
Rate
Ingredients
For the Beef
16

oz

top sirloin steak

1/2

cup

cornstarch

1/2

cup

high heat oil

*I used avocado oil

1/2

cup

toasted sesame oil
Sauce
1/4

cup

soy sauce

*substitute Tamari for gluten free

1/4

cup

honey

1

tbsp

Hoisin

1

tbsp

toasted sesame oil

2

tbsp

Shaoxing wine

*(dry sherry or orange juice can be replaced for Shaoxing wine)

2

tbsp

rice vinegar

5

cloves

garlic

*crushed

1

tbsp

fresh peeled & grated ginger

*or 1/4 tsp ground ginger

1/4

tsp

crushed red chilli pepper flakes
Garnish
sesame seeds

diced green onions
Instructions
Beef
Cut top sirloin steak into thin strips (see How To Easily Cut Beef Into Strips section above).

Place cornstarch into a bowl. Working with a few beef strips at a time dredge in cornstarch. Seperate dredged beef strips into 3 batches.

Heat a large frying pan with oils over medium high heat. Oil is ready to fry when tiny bubbles appear around tip of wooden spoon or chop stick. This will take about 2 mins (see section above in post for more details).

Working in batches, fry beef strips until crispy brown, about 3-4 mins per side. Carefully remove beef strips onto a paper towel lined plate and repeat with remaining 2 batches.
Sauce
Whisk together ingredients for sauce.

In a seperate large frying pan or wok add sauce and heat over medium/high heat until sauce start to boil. Add in all of the cripsy beef strips and toss until well coated. Serve immediately over rice. Garnish with sesame seeds or diced green onions.
Notes
*Please use as many organic ingredients as possible.
Recipe Notes
Nutritional information does not include rice.
To make this a fully gluten free meal use this Soy Sauce, this Rice Vinegar and this Hoisin.
Nutrition
Calories:
372
kcal
|
Carbohydrates:
37
g
|
Protein:
27
g
|
Fat:
19.2
g
|
Saturated Fat:
4
g
|
Cholesterol:
67
mg
|
Sodium:
598
mg
|
Potassium:
462
mg
|
Fiber:
1
g
|
Sugar:
19
g
|
Vitamin C:
1
mg
|
Calcium:
35
mg
|
Iron:
2
mg