The perfect marriage of savory spices to a subtle sweetness makes this Chicken Sweet Potato Curry a favorite time and time again.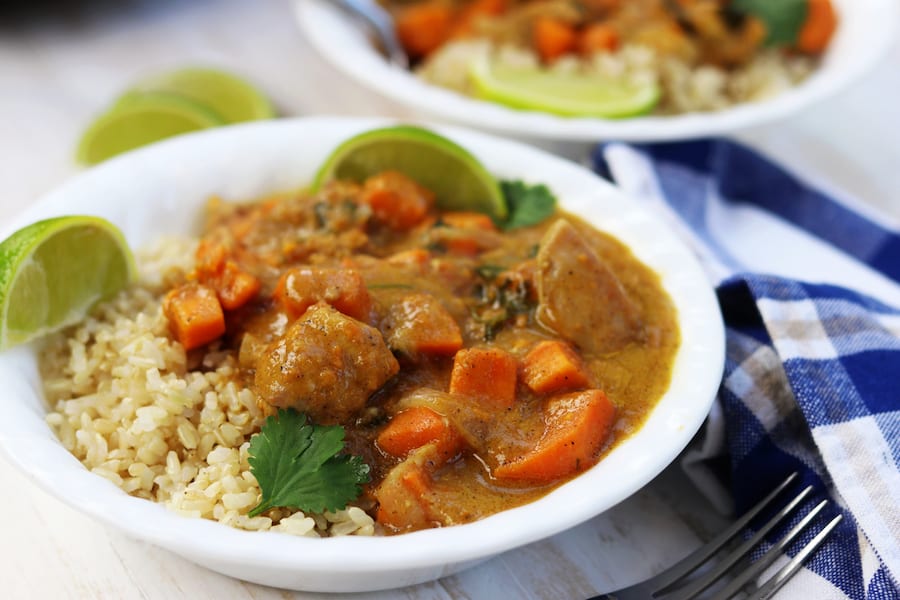 This post may contain affiliate links which I earn a small portion in sales if a purchase is made. Rest assured though, it is never at any additional cost to you.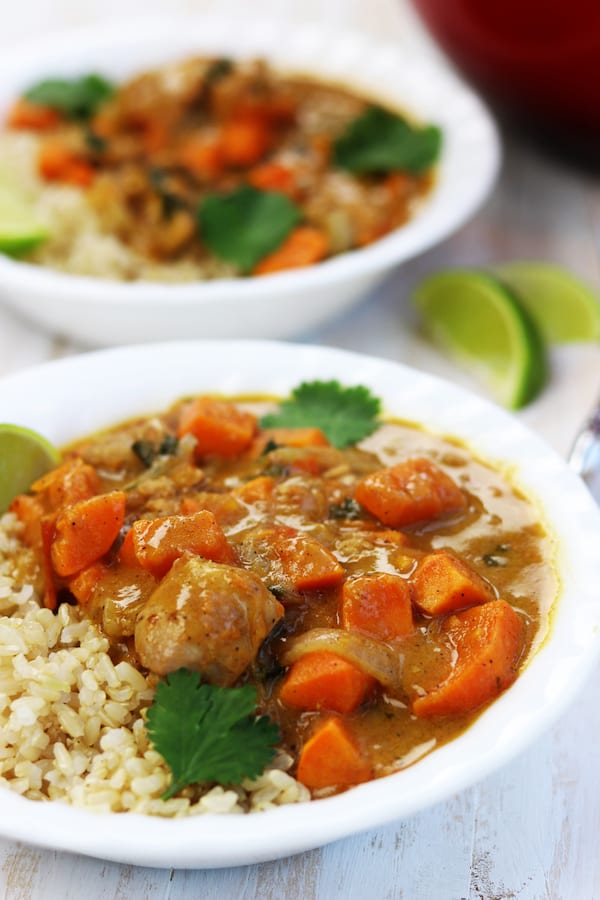 The last three weeks or so has been a little crazy around here and I say crazy for lack of a better description. My grandmother passed away and about a week later my dad was hospitalized. Thankfully he is doing much better and since his release I have been on a fast track of pumping him full of nutritious food because that is what I do. I wanted to create a meal centered around sweet potatoes for their valuable nutrient content and also a meal that had enough protein in it to help him on his road to recovery. This Chicken Sweet Potato Curry was born. I made a big pot and sent all but one serving to him. Now as I am staring at this beautiful bowl of curry I am kind of bummed I didn't make more. It was that delicious.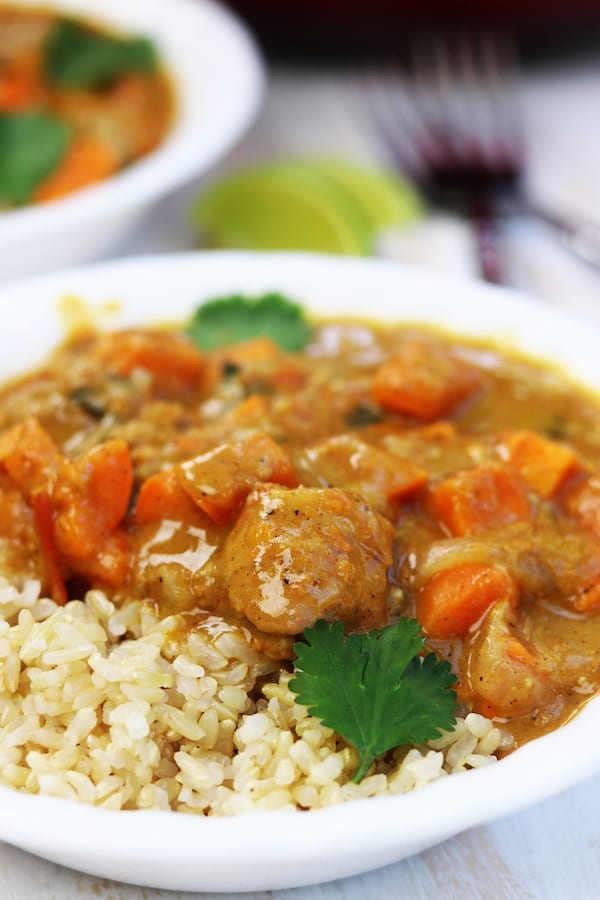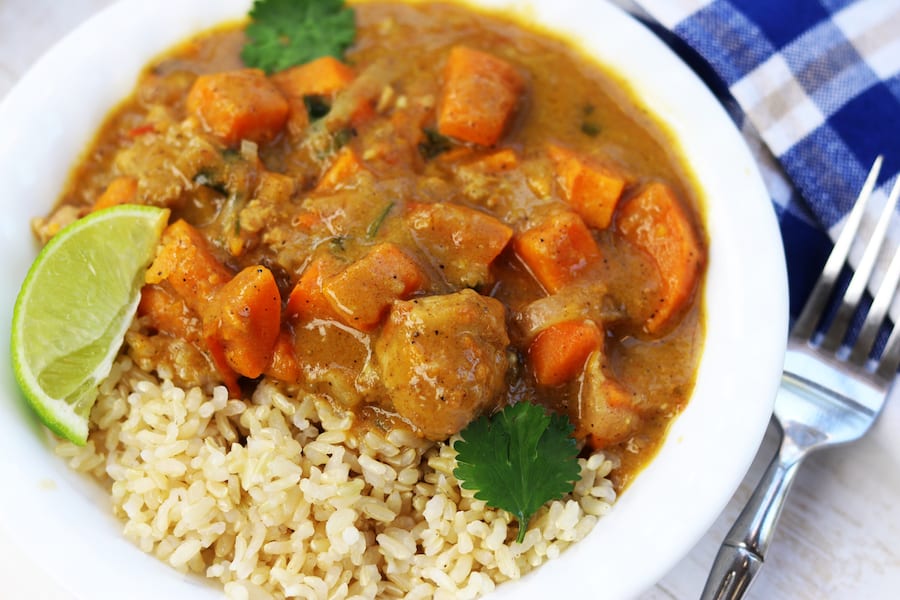 Tips about Chicken Sweet Potato Curry:
I used 4 medium sized fresh tomatoes for this Chicken Sweet Potato Curry recipe. Diced, they equaled about 2 cups. Use a 28 oz can including the juice of the tomatoes if you are substituting diced canned tomatoes.
I love sweet potatoes for their incredible health benefits and they add an extra layer of satisfaction to this curry.
Here are my favorite spices used in this Chicken Sweet Potato Curry: Simply Organic Curry, Simply Organic Garam Masala, and Simply Organic Cumin. (affiliate)
If your final product is not thickened to your liking, make a slurry with 1 tbsp of flour and a small amount of liquid from the curry. Stir into the curry and let simmer for about 2-3 minutes before adding the cilantro. Use almond or coconut flour for a gluten free alternative. 
Serve this over rice (brown or white), quinoa or eat eat just by itself. I ate it like a soup and I was happy as can be.
What to Serve with Sweet Potato Curry
This sweet potato curry is versatile and can be served with various accompaniments:
Steamed Rice- The most traditional choice is to serve it with plain steamed white or Brown rice.
Cauliflower rice- When needing a lower carb option.
Quinoa- For a healthier and gluten-free option, consider pairing it with fluffy quinoa.
Naan Bread- Warm, fresh  Homemade Naan bread is perfect for scooping up the creamy curry sauce.
Chutney- A side of mango chutney or cucumber salad adds a burst of freshness.
Recipe Variations
Vegan Version- Make this curry entirely plant-based by omitting the chicken and using vegetable broth instead of chicken broth. You can also use tofu or tempeh as a protein source.
Extra Veggies- Experiment with additional vegetables like spinach, bell peppers, or green beans. Just chop them and add during the last 10-15 minutes of simmering.
Nutty Twist- Enhance the flavor with a handful of roasted cashews, pistachios, or almonds for a delightful crunch.
Seafood Version- Swap out the chicken for shrimp or scallops for a seafood curry.
 

Frequently Asked Questions
 

Can I use regular potatoes instead of sweet potatoes?

Yes, you can substitute Russet or red potatoes in place of the sweet potatoes. The cooking time may vary slightly as regular potatoes tend to cook a bit faster.
What protein works best in this curry?
Chicken thighs are my favorite, but you can also use boneless skinless chicken breasts, shrimp, or chickpeas instead.
 

Can I make this sweet potato curry without chicken for a vegetarian version?

Yes, you can omit the chicken and make a delicious vegetarian sweet potato curry. Just increase the amount of sweet potatoes or add other vegetables like bell peppers, peas, or chickpeas for added protein.
 

Is there a substitute for coconut milk in this recipe?

If you're not a fan of coconut milk, you can use heavy cream or Greek yogurt for a creamy texture. For a lighter option, try using almond milk or vegetable broth. The flavor will be different, but it can still be delicious.
Can I adjust the level of spiciness in this curry?
Certainly! You can control the spiciness by adjusting the amount of curry powder or adding chili powder to suit your taste. For a milder curry, reduce the curry powder; for a spicier kick, add more.
How do I store leftovers?
Store any leftover sweet potato curry in an airtight container in the refrigerator. It will keep well for 2-3 days. Reheat in a microwave or on the stovetop, adding a little water or coconut milk to maintain the desired consistency.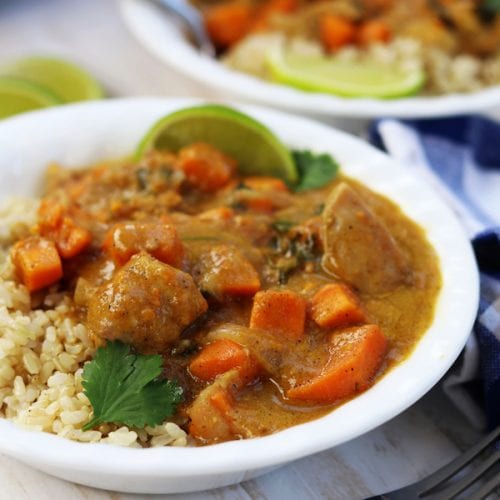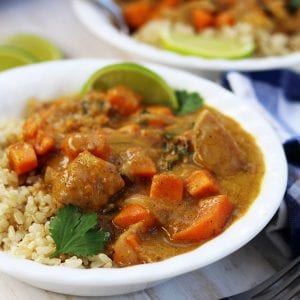 Ingredients
2

tbsp

oil

1

med

brown onion

*cut into 1/4's & then strips, about 1 1/2 cups

2

med

sweet potatoes

*diced about 2 1/2 cups

3-4

med

tomatoes

*diced about 2 cups

3-4

lg

garlic cloves

*diced or crushed

1- 1 1/4

lb

chicken thighs

*cubed

1 1/2

tbsp

garam masala

1

tsp

curry

1/2

tsp

cumin

2

tsp

salt

1 13-14

oz

can coconut milk

juice of 1 lime

*about 1 tbsp

1/2

bunch cilantro

*roughly diced

1

tbsp

flour

*optional to thicken, see notes above for gluten free options
Instructions
Peel and dice potatoes-set aside. Dice tomatoes, cut onion, chicken and prepare garlic.

Heat a dutch oven or med sized soup pan over med-high heat. Add oil and sauté onion until sweating, about 2 mins. Add diced potatoes, sauté for another 2-3 minutes. Add tomatoes, chicken, garlic, spices, salt, coconut milk and lime juice. Bring to a slow simmer stirring occasionally, about 5 mins. Cover and reduce heat to med-low. Simmer for 20- 25 mins stirring occasionally.

Add cilantro the last 5 mins cooking and at this time make a slurry with flour and a small amount of curry liquid. Stir into curry and simmer for about 3 mins. (Flour step is optional as a means to thicken curry.)

Serve over rice, quinoa or by itself.
Notes
*Please use as many organic ingredients as possible.* Inspired by Jessica in the Kitchen.
Nutrition
Calories:
594
kcal
|
Carbohydrates:
18
g
|
Protein:
32
g
|
Fat:
45
g
|
Saturated Fat:
22
g
|
Cholesterol:
169
mg
|
Sodium:
285
mg
|
Potassium:
871
mg
|
Fiber:
4
g
|
Sugar:
6
g
|
Vitamin A:
6935
IU
|
Vitamin C:
13
mg
|
Calcium:
53
mg
|
Iron:
3
mg
This recipe is part of Meal Plan Monday.
If You Love Asian flavors check out these recipes.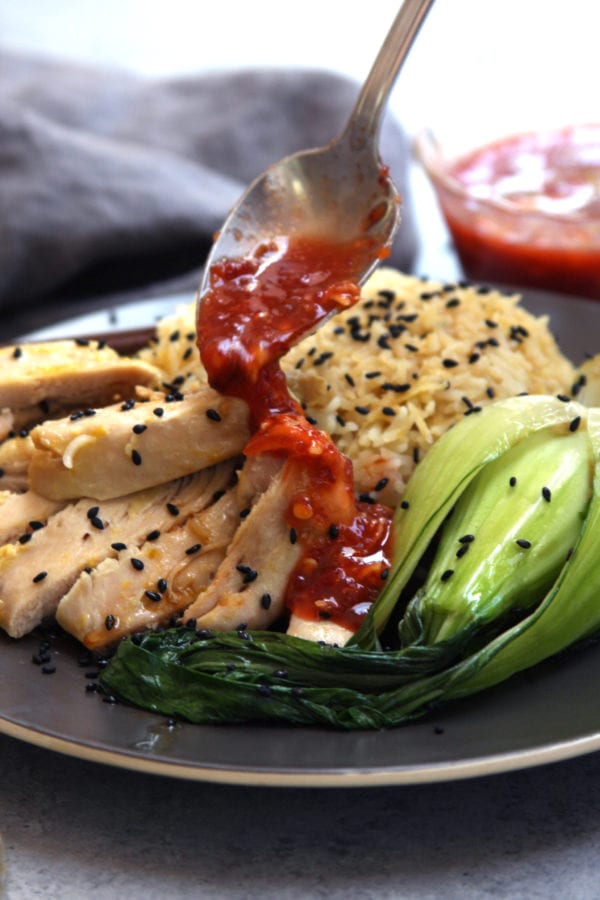 One-Pot Asian Chicken and Rice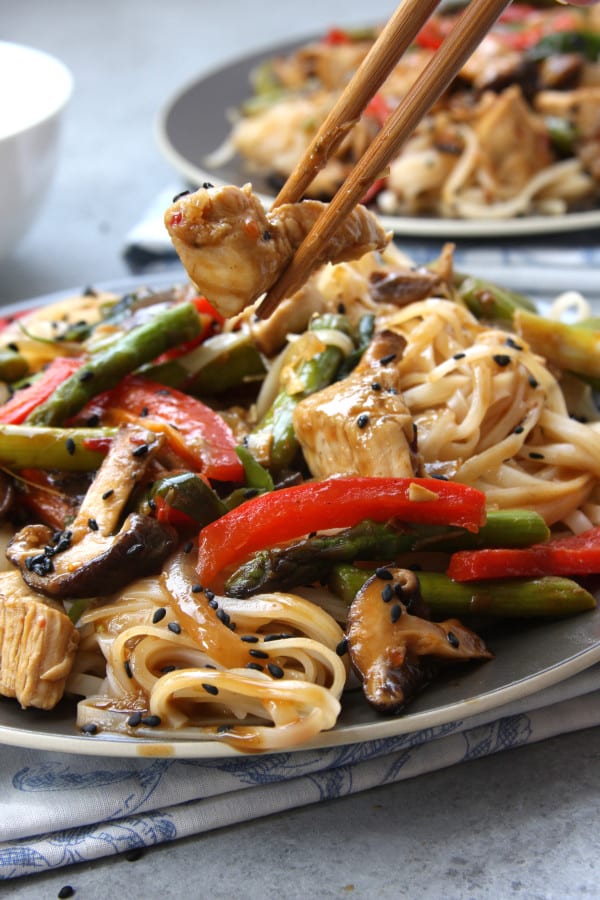 Lemongrass Chicken Noodle Stir Fry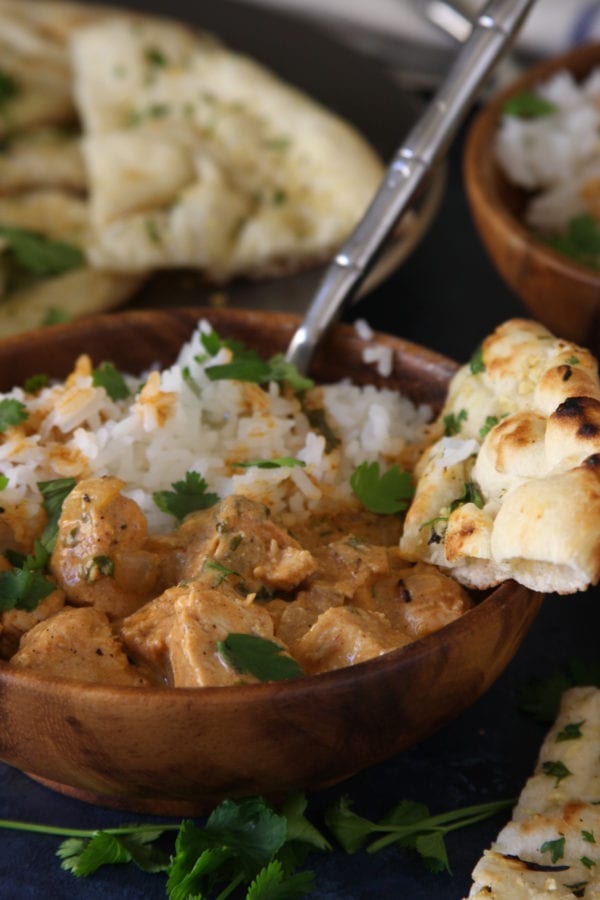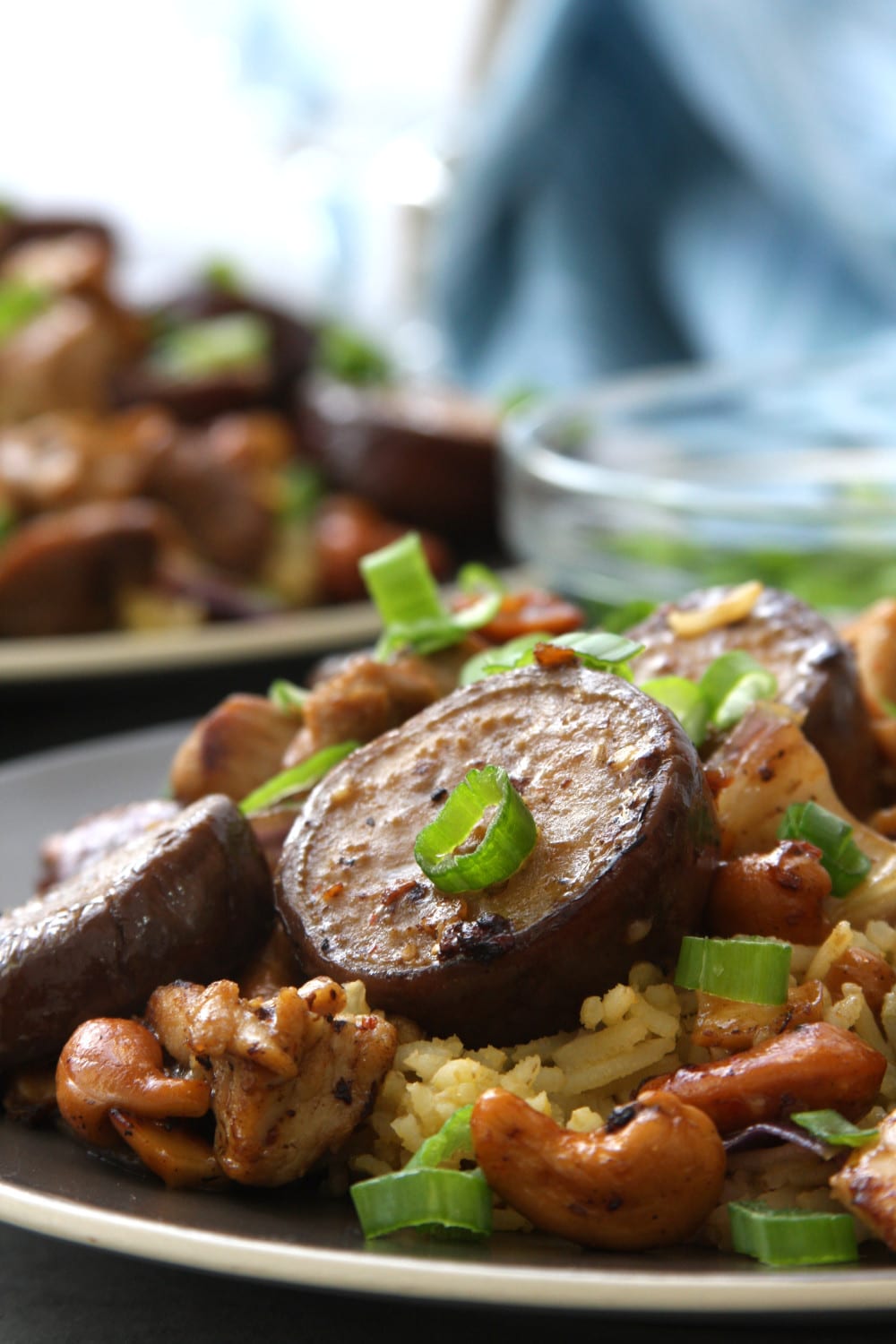 Cashew Eggplant Chicken Stir Fry