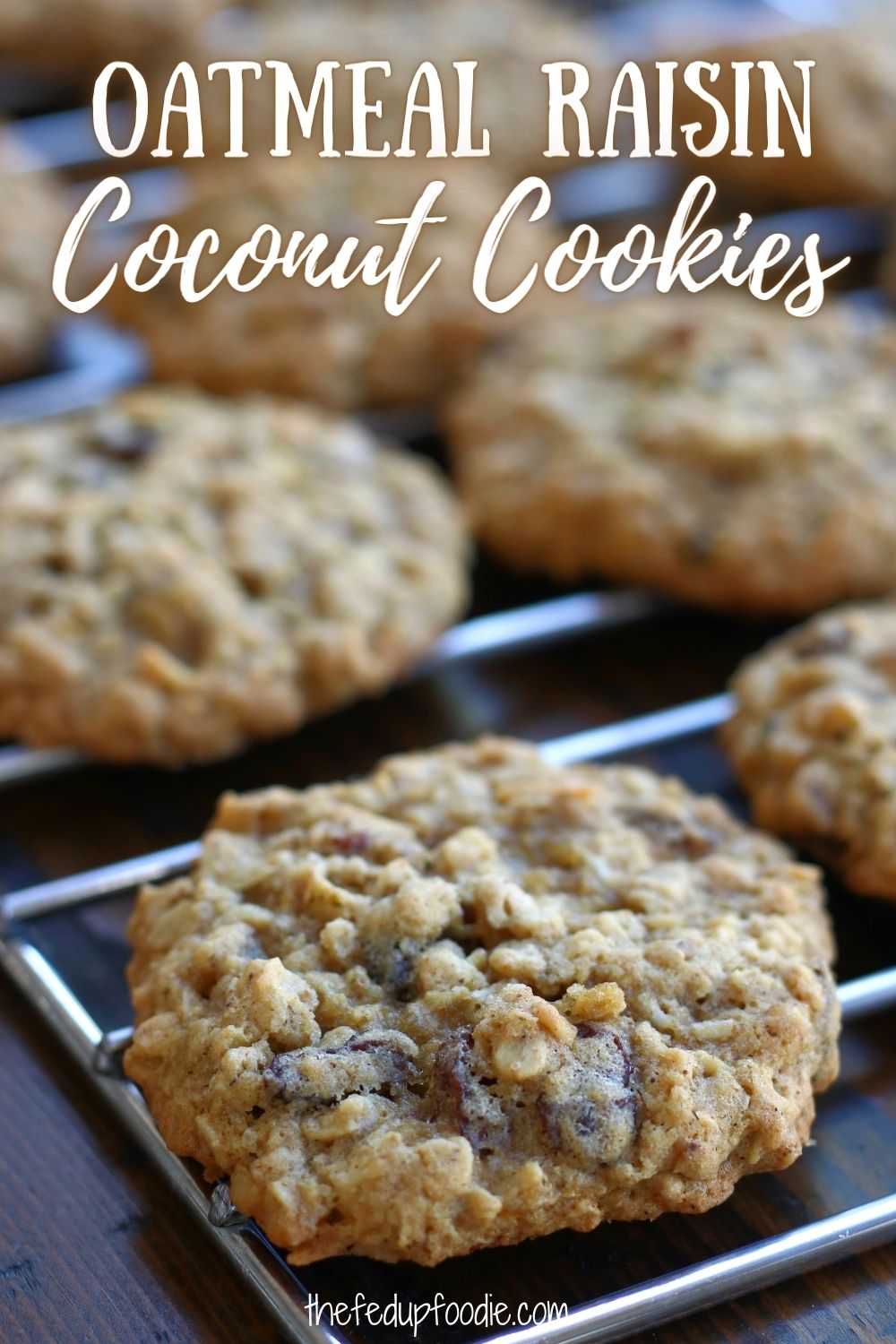 Oatmeal Raisin Coconut Cookies recipe creates a chewy, crispy and flavorful treat that everyone loves. Made with pecans, coconut, old-fashioned rolled oats and cinnamon. Such an easy cookie that is so very satisfying.
During the holidays this traditional Oatmeal Cookie recipe is perfect for parties or get togethers along with other classics such as Walnut Balls, Divinity and Old Fashioned Fudge. However, it also pairs wonderfully with unique holiday treats such as Simple Orange Cranberry Pistachio Fudge, Key Lime White Chocolate Coconut Cookies and Orange Cranberry Walnut Balls.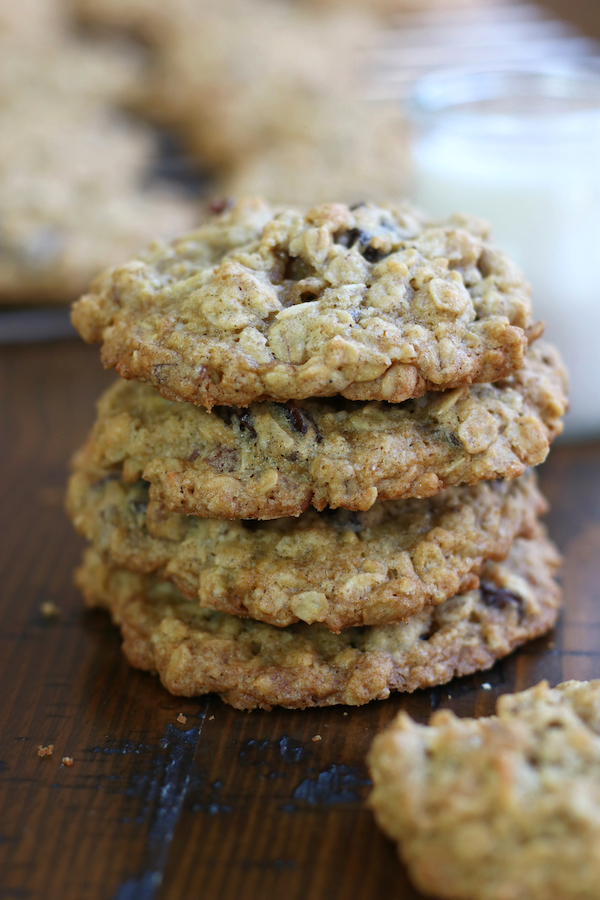 This post may contain affiliate links which I earn a small portion in sales if a purchase is made. Rest assured though, it is never at any additional cost to you.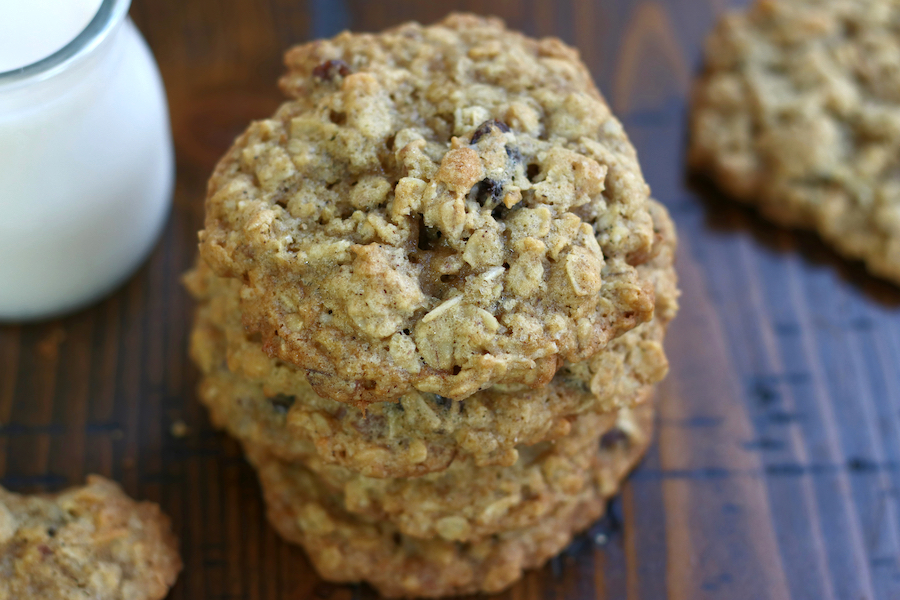 Jazzed Up Old Fashioned Oatmeal Cookies
This is the cookie recipe to make when you want a truly Old Fashioned Oatmeal Cookie that actually tastes like oats and has crispy edges and a chewy center. The addittion of shredded coconut, pecans and spices jazzes up an already exceptional cookie and makes it out of this world delicious.
Ingredients Needed for Oatmeal Raisin Coconut Cookies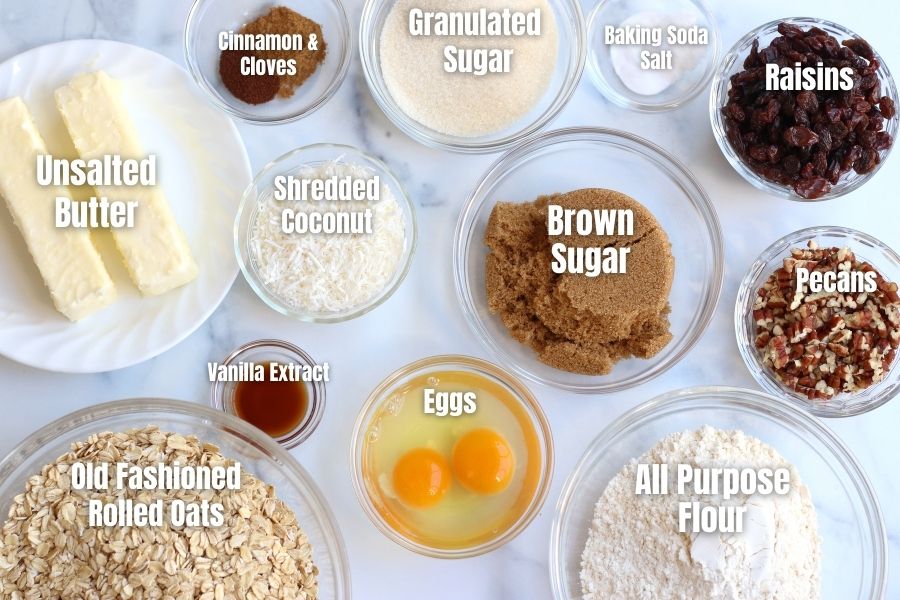 Wet Ingredients
Unsalted Butter– Salted butter may be substituted in the same amount. Just make sure to eliminate the salt.
Brown Sugar– Either light brown sugar or dark brown sugar may be used for this recipe. The main difference between the two, dark brown sugar will have more of a molasses flavor and may cause the cookies to spread just a bit more than the light brown sugar.
Granulated Sugar– The addittion if white sugar helps to make the cookie edges crispier.
Large Eggs– Adding 2 large eggs helps to create structure within these cookies and the egg yolks add an extra rich flavor.
Vanilla Extract– Using pure vanilla extract enhances the flavor of the cookies.
Dry Ingredients
All Purpose Flour– All purpose flour (recommended to use unbleached) is the gold standard for baking. However, whole wheat flour may be substituted for its extra nutritional value but it is best to let the dough rest for 20 mins before baking. Letting it rest gives the liquid in the batter a chance to hydrate both the bran and the germ from the wheat berry that whole wheat flour contains. This will help to eliminate the dryness that whole wheat flour imparts.
Baking Soda– Leavens the cookies helping to make them soft and chewy.
Cinnamon and Cloves– Adds a warm and delicious flavor, making these cookies out of this world delicious. (This "true cinnamon" is my favorite.)
Salt– Enhances the other flavors of the cookies and helps to balance the sweetness. Because I need to be careful of my total iodine intake I use Maldon's Sea Salt. However, I do have to crush the flakes in a mortar and pestle before baking with this salt as the flakes are rather large.
Old-Fashioned Rolled Oats– Using old-fashioned oats provides a chewy texture, making your cookies feel like Oatmeal Cookies.
Raisins, Pecans and Shredded Coconut– These three ingredients adds in incredible taste and texture.
How to Make Oatmeal Raisin Coconut Cookies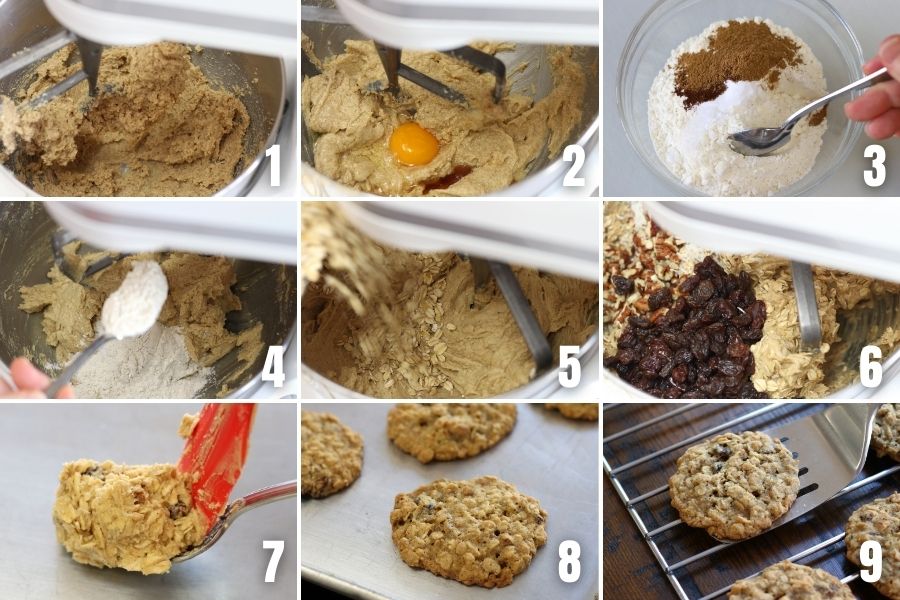 Preheat oven to 350℉. Using the paddle attachment of a stand mixer (or a large bowl and an electric hand mixer) cream together the butter and sugars on medium speed until light and fluffy.
Beat in eggs and vanilla adding in one egg at a time.
In a separate medium bowl stir together flour, baking soda, spices and salt.
Add in the flour mixture to the butter mixture in batches and blend on low speed, making sure to scrape down sides of bowl with each addittion.
Stir in rolled oats.
Blend in pecans, raisins and coconut until just incorporated.
Drop by rounded soup spoon or a cookie scoop onto an un-greased baking sheet.
Bake for 10-15 minutes (depending on the size of the cookies) or until the outer edges are slightly browned and the center still looks soft.
Cool cookies on cookie sheet for 3-5 minutes and then transfer to a wire rack until completely cool.
Note: If using a soup spoon that creates a larger cookie, the baking time will be approximately 13-15 minutes. Using the smaller teaspoon from your silverware set will create smaller cookies with a baking time of 8-10 minutes.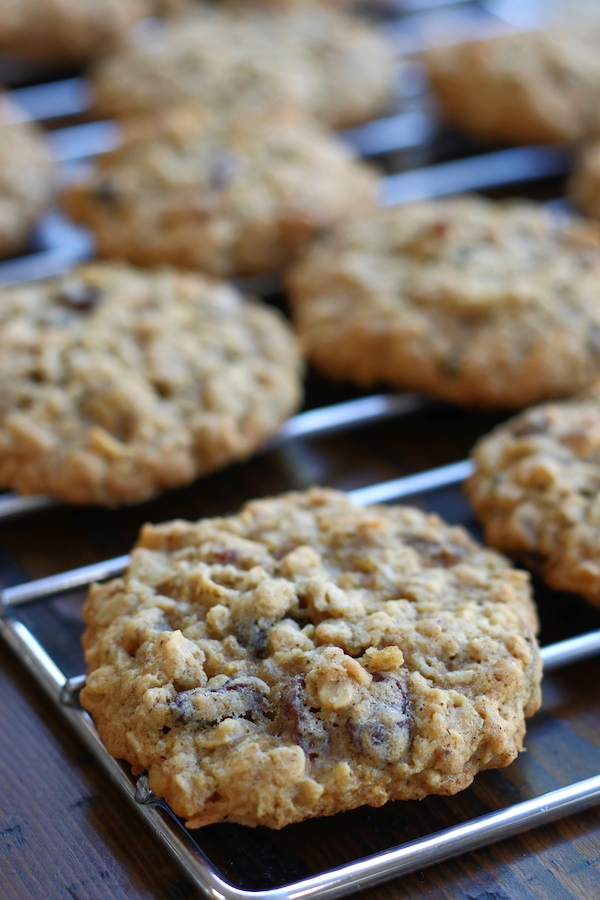 Freezing and Storing Cookie Dough and Baked Cookies
The beauty of homemade cookies is that you can freeze and store both the baked cookies and the cookie dough, making it very easy to have a homemade treat rather quickly.
Baked Cookie Storage
Baked Oatmeal Raisin Cookies will stay fresh stored in an airtight container at room temperature for 5-7 days. When kept in an airtight container, these cookies will last in the freezer for approximately 6 months.
Cookie Dough Storage
Once the cookie dough is made, it will stay fresh stored in an airtight container for 3-4 days. Also, cookie dough that is in a log form and rolled in parchment paper and then placed into a freezer bag can be stored in the freezer for up to 3 months. To defrost, place the log in the refrigerator over night and then bake the next day.
How to Make Softer Oatmeal Raisin Cookies
A quick Google search and you find all kinds of suggestions for making soft Oatmeal Cookies such as using shortening, less flour or melting the butter.
In all honesty, these tips may work. However, the easiest way to make these Oatmeal Raisin Coconut Cookies on the softer side is by slightly under baking them. Or in other words, bake them just until the edges start to slightly brown (less brown than the picture above) and the center in still very soft.
As the cookies cool on the cookie sheet they will continue to cook, resulting in crispy edges and a soft center.
Variations for the Best Oatmeal Cookies
As delicious as these Old Fashioned Oatmeal Cookies are, it is very important to personalize them with your favorite add ons. Here are a few ideas that can be swapped in either 1/2 cup or 1 cup proportions for the raisins, pecans or coconut.
Dried cranberries, cherries or blueberries.
Chocolate Chips
White Chocolate Chips
Butterscotch Chips
Peanut Butter Chips
Chopped Dates
Golden Raisins
Walnuts
Peanuts
Almonds
Cashews
Coconut Flakes
Frequently Asked Questions
Can I use quick oats instead of old fashioned rolled oats?
In a pinch, yes quick oats may be used as a substitute for old fashioned rolled oats. However, because quick oats have been par-cooked and then re-dried they do not have the same wonderful oat flavor that the old fashioned version does. Also, using old fashioned rolled oats makes deliciously chewy cookies whereas the quick oats makes for drier cookies.
How do I make these cookies gluten-free?
Make sure to buy gluten free old fashioned oats and this gluten free flour that is perfect for baking. With these ingredients, follow the recipe as written.
Why do my Oatmeal Cookies go flat?
The main culprits to cookies going too flat are:
Over beating the dough. Instead beat the sugar and butter just until the point of being light and fluffy and beat the dry ingredients into the wet until just incorporated.
Butter that is too cold. Make sure to leave the butter out at room temperature for several hours.
Using warm cookie sheets. Let the cookie sheets cool to room temperature before baking a second batch.
Too warm of a kitchen. This can happen often during the summer months and it is best to let the dough sit in the refrigerator for about 30 minutes before baking if your kitchen is too warm.
Should I bake my cookies on parchment paper?
These Oatmeal Cookies do not have to be baked on parchment but it will make removing them off of the cookie sheet much easier.
Can coconut oil replace the butter?
Yes, coconut oil can replace the butter in a 1:1 basis.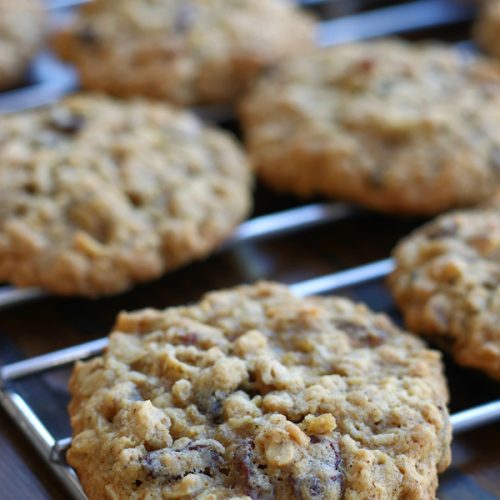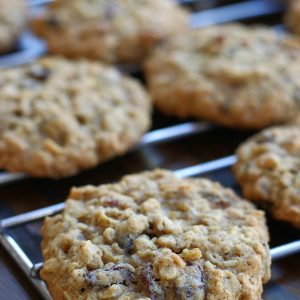 Oatmeal Raisin Coconut Cookies
Chewy, crispy and so delicious, these Oatmeal Raisin Coconut Cookies are like old fashioned oatmeal cookies with the addittion of coconut and pecans.
Print
Pin
Rate
Ingredients
1

cup

unsalted butter

*softened to room temperature

1

cup

packed brown sugar

1/2

cup

granulated sugar

2

large

eggs

1 1/2

tsp

vanilla

1 1/2

cup

all purpose flour

1

tsp

baking soda

1

tsp

ground cinnamon

1/2

tsp

ground cloves

1

tsp

salt See Note #1 below

3

cups

old fashioned rolled oats

1

cup

raisins

1/2

cup

minced pecans

1/2

cup

shredded coconut
Instructions
Using a stand or hand held mixer cream together butter and sugars until light and fluffy.

Mix in eggs and vanilla, adding in one egg at a time.

In a separate medium mixing bowl sift together flour, baking soda, cinnamon, cloves and salt.

Working in batches, mix dry ingredients into butter mixture, making sure to scrape down sides of mixing bowl.

Once blended stir in oats, raisins, pecans and coconut.

Using a tablespoon drop dough onto ungreased cookie sheet. See Note #2 below.

Bake for 8-10 mins. Let cookies cool on hot cookie sheet for about 3-5 mins and then transfer to cooling rack while still warm to cool completely. 
Notes
Recipe Notes 
Note #1- If using Maldon's Sea Salt (for its low iodine levels) grind it in a mortar and pestle before adding to the dry ingredients. Also, if using salted butter, eliminate the salt all together. 
Note #2- If using a soup spoon or cookie scoop that creates a larger cookie, the baking time will be approximately 13-15 minutes. Using the smaller teaspoon from your silverware set will create smaller cookies with a baking time of 8-10 minutes. 
Also, make sure to leave about 3-4 inches in-between cookies to allow for spreading while baking. 
Nutrition
Calories:
118
kcal
|
Carbohydrates:
16
g
|
Protein:
2
g
|
Fat:
6
g
|
Saturated Fat:
3
g
|
Cholesterol:
19
mg
|
Sodium:
42
mg
|
Potassium:
67
mg
|
Fiber:
1
g
|
Sugar:
7
g
|
Vitamin A:
131
IU
|
Vitamin C:
1
mg
|
Calcium:
11
mg
|
Iron:
1
mg