With just a few ingredients, this Ground Beef Stir Fry is perfect for a quick and healthy weeknight dinner. My husband loved it so much he didn't even notice we were eating low carb.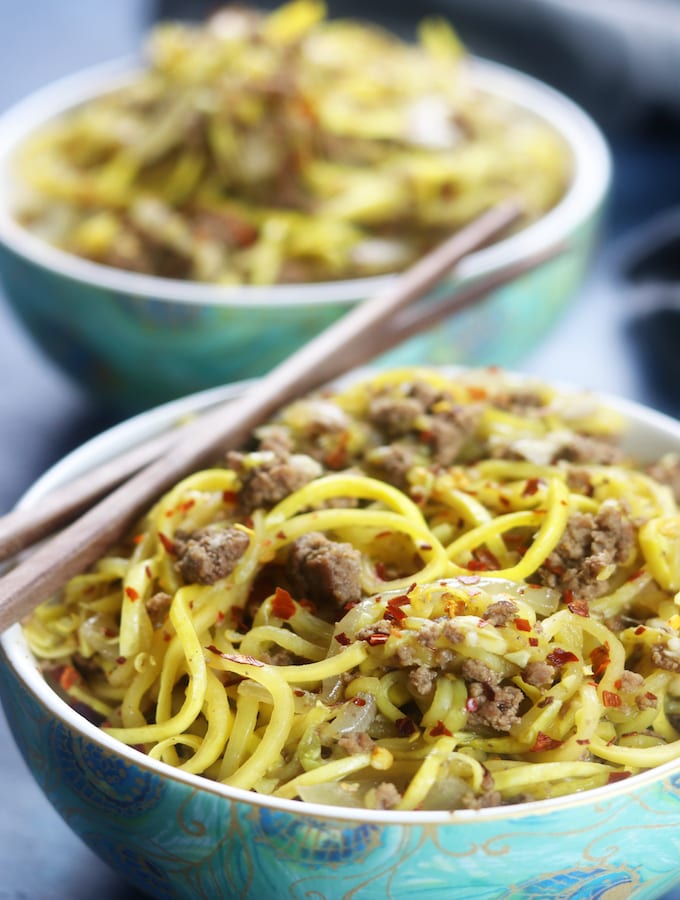 The Fed Up Foodie is a participant in the Amazon Services LLC Associates Program, an affiliate advertising program designed to provide a means for sites to earn advertising fees by advertising and linking to Amazon.com at no additional cost to you. This post may contain affiliate links.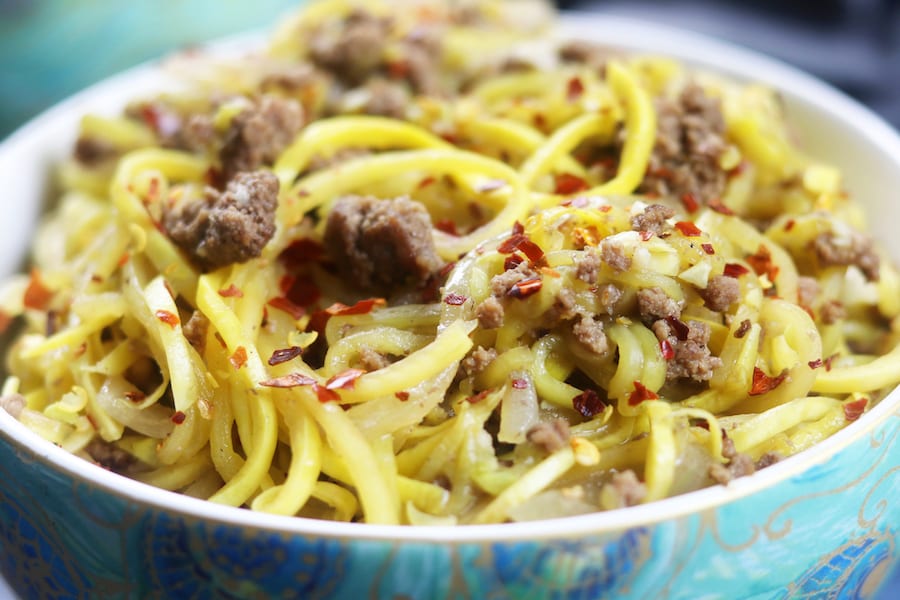 Practice makes perfect! Boy isn't that the truth.
Ever since my husband came home from working on the road, I now have the responsibility of making dinner every night.
I know what your thinking, waah!!! But I promise, I am not complaining.
It is actually a really good thing.
Before I would always rely on my favorite salads for dinner like my Lemon Dill Shrimp Salad and Lazy Day Chinese Chicken Salad because they are healthy, easy and quick.
Most of the time I would save my fun recipes creations for when he came home.
Now, I am loving the challenge of coming up with healthy ground beef recipes like this Ground Beef Stir Fry.
The more healthy dinner ideas I come up with, the easier life becomes for everyone.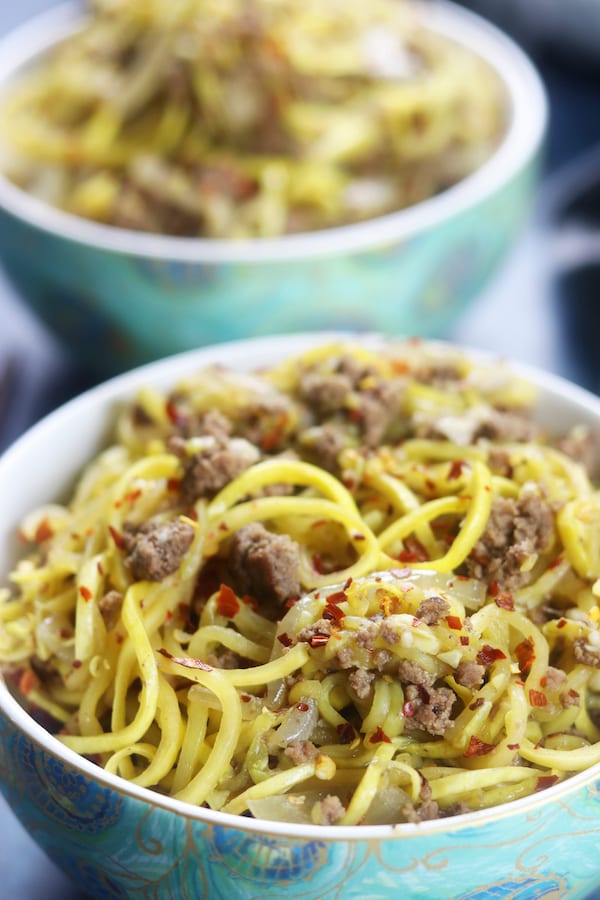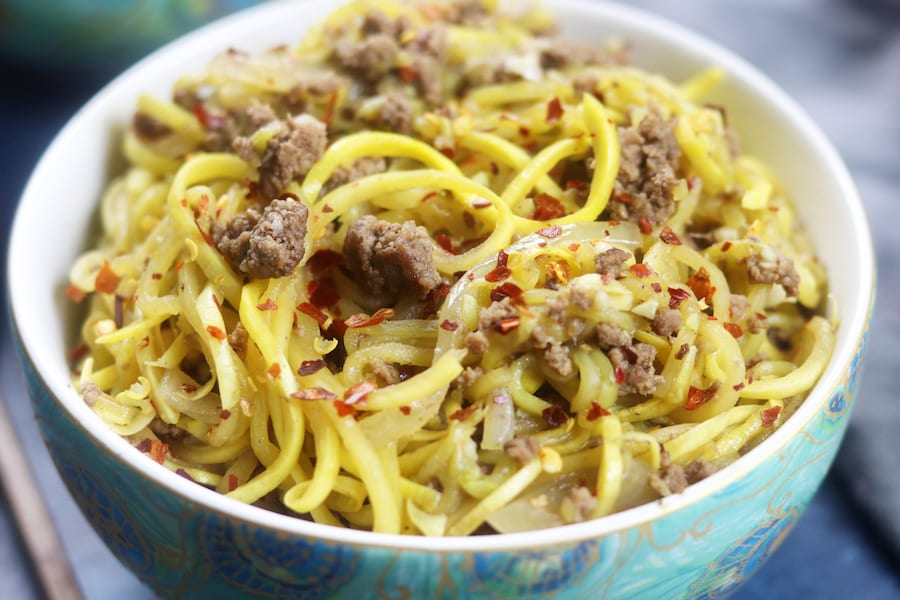 Difference between this Ground Beef Stir Fry, Korean Ground Beef and Bulgogi
Bulgogi vs Korean Ground Beef
With both dishes being extremely delicious, Bulgogi is the real deal when it comes to an authentic Korean recipe where as Korean Ground Beef is more of a Korean/American inspired recipe. One of the main differences between these two dishes is that Bulgogi recipes generally use a better cut of meat, such as rib eye, where as Korean Ground Beef recipes use lean ground beef. Also, because Korean Ground Beef recipes are more Americanized, they tend to be just as tad sweeter.
Korean Ground Beef vs Ground Beef Stir Fry
Very similarly, this Ground Beef Stir Fry recipe has some cross over ingredients that it shares with the two previous recipes such as onion, sesame oil, ginger and garlic. What sets this stir fry apart is the yellow squash and hoisin sauce, making it an Chinese/Korean/American fusion dish.
The good news, not only is this Ground Beef Stir Fry a quick and easy meal, it is also a low carb stir fry. It is a great way to get veggies in especially for anyone who loves Asian food.
Tips for stir frying in a wok
The number one secret to stir frying is to work with the highest heat possible. My preferred method of making a stir fry really is to use a wok like this one because it heats so well and works on gas stovetops.
Second tip, work in batches. Stir frying smaller amounts will allow the wok to stay hot and your stir fry will cook much more evenly. Always start with the item that takes the longest to cook and work your way down to the item that needs the least amount of time. Often meat is stir fried first and set aside to help seal in the juices. With this particular ground beef stir fry it is also to not over crowd the wok.
Last tip, consistently toss while cooking. Because the wok is at a very high heat the stir fry will cook quickly. Tossing, or essentially stirring often, will allow all ingredients to cook evenly.
Tips for stir frying in a pan
I am not going to lie, trying to create an authentic stir fry in a regular pan is very difficult. Many of the pans on the market do not retain and distribute heat well and often they are not built for high heats. If you don't have a wok, your next best bet is to use a large cast iron pan.
To stir fry in the cast iron simply follow the same tips as what would for the wok.
Recommended Tools
Commonly asked questions about this Ground Beef Stir Fry
What is hoisin sauce and where can I buy it?
Hoisin is a sauce central to many Chinese dishes. It is made of soybeans, vinegar, molasses, miso and spices. This is a great organic hoisin and this one is very tasty but not fully organic.
Is hoisin sauce low carb?
Yes, hoisin sauce is very low in carbohydrates in spite of having sugar in the ingredients. Here is the breakdown of carbs for this recipe:
carbs from hoisin per serving= 5.33 grams
carbs from yellow squash per serving= 9.3 grams
total carbs per serving= approximately 16 grams
Is this stir fry spicy?
No, it really isn't but this question is very relative depending individual tastes. We tend to follow the tips from the recipe for a spicer stir fry and it is still mild for both my husband and myself. You will definitely want to adjust accordingly.
My stir fry never seems to turn out right. What am I doing wrong?
I am so glad you are asking this as it does tend to be a common challenge for many. First, I would recommend to check out the stir fry tips a little further up in the post. These tips really are a lifesaver to making an awesome stir fry.
I have noticed that a majority of struggle with making a great stir fry starts with not using high enough heat and a not hot enough pan. It is wise to heat the pan for about a minute before adding the oil. Once the oil starts to smoke slightly it is time to add in the first set of ingredients. Just making sure you follow this step in addition to the tips above will head you in the direction of making a great at home stir fry as good (if not better) than take out.
More Simple Dinner Ideas
Simple Strawberry Salmon Salad
One Pan Panko Chicken and Green Bean Salad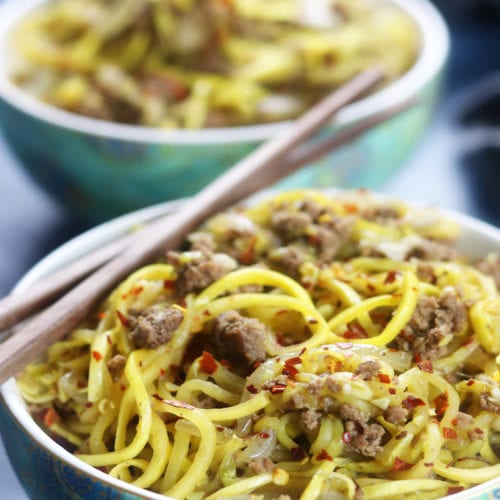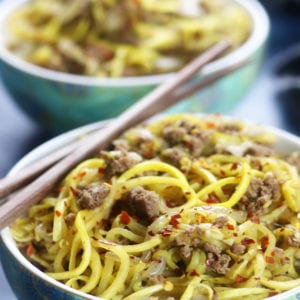 Ground Beef Stir Fry
Tasty low-carb meals are the best of both worlds! This dinner is satisfying, quick and healthy. Such a perfect meal for busy weeknights and great for Asian food lovers.
Print
Pin
Rate
Ingredients
1

lb

ground beef

*15% lean

3

tbsp

sesame oil

*divided into 2 portions

1

lg

brown onion

*cut into strips, about 1 1/2 cups

4

lg

straight neck yellow squash

*spiralized

2

tbsp

crushed garlic

*about 5-6 cloves

1/2

tsp

ground ginger

1/3

cup

Hoisin

1/2

tsp

crushed red chili pepper flakes

*1/4 tsp for mild, 1 tsp for a little more spice
Instructions
Prepare veggies and measure remaining ingredients.

Place a large frying pan or wok over high heat for about 1 min. Add half (1 1/2 tbsp) sesame oil and when the pan just starts to smoke add hamburger. Stir fry until meat is cooked through, about 8 mins. At around the 6 min mark add in ginger and garlic and continue stir frying for the remaining 2 mins.

Remove hamburger from pan.

Place pan back on high heat. Add remaining oil and when pan just starts to smoke toss in onions strips. Stir fry for 2-3 mins.

Add in crushed pepper and yellow squash. Stir fry for another 3-4 minutes or until squash becomes slightly tender and starts to loose its moisture.

Add in cooked ground beef and hoisin. Continue stir frying or an additional 1-2 mins.

Please see stir frying tips above if you are new to stir frying.
Notes
*Please use as many organic ingredients as possible.* 
Nutrition
Calories:
584
kcal
|
Carbohydrates:
16
g
|
Protein:
27
g
|
Fat:
45
g
|
Saturated Fat:
14
g
|
Cholesterol:
108
mg
|
Sodium:
596
mg
|
Potassium:
466
mg
|
Fiber:
1
g
|
Sugar:
8
g
|
Vitamin C:
2
mg
|
Calcium:
47
mg
|
Iron:
3
mg
Do you adore Asian cuisine? You LOVE these then!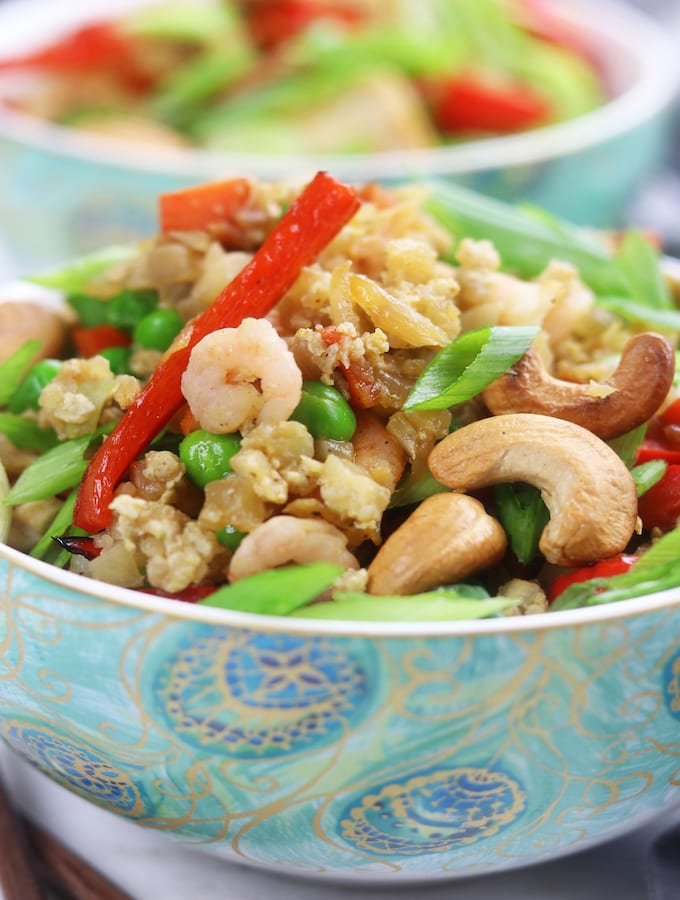 Cauliflower Chicken and Shrimp Fried Rice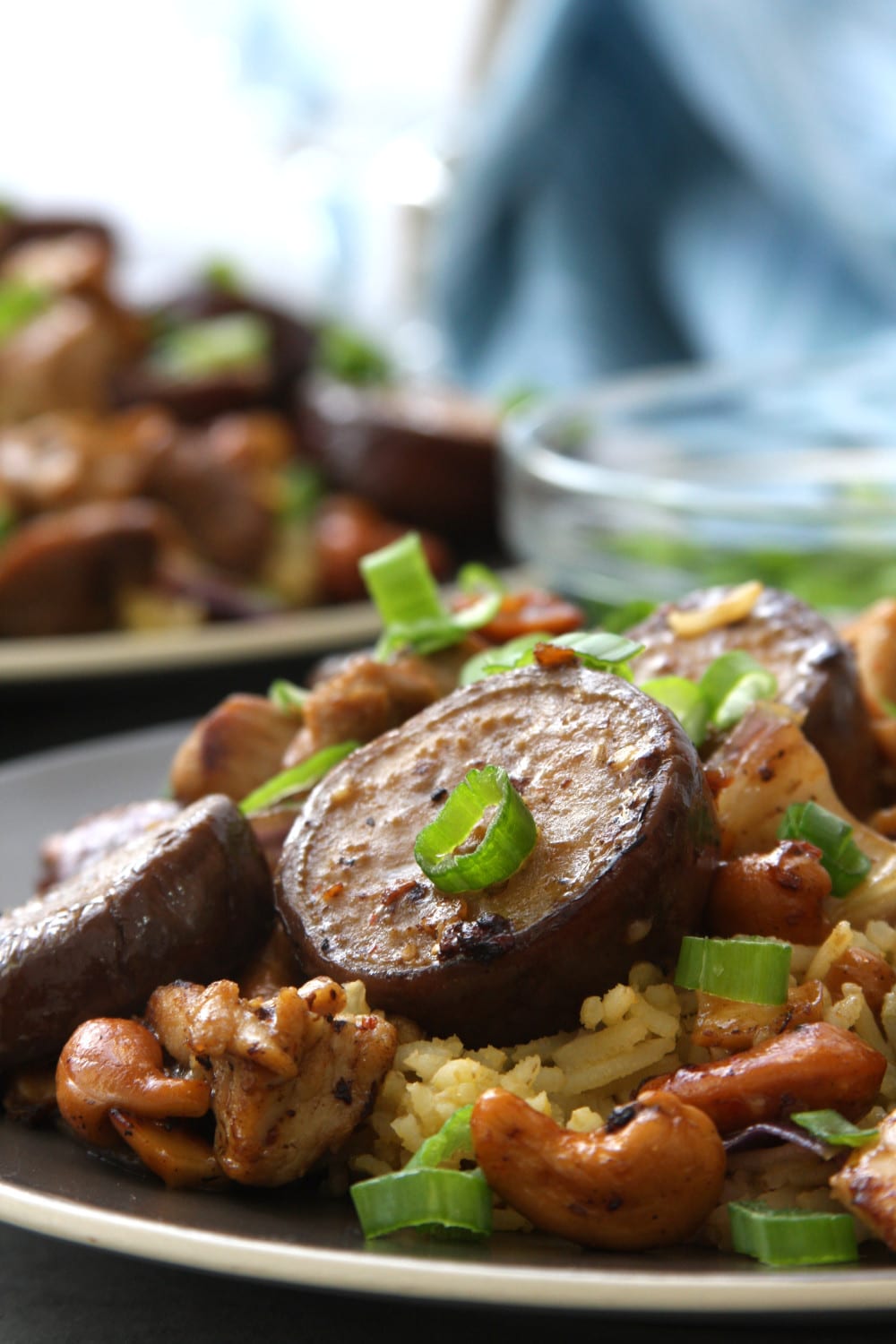 Cashew Eggplant Chicken Stir Fry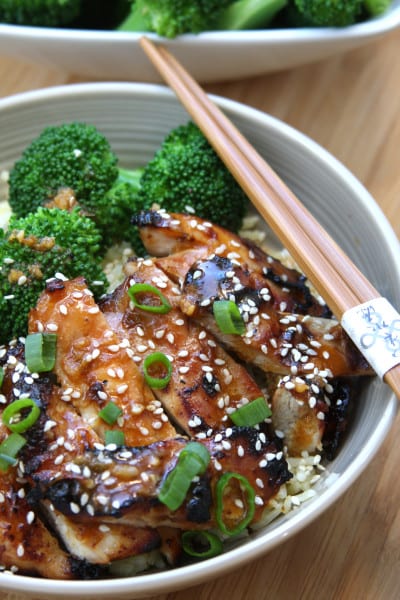 Asian Chicken Sriracha Bowl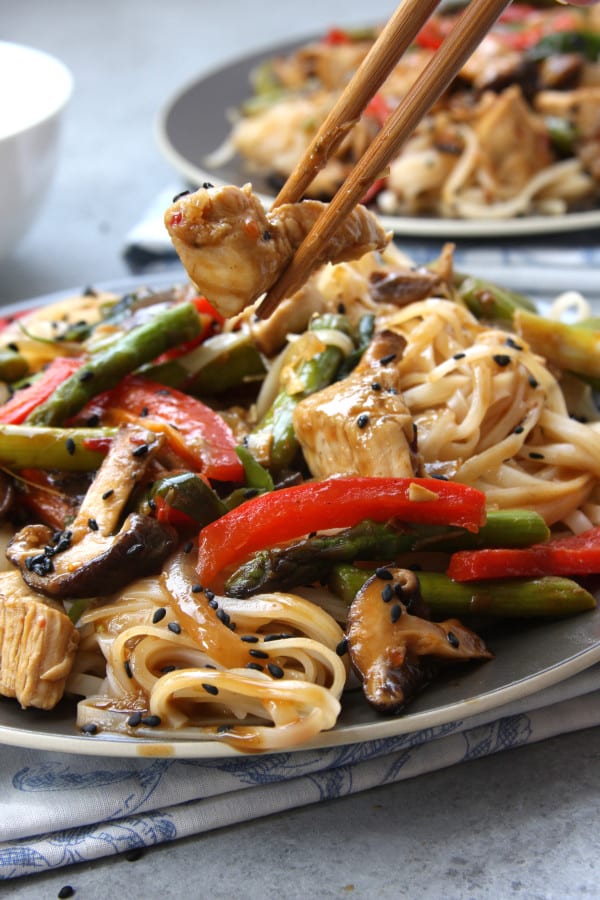 Lemongrass Chicken Noodle Stir Fry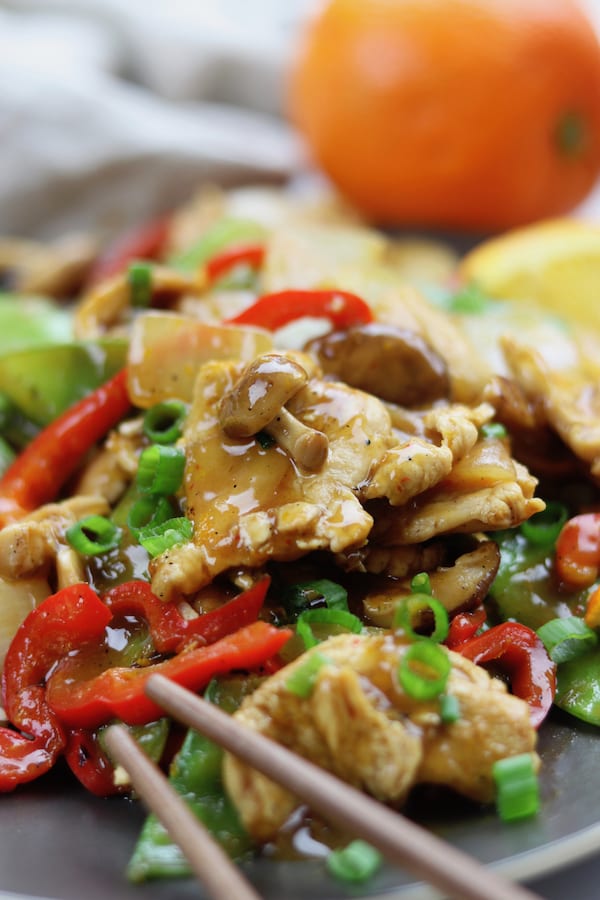 Citrus Chicken Stir Fry