Broonie is an extremely moist Irish molasses oatmeal cake that comes together quickly. This molasses cake is so heavenly that it is perfect for the holidays.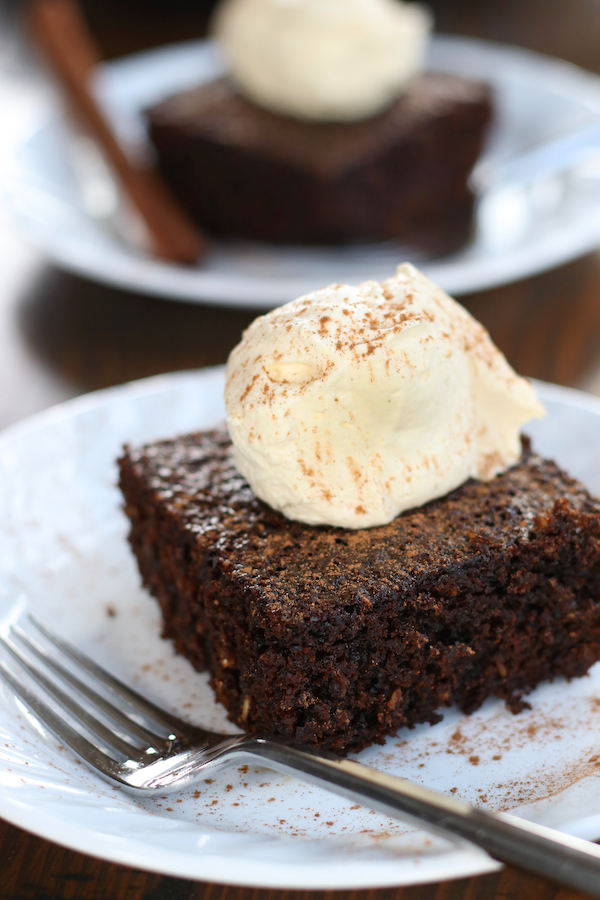 This post may contain affiliate links which I earn a small portion in sales if a purchase is made. Rest assured though, it is never at any additional cost to you.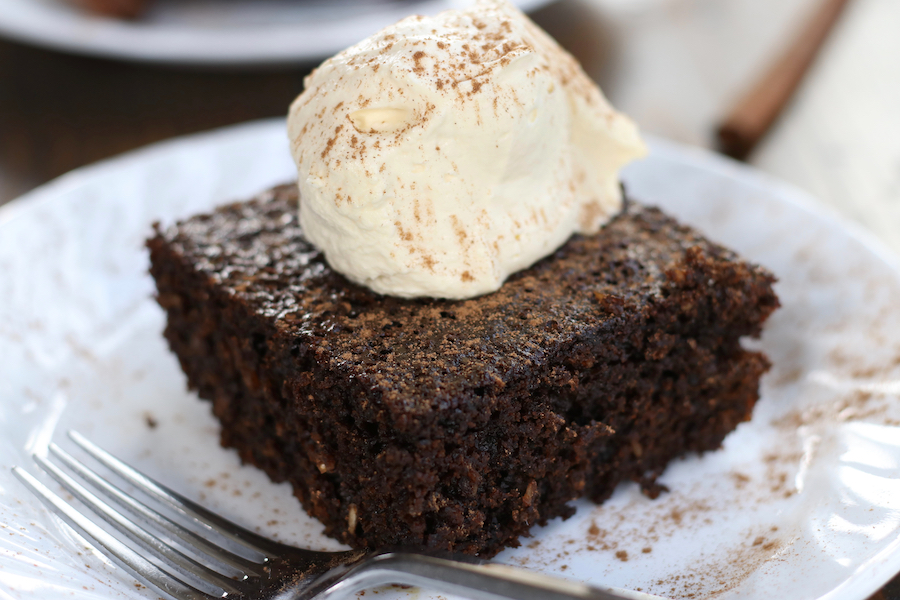 Some of my most cherished possessions since my parents have passed have been the handwritten family recipes.
Most of them are written in my mom's handwriting and seeing it floods me with all kinds of sweet memories.
I love seeing how old and stained the paper is. Also, many of them were written quickly and very informally. These papers were never meant to be seen by anyone outside of our immediate family.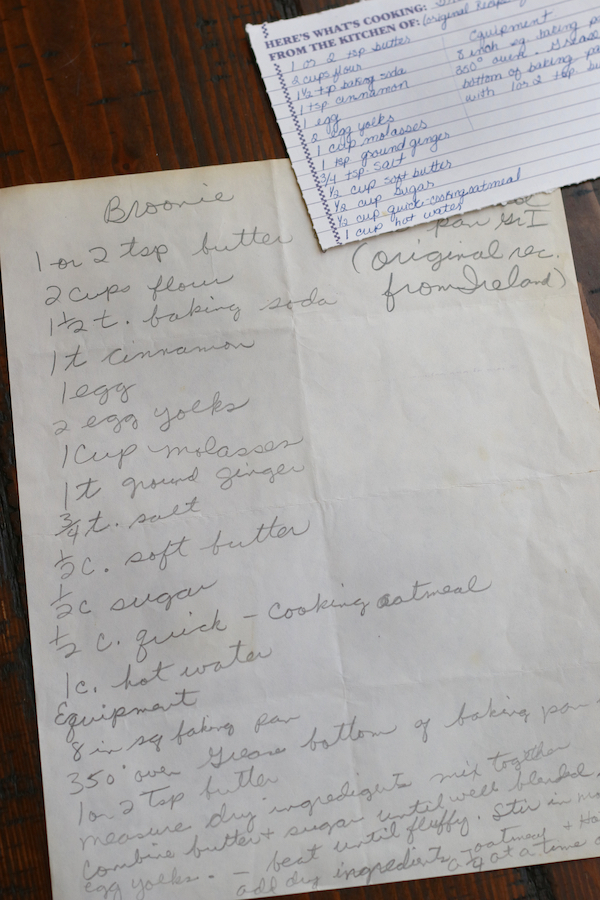 Honestly, if my mom were alive today she would be so embarrassed that I am sharing this photo. She would not like how her handwriting looks and would probably insist that I type it out.
But that is the charm of it.
So this Broonie has been in our family since the 1980's and I am not fully sure where it came from. I copied the recipe (the smaller card) sometime in the early 2000's and had forgotten about it until recently.
I am beyond excited that I found these handwritten versions because this cake is just plain amazing. So amazing that my husband calls this cake gingerbread glory. Also, it has many wholesome ingredients which makes me even happier.
If you love old cherished family recipes too then you will adore my Mom's Chicken Gumbo Soup, Mom's Sweet and Sour Chicken and Mom's Classic Meatloaf for dinner. However, if you have a sweet tooth, you have to try Mom's Old Fashioned Swedish Apple Cake, Mom's Lemon Butter Bundt Cake, Mom's Frozen Peanut Butter Pie and the holiday classic my Mom's Walnut Balls. All of these recipes are extremely tried and true and so very delicious.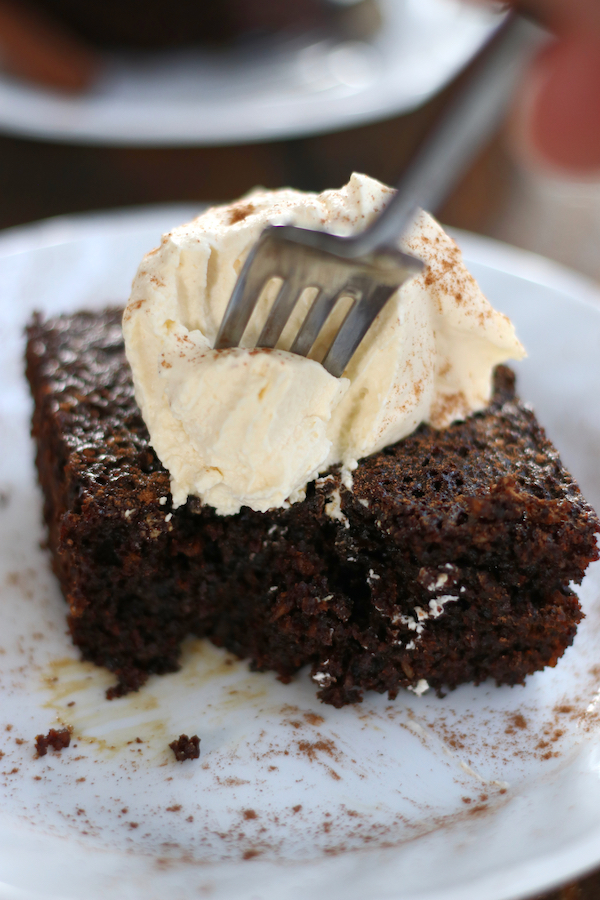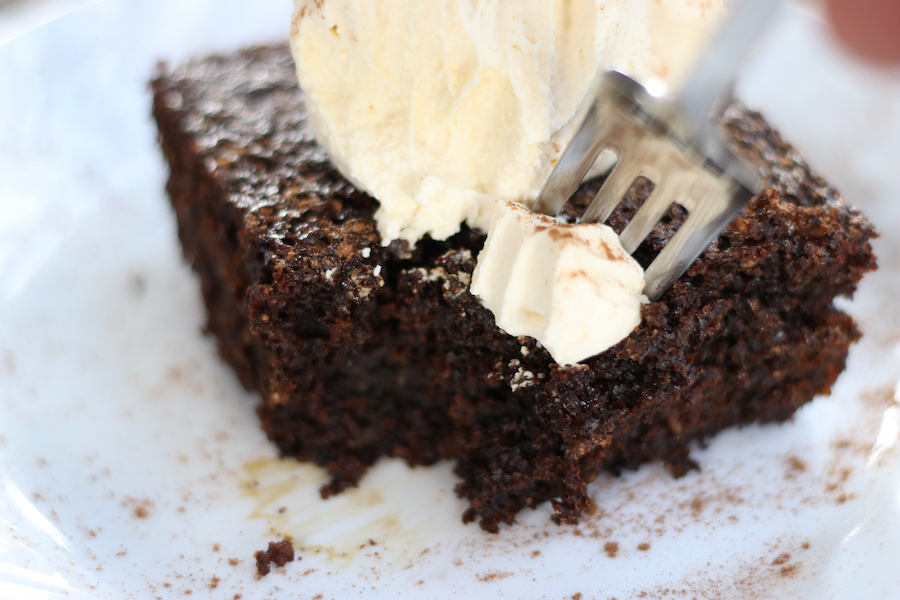 What is Broonie?
Broonie is a classic Molasses Oatmeal Gingerbread type of cake. It does taste somewhat like gingerbread, however, molasses is the dominant flavor. It is a very moist cake that crisps up on the edges very similar to how brownies do. But note, this is definitely not a brownie. Also, Scotland and England both have slightly different variations of their Broonie recipes.
Best Spices To Use
The quality of spices makes a world of difference in the taste of cooked and baked recipes. Because of this, spice brands that do not use irradiation, are organic and taste amazing are what I keep my cupboard stocked with. For this Broonie recipe I adore this Ground Ginger and Ceylon Cinnamon.
Did you know that both Ginger and Ceylon Cinnamon are powerhouses of health benefits?
Unsulfured Molasses
Unsulfured Molasses is an extraction made from mature sugarcane, whereas sulfured molasses is made from immature sugar cane that is treated with sulfur dioxide. Britannica.com defines surfer dioxide as "(SO2), inorganic compound, a heavy, colourless, poisonous gas." The bottomline, Unsulfured Molasses comes with less risk in my opinion.
How To Make Quick Cooking Oats Out Of Rolled Oats
Regular rolled oats are easily turned into quick cooking oats by simply processing in a food processor with a few pulses. This breaks down the oats just enough that they become quick cooking. However, just be sure to not over-process and turn the oats into oat flour. If that doesn't happen, simply save the oat flour to make Oat Flour Pancakes and try again.
When To Serve Broonie
This Broonie recipe would be phenomenal on Thanksgiving after eating Turkey and Mashed Potatoes for those who dislike pumpkin pie. Also, because it has the flavor of Christmas, it would be divine for a family Christmas party. Additionally, this cake is very simple to make, making it perfect for a Fall or Winter non-holiday dessert.
If you enjoyed this Broonie please let me know by leaving a comment and review below. Doing so helps to encourage others to make the recipe also. Thank you!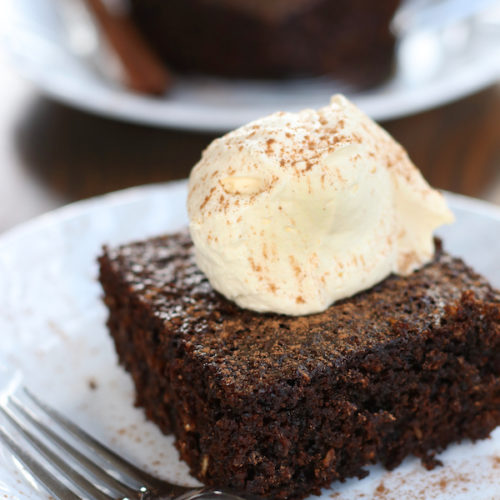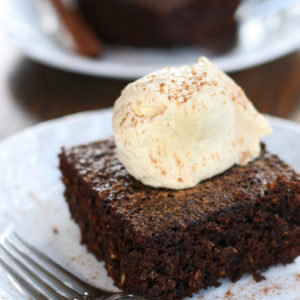 Broonie
This classic Irish Broonie is a moist molasses oatmeal cake that is perfect for hoilday celebrations.
Print
Pin
Rate
Ingredients
1/2

cup

unsalted butter

*softened to room temp, plus 1-2 tsp. for greasy baking pan

1/2

cup

granulated sugar

2

cups

all-purpose flour

1 1/2

tsp

baking soda

1

tsp

ground cinnamon

1

tsp

ground ginger

3/4

tsp

salt

1/2

cup

quick cooking oatmeal

1

whole

egg

2

egg yolks

1

cup

unsulfered molasses

1

cup

hot water

*about 130-150℉
Instructions
Preheat oven to 350℉ and grease bottom and sides of a 9 1/2 X 12 inch (or there abouts) rectangle pan with the 1-2 tsp of butter.

In a large sized mixing bowl mix together dry ingredients (flour, baking soda, cinnamon, ginger, salt and oatmeal).

In a stand mixer cream together butter and sugar until well blended. Add in egg yolks and egg. Beat until light and fluffly.

Working with 1/4 of each, mix in molasses, water and dry ingredients to egg and butter mixture. Scrap down sides of mixing bowl and repeat 3 more times untill all of molasses, water and dry ingredients have been incorporated.

Pour batter into greased pan and bake for 45 mins or until tester inserted into the center of cake comes out clean.

Let cool and serve with freshly whipped cream and sprinkle with cinnamon.
Notes
*Please use as many organic ingredients as possible. 
Recipe Notes
To make whipped cream place 1 pint heavy whipping cream into a cold mixing bowl. Add 1 tbsp pure vanilla extract and 1 tbsp granulated sugar to whipping cream. Using a hand mixer (a stand mixer may also be used) whip until stiff peaks form, about 3-4 mins. 
Nutrition
Calories:
229
kcal
|
Carbohydrates:
39
g
|
Protein:
3
g
|
Fat:
7
g
|
Saturated Fat:
4
g
|
Cholesterol:
40
mg
|
Sodium:
145
mg
|
Potassium:
357
mg
|
Fiber:
1
g
|
Sugar:
22
g
|
Vitamin A:
210
IU
|
Calcium:
56
mg
|
Iron:
2
mg