Quick and easy Cajun Pasta has andouille sausage and bell peppers. It is a creamy and luxurious dinner with a kick of spice that can be easily adjusted for taste preferences. This meal is wonderful for chilly fall and winter evenings.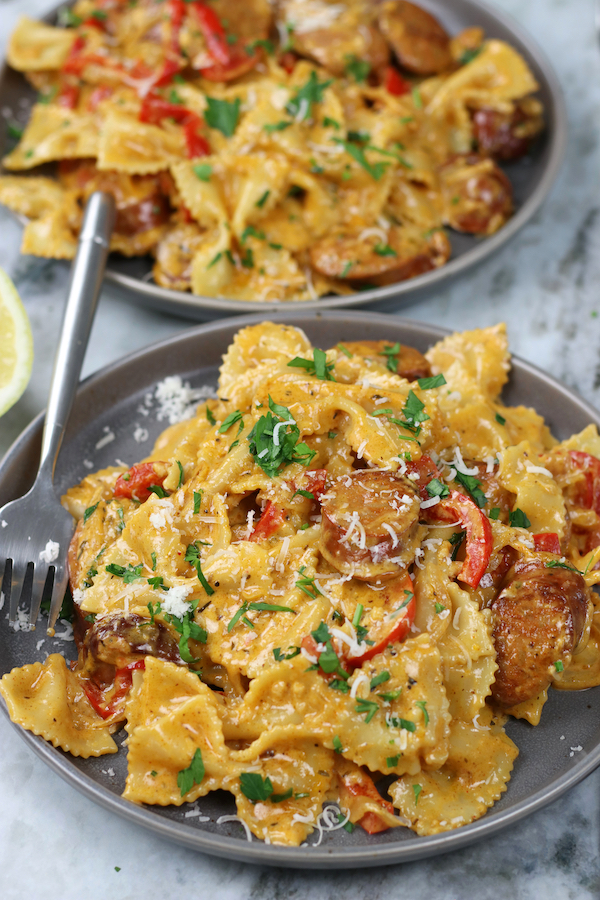 This post may contain affiliate links which I earn a small portion in sales if a purchase is made. Rest assured though, it is never at any additional cost to you.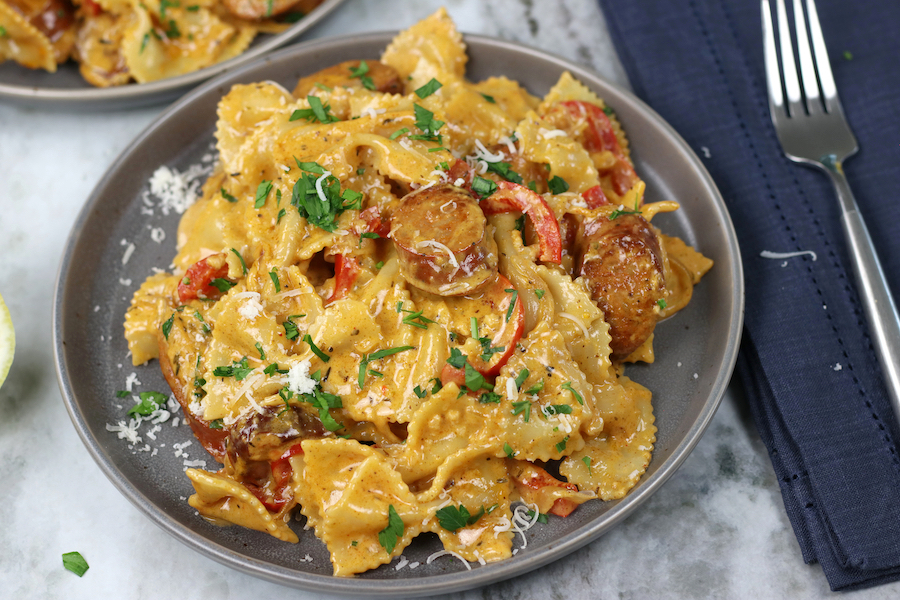 Andouille Sausage: A Cajun Culinary Tradition
Andouille sausage is a flavorful and versatile ingredient that can elevate your cooking. It's a staple in Cajun and Creole cuisine, known for its bold, smoky, and spicy flavor profile. Typically made from pork, andouille sausage is coarsely ground and seasoned with a mixture of spices, including paprika, garlic, thyme, and cayenne pepper, which gives it a robust, slightly spicy kick.
However, it's important to note that there are variations of andouille sausage. The most common is pork andouille, but you can also find chicken andouille, which is a leaner option with a milder flavor.
Cooking Andouille Sausage
When it comes to cooking andouille sausage, it's incredibly versatile. You can slice it and use it as a savory addition to dishes like jambalaya, gumbo, or Cajun pasta. Its smokiness pairs well with vegetables, beans, or rice, making it an excellent choice for one-pot dishes. You can also grill or pan-fry it for a deliciously crispy texture.
Note: Andouille sausage purchased in the grocery store will be precooked. If using homemade andouille sausage, the cooking time will increase.
Where to Buy Andouille Sausage
As for where to buy andouille sausage, you can typically find it in most well-stocked grocery stores, especially in regions with a strong Cajun or Creole culinary influence. You can also order it online from specialty food retailers or butchers for the most authentic options. Whether you're a beginning cook or an experienced chef, andouille sausage adds a burst of flavor to your dishes and can be a delightful addition to your culinary repertoire.
Basics of Homemade Cajun Spice Blend
This pasta dish includes a simple homemade Cajun spice blend that helps to create a bold and savory pasta with a hint of smokiness and a moderate level of spiciness. The ingredients needed for it are smoked paprika, onion powder, dried oregano, dried thyme, salt, white pepper, black pepper and cayenne pepper.
Understanding Smoked Paprika
Smoked paprika is a spice derived from dried peppers that have been smoked over a wood fire. It has a deep, smoky flavor profile that sets it apart from other paprika varieties like sweet and hot paprika. Unlike sweet paprika, which offers a mild and slightly sweet taste, and hot paprika, which is spicy, smoked paprika brings a rich, smoky essence to your dishes. It's perfect for adding a barbecue-like smokiness to everything from roasted vegetables and meats to soups and stews.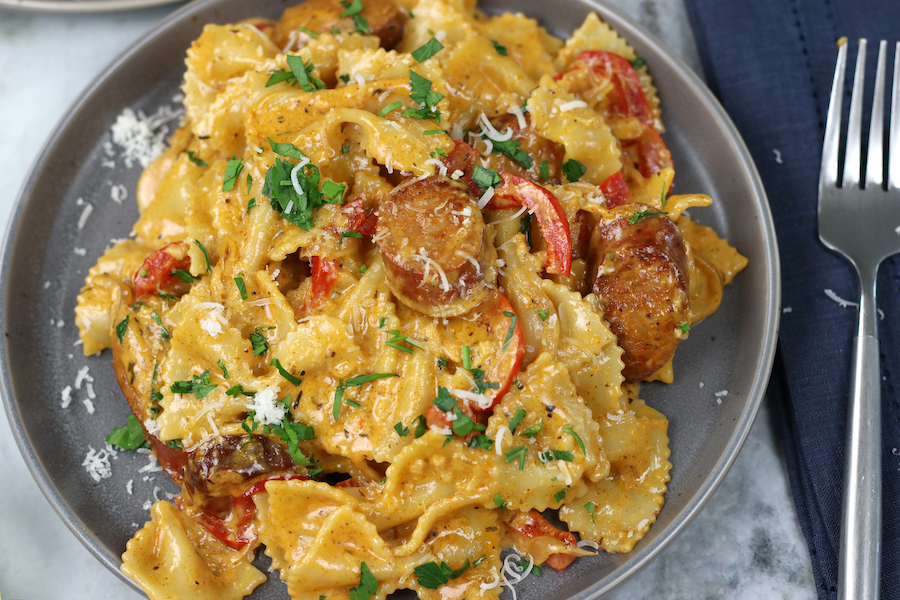 Ingredients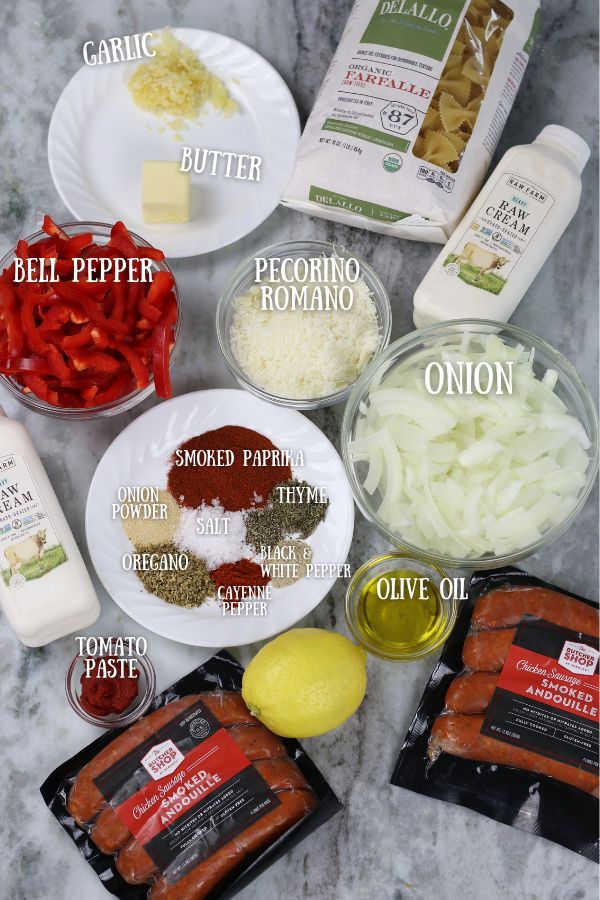 Andouille Sausage– Adds a smoky, spicy, and savory element to the dish, infusing it with Cajun flavors.
Olive Oil– Used for cooking the andouille sausage, providing a rich base of flavor and preventing sticking.
Pasta of Choice– Serves as the main carbohydrate element, creating a hearty and satisfying base for the dish. For this dish I used bow tie pasta, aka farfalle.
Unsalted Butter– Adds richness and a creamy texture to the sauce.
Brown Onion– Also known as yellow onion, imparts a sweet and savory depth of flavor to the dish.
Red Bell Pepper– Provides vibrant color and a sweet, smoky contrast to the spicy sausage.
Fresh Garlic– Enhances the overall flavor profile with its aromatic and pungent qualities.
Tomato Paste– Offers a concentrated tomato flavor that lends to a depth of flavor.
Smoked Paprika– Infuses a smoky essence into the dish, complementing the andouille sausage's flavors.
Onion Powder– Enhances the onion flavor and adds a savory component.
Dried Oregano and Dried Thyme– Incorporates the herbal notes that is part of the Cajun spice blend.
Salt, White Pepper, Black Pepper and Cayenne Pepper– Together, these spices create the signature Cajun spice blend, offering a balance of smokiness, heat, and depth of flavor.
Chicken Broth– Adds moisture and savory depth to the sauce.
Heavy Whipping Cream– Forms the creamy and luscious base of the sauce.
Parmigiano-Reggiano or Pecorino Romano– Melts into the sauce, providing creaminess and a salty, tangy kick. Costco has these authentic varieties at a great price.
Reserved Pasta Water– Used to adjust the sauce's consistency and aid in coating the pasta evenly.
Lemon Zest and Juice– Offers a bright and refreshing citrus note that balances the richness of the dish.
How To Make Creamy Cajun Pasta with Andouille Sausage
Bring a large pot of water to a boil for pasta. Measure spices. Cut onion and peppers into strips. Peel and cut garlic. Zest and juice lemon. Finely shred cheese. Cut andouille sausage into bite sized pieces.
Heat 2 tbsp olive oil in skillet and sauté sausage until browned. Set aside.
Over same heat melt 2 tbsp butter in skillet. Sauté onions for 1-2 mins.
Add bell peppers, sauté 1-2 mins.
Add tomato paste and stir to coat veggies.
Stir in garlic and spices, sauté for 1-2 mins.
Add chicken broth to deglaze pan.
Reduce heat, add cream, simmer for 10 mins.
Mix in sausage, lemon, and cheese.
Add pasta and reserved water. Stir.
Serve with cheese and parsley.
Variations
Pasta Variations
Choosing a sturdy pasta that has a satisfying bite adds a satisfying comfort level to this Cajun Pasta. Here are some fun pasta variations.
Bow Tie (aka Farfalle)
Penne
Fettuccine
Rigatoni
Pappardelle
Gemelli
Vegetable Variations
Onions and different colored bell peppers work beautifully in this pasta. However, feel free to get creative with your favorites like spinach, mushrooms, or even okra for that authentic Southern touch. Just remember to sauté them to the right level of tenderness, ensuring they enhance the dish without overpowering the Cajun seasoning.
Protein Variations
Although andouille sausage tastes absolutely divine in this pasta, there is flexibility to personalize this dish by incorporating various proteins such as chicken, shrimp, or tofu as a vegetarian option.
If using chicken, sauté thinly sliced chicken breasts or thighs with Cajun seasoning until cooked through. For shrimp, simply sauté them until pink and opaque. Tofu should be cubed, marinated in Cajun spices, and then pan-fried until crispy. By experimenting with these protein variations, you can adapt this Cajun pasta to your preferences while still enjoying its bold flavors.
Adjusting Spice Level
This pasta provides a medium heat, especially when chicken andouille sausage is used rather than pork andouille sausage. For those with more delicate taste buds, it may be important to lower the spices also. Start conservatively with the cayenne pepper (about 1/8 teaspoon) and white pepper (about 1/4 teaspoon) and gradually increase to your preferred heat. Remember, it's easier to add more spice later than to tone down an overly spicy dish. Taste as you go, and don't forget that the creaminess and cheese in the sauce can help mellow the heat.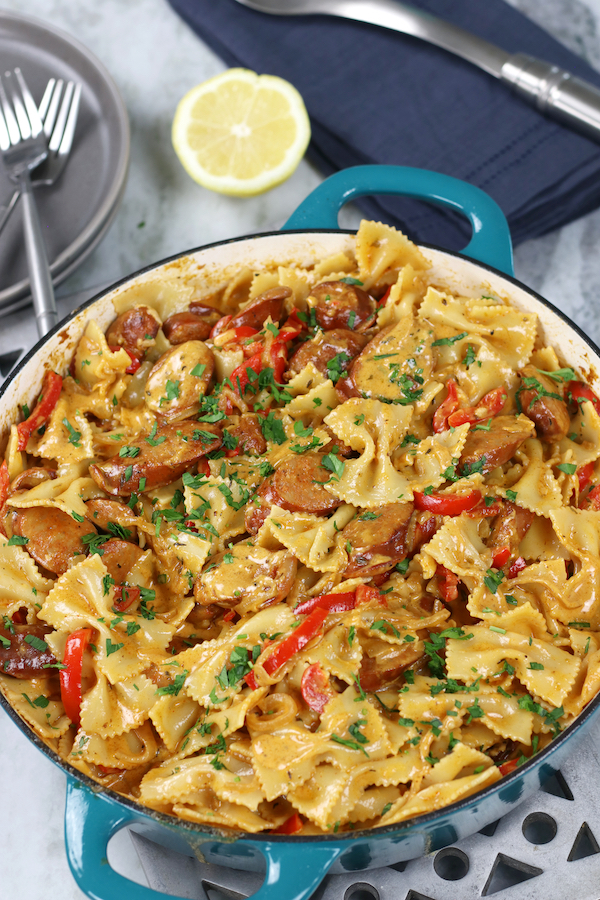 Top Tips
Before starting, consider whether those eating this pasta dish will need to have a lower level of spice. The above "Adjusting Spice Level" section gives tips to lower the heat of the dish. Also, consider switching out the andouille sausage for chicken breasts as another way to control heat.
Begin by setting a pot of water to boil for the pasta as your first step, as this typically takes the most time in the cooking process.
"Mise en place" is a French culinary term that translates to "everything in its place". Before you start cooking, have all your ingredients measured, chopped, and organized. This includes the sausage, vegetables, spices, and any garnishes. Having everything ready in advance ensures a smooth cooking process and helps you stay organized while making this dish.
Frequently Asked Questions
Is there a vegetarian or vegan version of andouille sausage?
Unfortunately there is not a vegetarian or vegan option that could replicate andouille sausage well. However, tofu can be used as a protein option. See the "Protein Variations" section above for more details.
Can this pasta be made ahead of time?
Yes, Cajun Pasta can be made ahead of time, but there are a few things to consider to ensure it maintains its best flavor and texture:
Allow the Cajun Pasta to cool thoroughly before refrigerating.
Use an airtight container to store the pasta. This will help prevent it from drying out and absorbing any odors from the fridge.
Reheat it gently on the stovetop or in the microwave. You may need to add a little extra cream or broth to restore its creamy consistency.
What is a good gluten-free pasta that works well with this dish?
This gluten-free pasta comes with many reviews that says it is the closest tasting to regular pasta that they have found.
Will this pasta turn out well with a low-fat or vegan milk?
The reduction of creaminess from not using heavy cream will impact the overall satisfaction of this dinner. However, it is still a delicious option. If needing a vegan option choose a creamier vegan milk such as flax milk. Additionally, for a lower in fat option give nonfat Greek yogurt a try over heavy cream.
What is the purpose of the lemon?
The lemon zest adds a bright, citrusy aroma and flavor to the pasta. Additionally, lemon juice provides acidity which balances the richness of the creamy sauce and sausage, adding a refreshing and slightly tart contrast.
Is heavy cream and heavy whipping cream the same thing?
Yes, heavy cream and heavy whipping cream are essentially the same thing and can often be used interchangeably in recipes. Both are high-fat dairy products with a fat content of around 36-40%, making them suitable for whipping into whipped cream or adding richness to sauces, soups, and desserts.
The slight difference in naming is largely regional and may vary by location and manufacturer. In practice, you can typically use heavy cream or heavy whipping cream without significant differences in your cooking.
More Scrumptious Pasta Dishes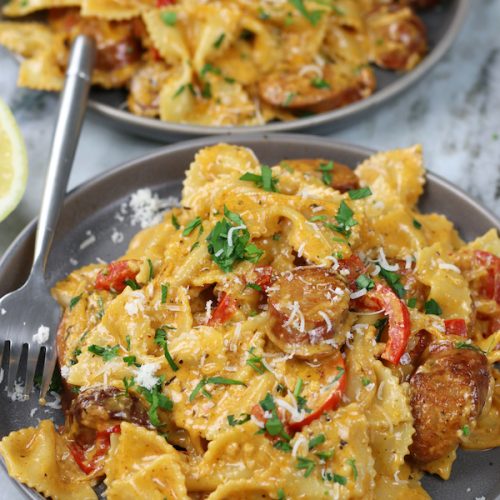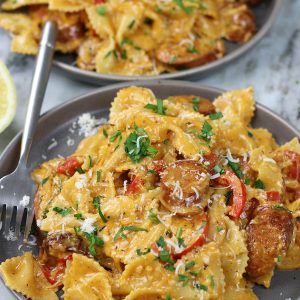 Cajun Pasta
Quick and easy Cajun Pasta has andouille sausage and bell peppers. It is a creamy and luxurious dinner with a kick of spice that can be easily adjusted for taste preferences. This meal is wonderful for chilly fall and winter evenings. 
Print
Pin
Rate
Ingredients
1

pound

pasta of choice

2

tablespoons

olive oil

1 1/2

pounds

andouille sausage

*cut into bite sized pieces, see Note #1 below

2

tablespoons

butter

1

medium

brown onion

*aka yellow onion, cut into strips- about 1 1/2-2 cups

2

medium

red bell peppers

*or your favorite colored bell peppers, cut into strips

1

tablespoon

tomato paste

2

tablespoons

crushed garlic

*6-8 large cloves of garlic

1

tablespoon

smoked paprika

1

teaspoon

onion powder

2

teaspoons

dried oregano

1

teaspoon

thyme

1

teaspoon

salt

1/2

teaspoon

white pepper

1/4

teaspoon

black pepper

1/2

teaspoon

cayenne pepper

1/2

cup

chicken broth

3

cups

heavy whipping cream

1

cup

finely shredded Parmigiano-Reggiano or Pecorino Romano

*plus extra for garnish

1/2

cup

reserved pasta water

*see Note #2 below

1

lemon zested

2

tablespoons

lemon juice
Instructions
Preparation
Bring a large pot of water to a boil for pasta. Measure spices. Cut onion and peppers into strips. Peel and cut garlic. Zest and juice lemon. Finely shred cheese. Cut andouille sausage into bite sized pieces.
Cooking
Add pasta to boiling water and cook to al dente following instructions on packaging, making sure to reserve the starchy pasta water towards the end of cooking.

Heat 2 tablespoons of olive oil in a large skillet over medium-high heat.

Add the sliced andouille sausage and sauté until browned on both sides, about 7-8 minutes. Remove it from the skillet and set it aside.

In the same skillet, melt 2 tablespoons of butter over medium heat.

Add onion and sauté for about 1-2 minutes.

Add bell pepper and continue sautéing for another 1-2 minutes.

Add tomato paste and continue sautéing until veggies are coated.

Stir in garlic and spices and sauté until spices bloom and become fragrant, about 1-2 minutes.

Pour in 1/2 cup of chicken broth, scraping the bottom of the skillet to deglaze it.

Reduce the heat to medium low and add heavy cream. Stir to combine and bring to a simmer. Cook for approximately 10 minutes, or until it starts to thicken slightly making sure to stir frequently.

Add the cooked andouille sausage back into the skillet with the sauce and stir to combine.

Stir in lemon zest, juice and finely shredded cheese to the sauce, stirring until the cheese is melted and the sauce is creamy.

Add reserved pasta water and pasta. Stir well.

Serve with extra grated cheese and a sprinkle of fresh chopped Italian parsley.
Notes
Recipe Notes Note #1– For this recipe I used 2 packages of chicken andouille, a total of 1.6 pounds. Chicken andouille is a little less spicy than the traditional pork andouille sausage. Note #2– When the pasta is almost done cooking and the water has thicken to a starchy consistency, remove 1/2 cup. This starchy water is a secret weapon in that it helps marry the flavors and ensures your sauce will beautifully coat each noodle.
Nutrition
Calories:
737
kcal
|
Carbohydrates:
42
g
|
Protein:
25
g
|
Fat:
53
g
|
Saturated Fat:
26
g
|
Polyunsaturated Fat:
5
g
|
Monounsaturated Fat:
18
g
|
Trans Fat:
0.3
g
|
Cholesterol:
152
mg
|
Sodium:
1045
mg
|
Potassium:
534
mg
|
Fiber:
3
g
|
Sugar:
6
g
|
Vitamin A:
2399
IU
|
Vitamin C:
35
mg
|
Calcium:
201
mg
|
Iron:
2
mg