This Truffled Lentil Veggie Stew is the perfect blend of healthy and decadence. If you feel truffle oil is way out of your price range, read on as you will be pleasantly surprised. You just may have a perfect gift for the cook in your life with a new delicious recipe.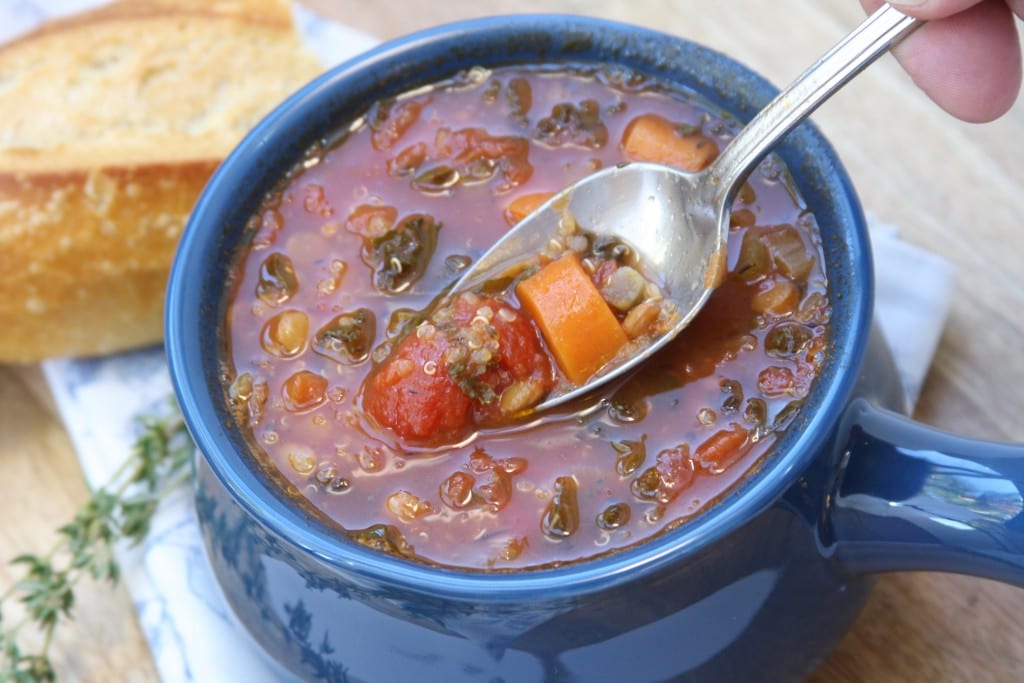 This post may contain affiliate links which I earn a small portion in sales if a purchase is made. Rest assured though, it is never at any additional cost to you.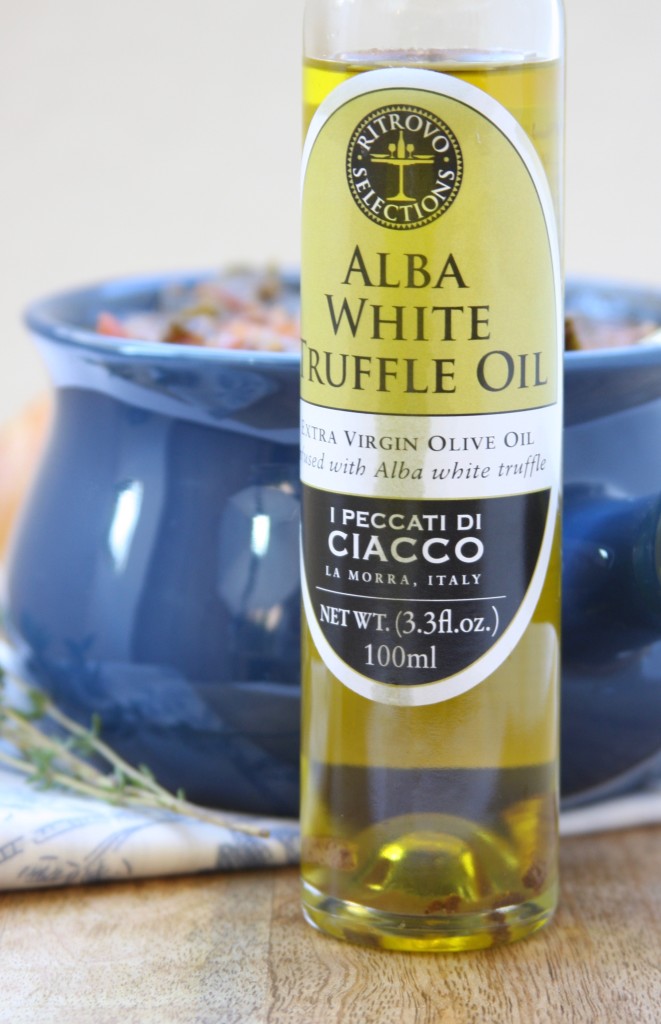 Who doesn't love truffle oil? I honestly don't think I have ever met anyone who didn't just absolutely love this delicacy. If you have never tried this little piece of heaven, well life is just too short not too. I think its taste is so good that it is indescribable. I have often heard it referred to as earthy, musky, garlicky and even sensual. No matter how you describe this treasure, here are a few interesting details that you will want to keep in mind.
Did you know truffle oil makes the perfect gift for the cook in your life? It is even perfect for someone who doesn't love to cook. I have literally seen people (myself included) make a meal out of dipping bread into it.
Did you also know that a majority of truffle oils are actually chemical concoctions that will say "truffle flavour". (1) I was actually one of the people bamboozled by the "truffle flavour" experience. I had real truffle oil in Italy, fell in love with it and wondered why it just didn't taste the same here. Ummm, that would be chemical flavoring I was tasting.
There are actual pieces of truffle floating in the bottom of this jar. Look ☝. YUM!!
This bottle looks small but it actually goes a long way. Since it is more of a finishing oil, there a several servings in this bottle.
Best of all, this bottle of Alba White Truffle oil costs less than a Yankee Candle. Ready to buy it for the cook in your life then click here. (affiliate)
When I was creating this Truffled Lentil Veggie Stew I had my normal two criteria. It had to be full of nutrition and full of flavor. I was going to do a Panera copycat lentil soup with lemon. It was actually my dear high school friend who got me heading down the truffle oil path instead. Since I love citrus, I had not realized how often I use it until she shared with me that she is allergic to it. It made me step aside and think of other ways to create bold flavor. That is when it hit me, that the beautiful bottle of truffle oil that I had sitting patiently in my cupboard was waiting to be used. It would be the perfect touch to this very nutritious meal. Based on my husbands reaction of "that was awesome", I was right. The best part is you will have no guilt involved while enjoying this Truffled Lentil Veggie Stew because of the quinoa, kale, carrots, tomatoes and celery. It is a tasty way to load up on nutrition before the holiday feasting begins.
One additional detail, I named this a stew instead of soup because as it sits, the lentils and quinoa absorb the broth and thickens to a stew like consistency. This recipe also makes a very hearty portion so I recommend freezing half to have when life gets crazy during the holiday hustle and bustle. After a long day of shopping in December you will be so glad you pulled this out of the freezer the night before.
Enjoy this Truffled Lentil Veggie Stew!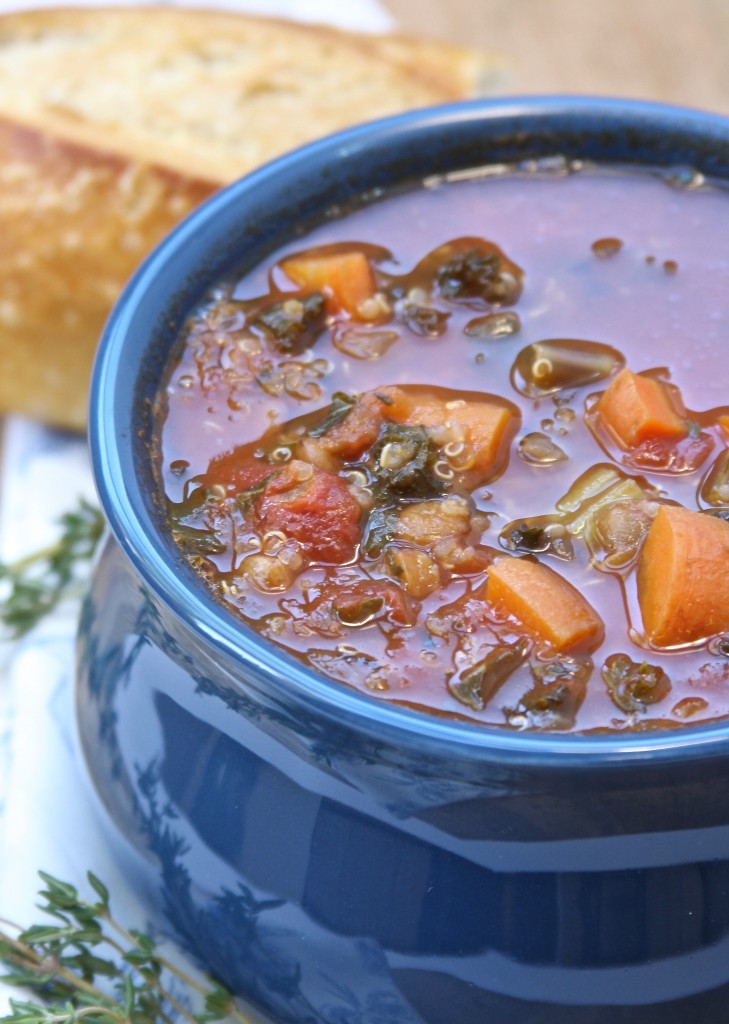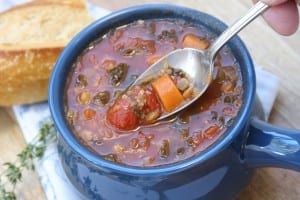 Truffled Lentil Veggie Stew
A nutritiously decadent vegetarian stew.
Print
Pin
Rate
Ingredients
2

cups

dried lentils

1

cup

quinoa

64

oz

chicken broth

2

tbsp

extra virgin olive oil

1

med onion

3

lg

cloves garlic

*use 6 cloves for garlic lovers

5

med carrots

5

stalks celery

1

bunch red kale

2

28 oz

cans whole peeled tomatoes w/juice

3

tsp

dried thyme

2-3

bay leafs

truffle oil for drizzling
Instructions
Dice onion and carrots, roughly chop celery and kale, peel and crush garlic- set aside. Inspect lentils to make sure there are no rocks and then rinse lentils in addition to quinoa- set aside.

In a large stockpot sauté onions in the olive oil until they begin to sweat, about 3 mins. Add crushed garlic and carrots and sauté for about 4 minutes. Add kale , sauté for another 4-5 minutes or until kale is softened. Add celery and thyme, sauté for another 4 mins. Crush tomatoes by hand and add tomatoes with juice to pot. Simmer for 2-3 mins- set aside.

In a large saucepan bring lentils to boil in half of the broth. Once boiling, let boil for 1 minute and then lower to a simmer for 1 min. Repeat this 3 times By doing so the lentils will maintain their shape. Once the 3 cycles of boiling is done add lentils to vegetable pot.

Add remaining broth and bay leafs to vegetables. Bring to a boil for about 5 mins. At this step you may need to add an additional 2-3 cups of water if water level is too low. Add quinoa. Lower heat to a simmer and cook for approximately 30 mins or until lentils are tender.

Serve warm. Drizzle truffle oil over individual portions.
Notes
*Please use as many organic ingredients as possible.*
Recipe Notes
This recipe make a large pot of stew. Freeze half and the other half will allow for dinner plus lunches for the week.
Nutrition
Calories:
158
kcal
|
Carbohydrates:
25
g
|
Protein:
9
g
|
Fat:
3
g
|
Saturated Fat:
1
g
|
Sodium:
433
mg
|
Potassium:
472
mg
|
Fiber:
9
g
|
Sugar:
2
g
|
Vitamin A:
3563
IU
|
Vitamin C:
15
mg
|
Calcium:
42
mg
|
Iron:
3
mg
Disclaimer: The link for Alba White Truffle Oil oil is an Amazon affiliate link.