Cinnamon Kissed Cocoa Cup Cookies are absolute fudgy goodness. A chocolate sugar cookie holds creamy cinnamon chocolate ganache and is topped with chopped pecans. This is the chocolate lovers dream come true.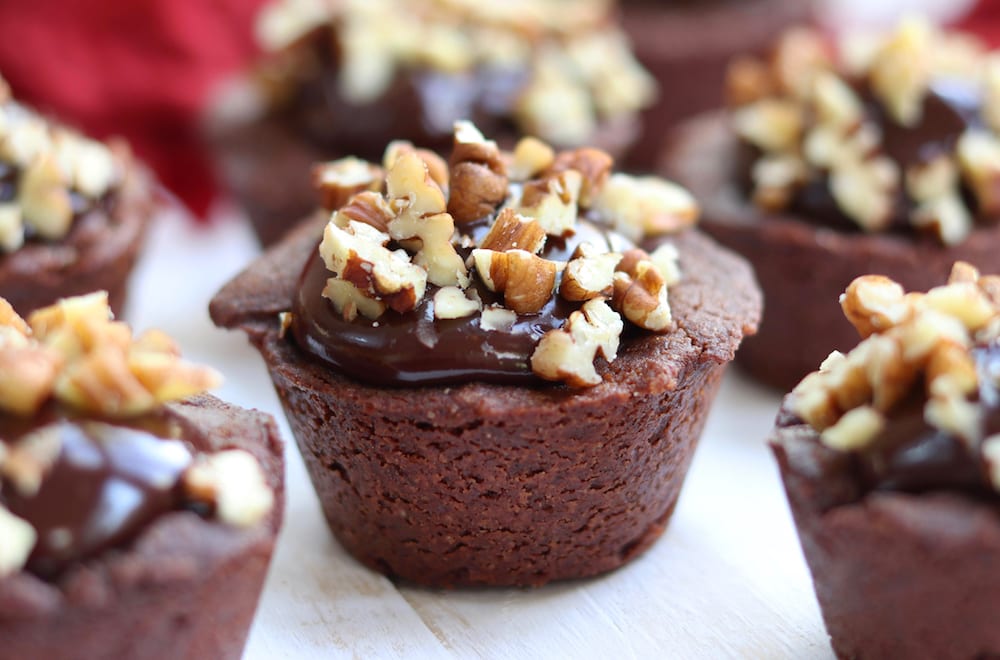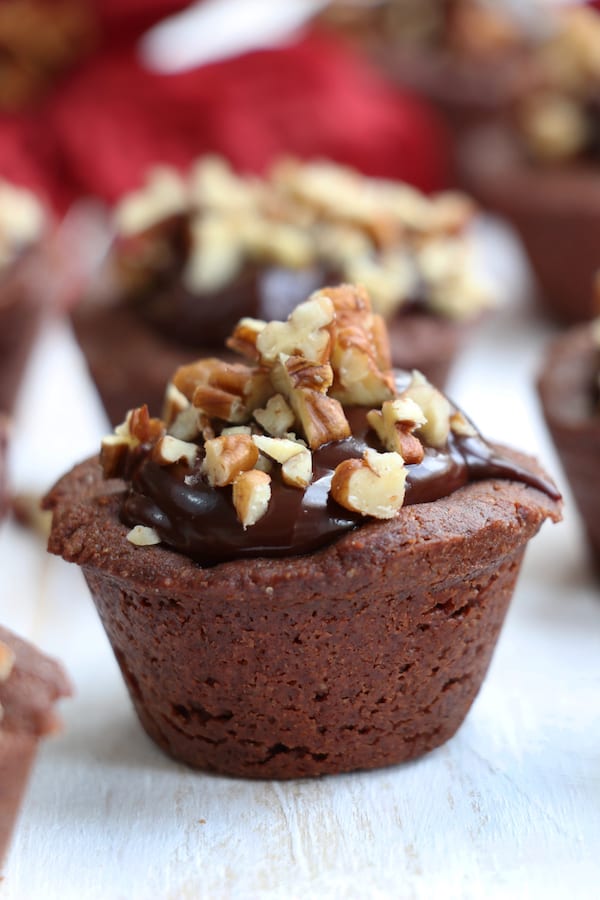 I have come to learn over the years that I love food with texture. There is something glorious about biting into a salad or even an appetizer that has a crispy, creamy and chewy texture. I would say that texture ranks just behind flavor as far as pleasure in food. I took that into consideration when coming up with a new Holiday cookie. I wanted a cookie that not only tastes phenomenal but had the crispy, creamy and chewy texture going on with just one bite. Fast forward to this Cinnamon Kissed Cocoa Cup Cookies that are absolute fudgy chocolate wonderfulness with a hint of cinnamon. The ganache filled center is sinfully creamy, the cookie is both crispy and chewy at the same time and the pecans add an element of buttery crunch. These Cinnamon Kissed Cocoa Cup Cookies are so good you would expect them to come in a box, each wrapped in gold foil.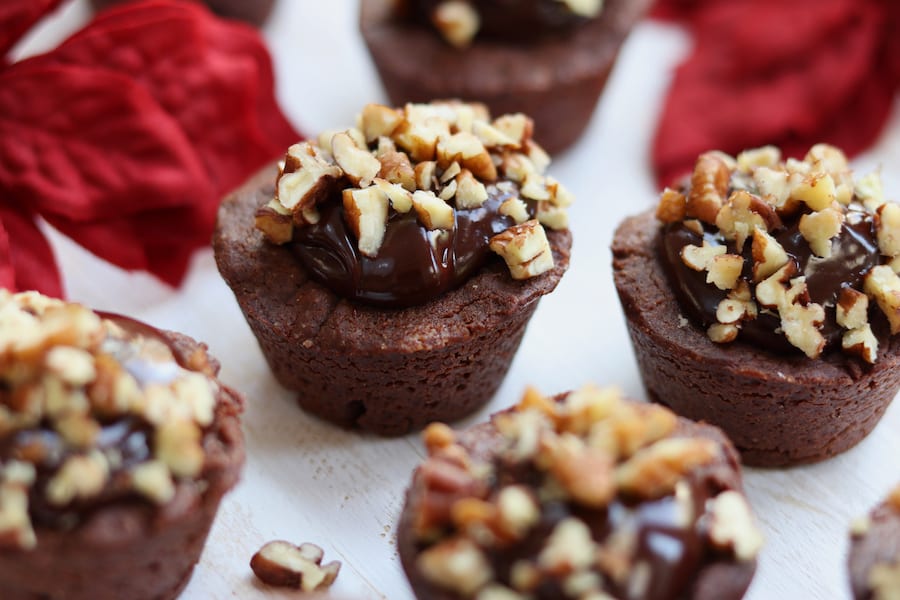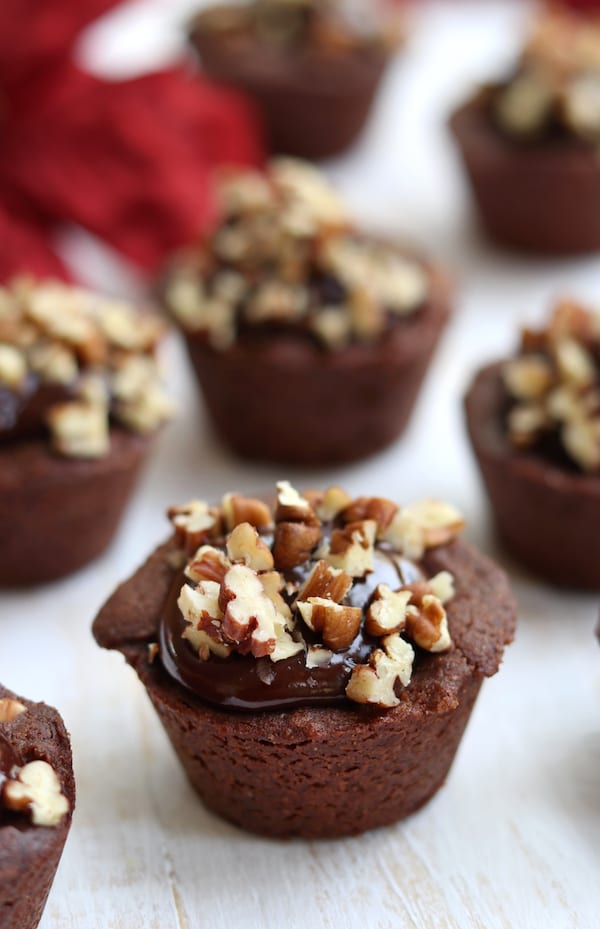 Cinnamon Kissed Cocoa Cup Cookies:
Roll the chocolate sugar cookie dough into a 1 1/2 inch log. Wrap in plastic wrap and refrigerate for about 2 hours. Once refrigerated cut into 1/4 inch slices. Place into greased mini muffin pans and press into pans with an round bottomed item smaller in diameter than the mini muffin cup. I used the end of our rolling pin but the bottom of a medicine cup works well also.  Pro Tip: If dough was chilled overnight let slices rest for about 30 mins before pressing into cups. 
Be careful to not over bake the cookie cups. On one of my batches I accidentally let it go a few minutes longer and even though they still tasted wonderful the cookie was a bit dried out. 11-12 minutes of bake time is perfect as they will continue to bake as they cool in the pan.
Use the chocolate % of preference for the ganache. I used 60% cacao bittersweet chocolate but the ganache center would taste just as wonderful with a milk chocolate or white chocolate. Through my trials and errors in making Simple Orange Cranberry Pistachio Fudge I learned that when using white chocolate, a good quality bar is far superior to white chocolate chips in that they have a higher cocoa butter percentage and are less waxy.
One of the easiest tricks for getting the ganache into the sugar cookie cups is to use a ziplock bag. Once the ganache is made transfer into a gallon ziplock bag, cut the tip off and make sure to squeeze in plenty of fudgy yumminess. Add the chopped pecans while the ganache is still wet.
Cinnamon Kissed Cocoa Cup Cookies
A delightful fudgy Holiday cookie.
Ingredients
For the Chocolate Sugar Cookies
1½ cups all-purpose flour
¾ cup unsweetened cocoa powder
1¼ tsp baking powder
⅛ tsp salt
¾ cup butter *room temperature
1¼ cups granulated sugar
1 whole lg egg
1 lg egg yolk
1 tsp pure vanilla extract
For the Ganache
1½ cups semisweet chocolate chips
1 cup heavy cream
1 tsp cinnamon
2 tbsp unsalted butter *room temperature/i]
For the Topping
½ cup chopped pecans
Instructions
For the Cookie Cup
Measure and sift together dry ingredients, mix well & set aside. In a stand mixer cream butter and sugar. Beat in egg, yolk and vanilla making sure to scrape down sides of bowl. Gradually add in dry ingredients a few spoonfuls at a time making sure to scrape down sides a few times to ensure batter is well mixed.
Transfer cookie dough to a sheet of plastic wrap and using the sides of the wrap form dough into a log with about a 1½ inch circumference. Wrap tightly with additional sheet of plastic wrap and refrigerate for about two hours. Once chilled cut dough into ¼ inch slices and place into greased mini muffin pans. Press slices into muffin cup using a round, flat bottomed item smaller in diameter than the mini muffin cup [i](see tips above).
Bake in a preheated 375℉ oven for 11-12 mins. Let cool in pan on a wire rack. Transfer to plate. Set aside.
For the Cinnamon Ganache
Place chocolate in a medium sized glass or stainless steel bowl- set aside. Bring cream and cinnamon to a simmer in a small saucepan over medium heat. Pour over chocolate and let sit for about 2 mins. Slowly begin whisking mixture adding butter just before mixture becomes smooth. Once smooth transfer to large ziplock bag. Cut off tip of bag and squeeze desired amount of ganache into each cookie cup. Sprinkle with pecans while ganache is still wet. (Ganache will become firm as it sets. Do not stack cookies until firm.)
Notes
*Please use as many organic ingredients as possible.* Cookie recipe adapted from
Starry Night Marzipan Cookies
and ganache adapted from cakebossbaking.com.
This recipe is part of Food Network's Fall Fest recipe round up. For more cookie inspiration check out:
Devour: Unique Savory Cookies to Throw a Curveball in Your Holiday Cookie Swap
A Mind "Full" Mom: Oatmeal Cookies: One Dough Four Ways
Creative Culinary: Peanut Butter and Butterscotch Haystacks
Healthy Eats: 7 Light  and Easy Holiday Cookies for Your Upcoming Swap
Taste with the Eyes: Foie Gras with Sweet and Salty Palmier Cookies, Passionfruit, Pistachios
The Wimpy Vegetarian: Pennsylvania Dutch Spice & Currant Christmas Cookies
The Mom 100: Simple Sugar Cookies
FN Dish: No-Bake Chocolate Cookies to Ease Up the Holiday Cookie Swap