Shredded Chicken Nachos is an easy family favorite recipe. Loaded with mouthwatering toppings like Homemade Guacamole, Pico de Gallo, Jack Cheese and sour cream. This dinner is crunchy, tasty and completely satisfying.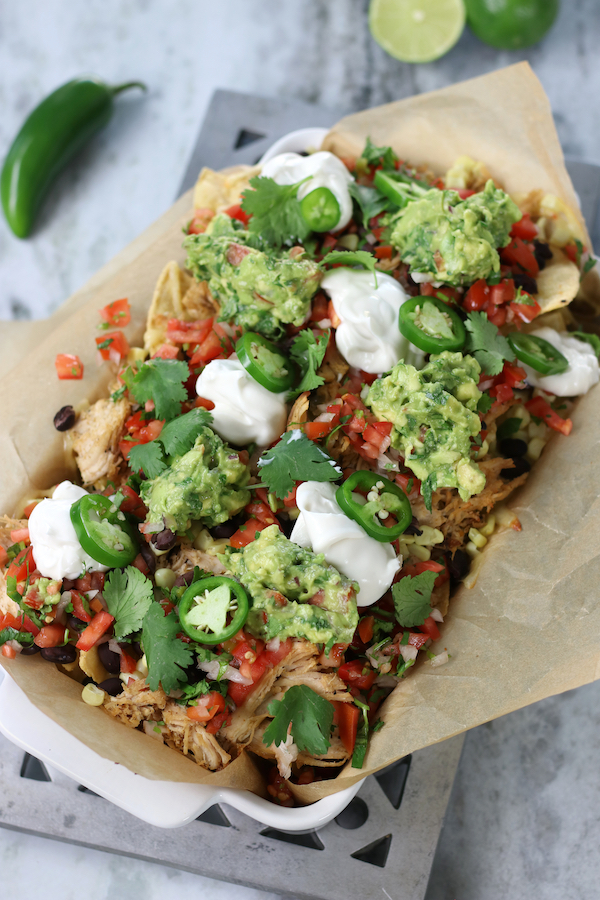 This post may contain affiliate links which I earn a small portion in sales if a purchase is made. Rest assured though, it is never at any additional cost to you.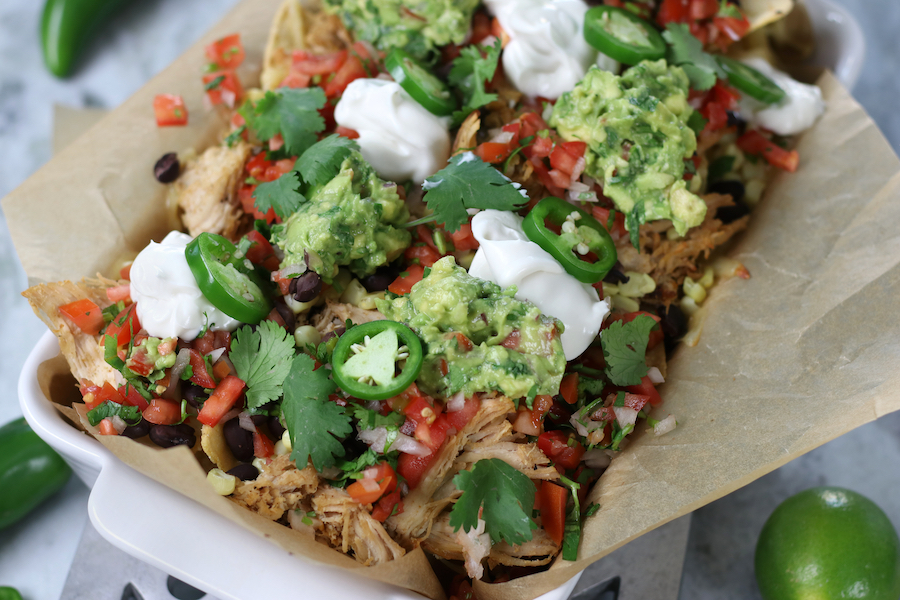 Ingredients for Shredded Chicken Nachos
Chicken Seasoning
For this recipe I used my Air Fryer Boneless Chicken Breasts recipe. However, I substituted the all purpose seasoning for the spice blend below. (Note: Oven instructions are included within the recipe post of the air fryer chicken recipe.)
Salt– I absolutely adore Maldon's Sea Salt flakes and use it for everything from cooking, baking and as a finishing salt. When using it in baking or as a rub make sure to grind the flakes in a mortar and pestle. This will prevent anyone from biting into large chunks of salt.
Black Pepper– Either black pepper or white pepper may be used.
Garlic and Onion Powder– Adds a subtle savoriness that coats the chicken breasts well.
Cumin– Ground cumin has a hearty almost bitter flavor that is very distinctive of latin cuisine.
Coriander– Cilantro is the plant that comes from coriander seeds. Ground coriander adds a wonderful earthy flavor that enhances Mexican cuisine. Best of all, most cilantro haters are quite happy eating coriander.
Real Chili Powder– Many chili powders will be a blend of spices. However, real chili powder will have just one ingredient of ground chilis.
Basic Ingredients
Restaurant-Style Tortilla Chips– Any type of tortilla chip may be used. However, the restaurant-style tortilla chips are thicker and will hold up better to all the toppings.
Chicken Breasts
Pepper Jack Cheese– Either Pepper Jack or Monterey Jack cheese goes extremely well with chicken because of its creamy texture and meltability. Note: Pre-grated cheese is best avoided if at all possible because of the added stabilizers that are added to pre-grated cheese hinders how well the cheese melts.
Sweet White Corn– For this recipe I used frozen sweet white corn that I defrosted on the countertop. Sweet corn adds a pop of sweetness that plays well with the other savory ingredients of the nachos.
Black Beans– This is a really fun way to sneak in the health benefits of beans.
Pico de Gallo– Any type of salsa may be used. However, my Pico de Gallo recipe has the perfect consistency helping to add loads of flavor without weighing down the chips.
Guacamole– If short on time, use cut avocado (or store bought guacamole). However, Homemade Guacamole with its incredible fresh and savory flavor is absolute heaven on these nachos.
Sour Cream– Creamy and tangy, sour cream adds the perfect finishing touch.
Ingredient Variations
Ultra Creamy Nacho Cheese– For over the top comfort, use this nacho cheese recipe instead of Pepper Jack Cheese.
Greek Yogurt– A healthy swap that can easily replace sour cream.
Pickled Jalapeños– Many people enjoy the tangy, sweet and salty addittion of this topping.
Shredded Lettuce– Adds additional crunch in a healthy way.
Hot Sauce– For anyone who adores spicy food this is an easy way for them to enjoy a spicy meal while saving everyone else's taste buds.
Lime Juice– Add a squeeze of lime for a wonderful punch of brightness.
How To Shred Chicken Breasts
Hand Shredding
This technique is done by using two forks poked into the breast and pulled in opposite directions. This method of shredding can be tiresome. However, it is always easiest when the chicken breasts are still very hot.
Mixer Shredding
One of the easiest ways to shred chicken breasts is by placing them in the bowl of a stand mixer while still hot and processing them with the flat beater attachment. This method takes approximately 2 minutes to shred the chicken and saves the strain on your hands.
Note: It is important to start on the lowest speed when using a stand mixer to prevent the chicken from flying out of the bowl. As the chicken becomes shredded, the mixer speed can increase steadily. Additionally, a hand mixer may be used to shred the chicken as well.
Preparation Tips for Fast and Easy Nachos
This meal is the perfect satisfying and easy family dinner on movie or game nights. For that reason, simplicity is incredibly important. Here are a few tips to limit kitchen time so you can get to having fun sooner.
Buying block cheese and grating it yourself is wonderful for having cheese that melts better. However, it is a total pain in the booty and time suck grating it when making these nachos. Instead, pre-grate the cheese and store in an air tight container or bag in the refrigerator or freezer.
Chicken breasts often sit in their own juices when in their packaging. Removing the breasts, drying them off and prepping them can be a bit of a nuisance. However, prepping them by removing from the packaging and placing on a paper towel lined plate and then covering with plastic wrap will save extra steps at dinnertime.
If making Pico de Gallo and Homemade Salsa make the night before or the morning of.
Shred the chicken in a stand mixer once cooked. This will take no more than two minutes as compared to hand shredding.
Although I am not a fan of precooking the chicken, this is also a tip that can get dinner on the table quickly.
A little extra planning by following the tips above can cut the preparation time down to approximately 10 minutes. Yay for less time making dinner!!
Shredded Chicken Nachos Video
Frequently Asked Questions
How to prevent soggy nachos?
There are two main factors that helps in preventing soggy nachos.
Use restaurant-style tortilla chips. These are the chips that are thick and very sturdy as seen in the video above.
Toppings with less moisture such as my chunky Pico de Gallo recipe will help prevent the chips from becoming soggy.
Can nachos be made in the microwave?
Yes the nachos can be heated in the microwave. To do so place the chips, chicken and cheese onto a microwave she plate. Using power level 8 (a less intense heat great for reheating) and work in 1 minute increments until the cheese reaches the desired level of meltiness.
Should meat or cheese go on nachos first?
The order completely depends on personal preference. However, the most important element when doing multiple layers of chips is baking after the addittion of each layer to ensure that the cheese is evenly melted throughout.
Why does baking time vary?
The baking time hinges how long it takes for the cheese to melt to desired meltiness.
What is the purpose of parchment paper?
Although not necessary, laying a sheet of parchment paper down before making the nachos prevents the cheese from sticking to the pan, making for easier clean up.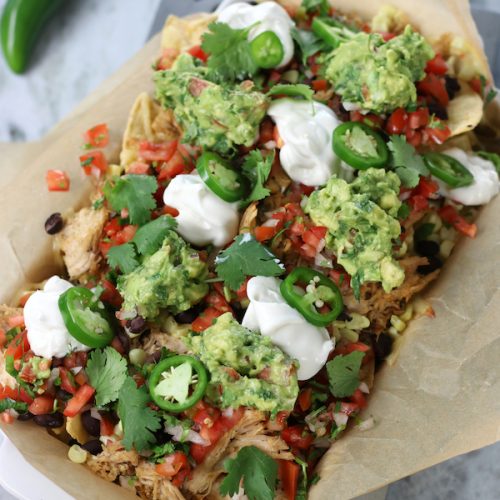 Shredded Chicken Nachos
Shredded Chicken Nachos is an easy family favorite recipe. Loaded with mouthwatering toppings like Homemade Guacamole, Pico de Gallo, Jack Cheese and sour cream. This dinner is crunchy, tasty and completely satisfying.
Print
Pin
Rate
Ingredients
1

Air Fryer Boneless Chicken Breasts recipe *shredded, see Recipe Note #1 below

16

ounce

restaurant-style torilla chips

3

cups

shredded Pepper Jack cheese

* or Monterey Jack cheese, about 12 ounces. See Note #2 below

1

15 ounce can

black beans

*drained and rinsed

1

cup

sweet frozen corn

*defrosted

1

Pico de Gallo recipe

*or 1 (15 ounce) container favorite salsa

8

ounce

sour cream
Additional Garnish Options
Instructions
Prepare Pico de Gallo. See Note #4 below.

Measure frozen corn and place at room temperature to defrost while cooking chicken.

Prepare Air Fryer Boneless Chicken Breasts (oven instructions included). See Note #1 for recommended chicken seasoning.

Once the chicken is cooked shred by placing in the bowl of a stand mixer using the flat beater attachment. Start the mixer on the lowest speed and increase speed until desired shredded consistency is achieved.

Preheat oven to 350℉ and line a rimmed sheet pan or roasting pan with parchment paper.

While chicken is cooking, grate cheese using a food processor with the shredding disc attachment or by hand using a box grater.

Drain and rinse black beans.

On the prepared sheet pan place an even layer of chips followed with a layer of cheese, chicken, corn and then black beans. Bake until cheese is melted, approximately 5-10 minutes. See Note #5 below.

Garnish with spoonfuls of Pico de Gallo, guacamole, sour cream, fresh cilantro and sliced  jalapeño.
Notes
Recipe Notes
Note #1– Oven instructions are within the recipe post for those who do not have an Air Fryer. 
I recommend using the Mexican Chicken Seasoning of:
1 teaspoon salt
1/4 teaspoon black pepper
1/2 teaspoon garlic powder
3/4 teaspoon onion powder 
1/2 teaspoon cumin
1 teaspoon coriander
1/8 teaspoon real chili powder
One small rotisserie chicken that is shredded and deboned may also be used in place of

Air Fryer Boneless Chicken Breasts recipe. 
Note #2– Pre-grated cheese is best avoided if at all possible because of the added stabilizers that hinders how well the cheese melts. 
Note #3– Store bought guacamole may be used. However, when making from scratch this guacamole can be made in advance and stored in an air tight container in the refrigerator. It is best when eaten within a day. Preparation time for this guacamole recipe is approximately 20 minutes. 
Note #4– Similarly to the guacamole, store bought Pico de Gallo may be used. However, this Pico de Gallo recipe stores beautifully in the refrigerator for up to 3-4 days and takes approximately 10 minutes to make.
Note #5– When doing multiple layers, bake after each additional layer of chips to ensure that the cheese is evenly melted throughout.