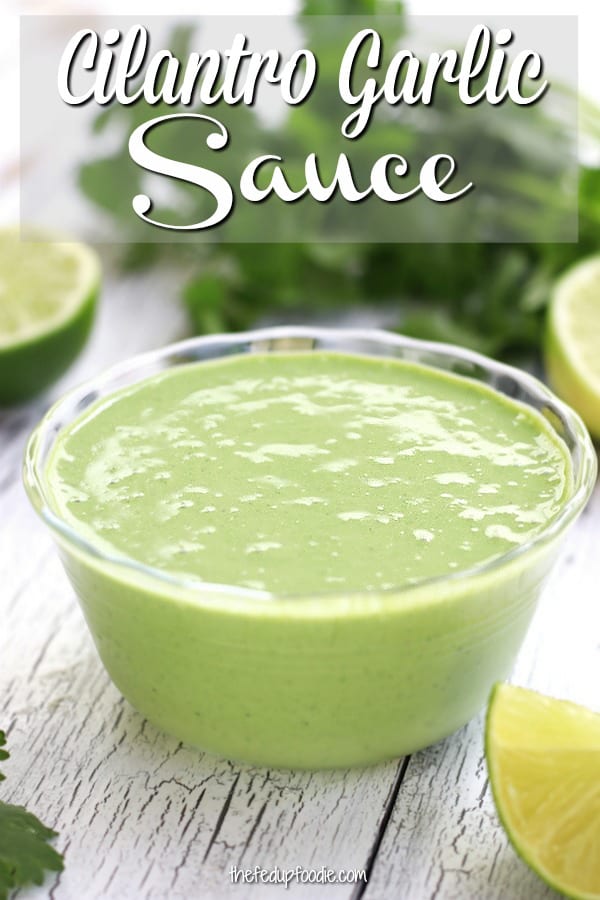 Creamy and full of Mexican flavors. this Cilantro Garlic Sauce is a healthy and delicious condiment for tacos, quesadillas, salads, etc. The possibilities are endless. This sauce is fast, easy and so completely addictive.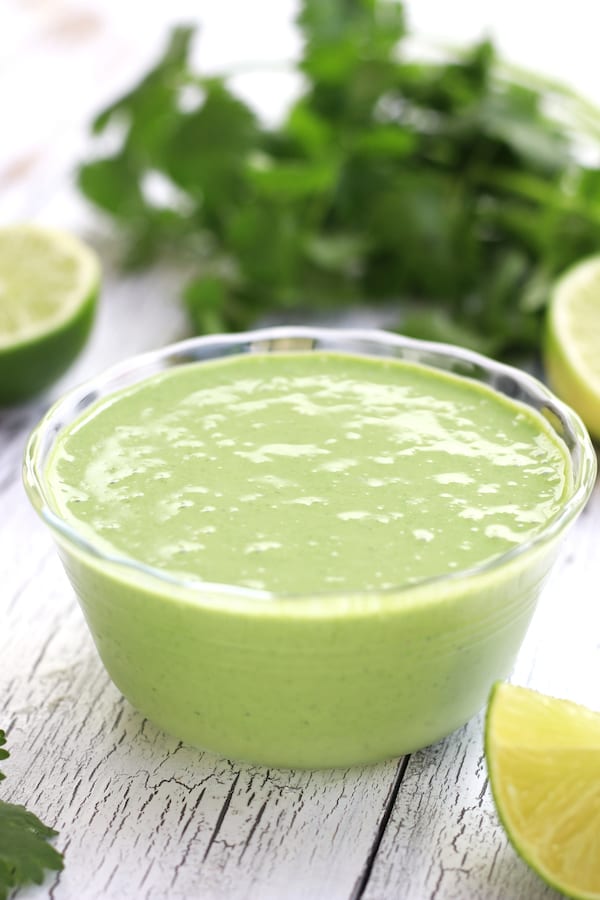 Cilantro Garlic Sauce
This post may contain affiliate links which I earn a small portion in sales if a purchase is made. Rest assured though, it is never at any additional cost to you.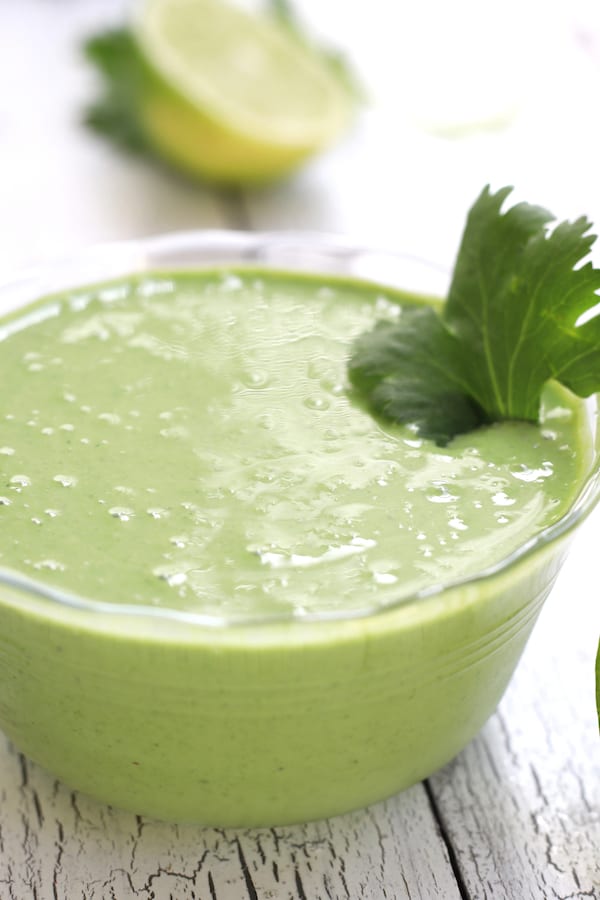 Are you a garlic lover?
Next to lemon, garlic tops the list of my favorite foods.
When my husband and I first started dating he had never seen anyone use fresh garlic in their cooking, let alone how often I used it.
He was used to everyone cooking with garlic salt.
Now he is so accustomed to peeling and crushing fresh garlic that he wouldn't have it another way.
I am so thankful not only because of the immense health benefits, but also I don't repel him because we both have stinky garlic breath.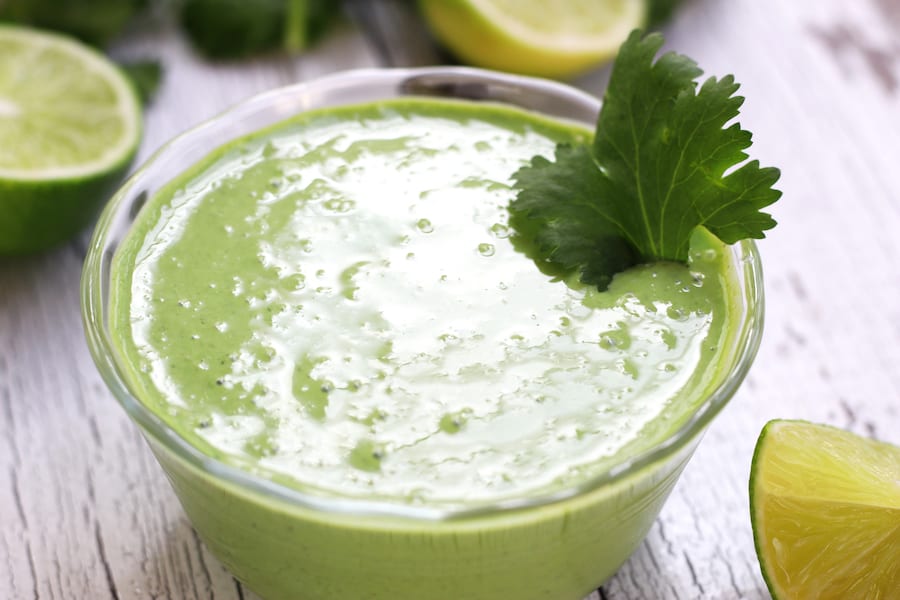 How to Make Cilantro Garlic Sauce
Wash and thoroughly dry cilantro.
Peel garlic and add all ingredients to blender.
Blend well. Refrigerate until needed.
Is Cilantro Spicy?
Cilantro is an herb that is grown from coriander seeds and it has a bright, clean and almost citrusy flavor. However, even though coriander is a spice, cilantro is not spicy. With cilantro having a very distinctive taste, people tend to have very passionate love or hate feelings about it. This is due in part to cilantro tasting like soap to those that have a certain genetic disposition. In conclusion, if anyone in your family dislikes cilantro, they will not enjoy this Cilantro Garlic Sauce.
Organic Garlic
Chances are if you are a regular reader, you know the importance I place on eating as much organic as our budgets will allow. Honestly, we do the best we can. Food budgets don't always allow for 100% organic to be purchased every week. However, a few years ago when the scare and realization that a large amount of the garlic sold here in the U.S. was actually from China, many took notice. If you were like me, it scared the bajeapers out of you. Since that time, trying to get a straight answer as to the signs that your garlic is not only organic, but also grown here in the United States as been like pulling teeth. Outside of growing your own garlic, it can be challenging to know for certain. To hopefully ease the concern, here is how I approach buying organic garlic.
Look for the USDA Certified Organic symbol.
Make sure that if purchasing prepackaged that the packing says "product of USA".
The garlic bulbs should have some roots still attached.
The garlic bulbs should be firm when gently squeezed, not look shriveled and show no signs of molding.
Whole Milk Greek Yogurt
For an extra creamy Garlic Cilantro Sauce use whole milk greek yogurt. If trying to keep calories and fat on the lower side, use nonfat Greek yogurt instead. The beauty of using Greek yogurt for this recipe is it has less whey (the liquid part of yogurt), helping to create a thicker consistency. As a note, if regular plain yogurt is used, the consistency will be much thinner and more like a salad dressing.
Uses for Garlic Cilantro Sauce
Tacos
Quesadillas
As a Veggie Dip
More Delicious Recipes Featuring Fresh Garlic
Marinated Grilled Shrimp Kabobs
Simple Herbed Lemon Vinaigrette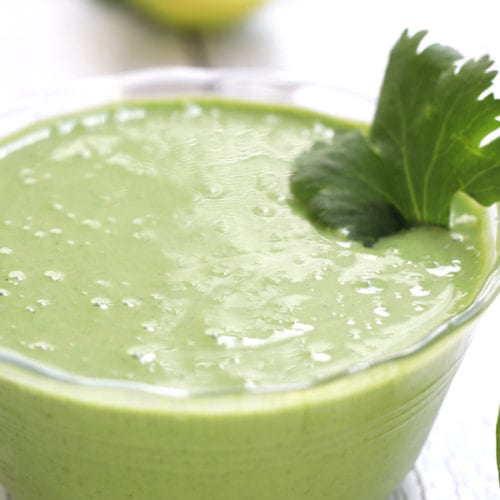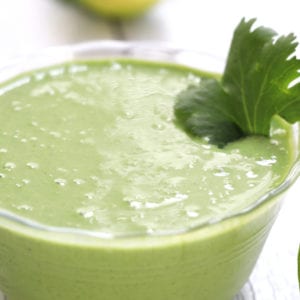 Cilantro Garlic Sauce
Creamy and full of flavor, Cilantro Garlic Sauce is extremely easy to make and jazzes up tacos, burritos, quesadillas, salads, etc.
Print
Pin
Rate
Ingredients
1

cup

Greek Yogurt

*either whole milk or nonfat

4

large

garlic cloves

*peeled

1

small bunch

cilantro

*about 2 cups,

1/2

tsp

sea salt

1/4

tsp

black pepper

2

tbsp

lime juice

*about 1 lime
Instructions
Thoroughly wash cilantro and shake off all excess water. If needed dry with paper towels.

Place all ingredients in a blender or food processor and blend well.

Refrigerate until needed.
Notes
*Please use as many organic ingredients as possible.